Breast Pump Bag Set Review for the Stylish Mom
Being a fashionable mom can be pretty challenging when you have to carry your baby gear around, and not every purse will fit everything. But, that does not mean that you cannot get what you want for your style. Recently, stylish and convenient breast pump bag sets have also made their entry into the fashion industry. They are designed with both style and practicality in mind. Their function is just like every other fancy bag with an added comfort and space for stuff like pump and breast pump parts, bottles, and diapers without anyone knowing what you carry. Discretely and in style.
So, in this article, we have listed some of the best breast pump bags for fashionable moms. They are designed to carry all your necessary supplies on the go. Let's take a look at what they have to offer.
Review of the Best Breast Pump Bags
A handy yet stylish breast pump bag for all your mommy needs, Sarah Wells, has one of the best tote bag designs for your everyday style.
This pump bag features a large capacity to hold your baby gear compactly. It is made of a faux leather material of classic, durable black color. Holding some more touch of style, it has silver hardware with a solid grip to carry more weight. Not only this, it has a beautiful and smooth zipper for reaching things conveniently and quickly.
This breast pump bag includes portable pumps in style. Keeping milk cold for a long time, it has thermally lined side pockets on both sides of the bag. Having interior zips, the bag keeps the things set in their place. The outer material is easy to clean. There is an additional pump pocket as well for placing extra baby gear. With its features, this one is the best breast pump bag for its affordable price.
Pros
The interior of the breast pump tote is enormous.
It has the perfect temperature cooler.
The quality is excellent and keeps things organized.
The bag is made of very durable material.
Cons
The zipper of the breast pump tote bag is not that durable.
The straps could be stronger.
Another stylish breast pump bag from Bananafish comes in a backpack style.
This bag features a substantial capacity for holding all your essential supplies as you go. Making you look even more stylish, its backpack style creates a unique impact on your personality. It is sporty yet very modern looking.
This bag is very lightweight and easy to carry, thanks to its breast pump backpack style. It comes with a shoulder strap with an adjustable feature. Also, it includes a top handle to carry with one hand.
This bag has a wide front zipper, and when opened up, it introduces you to its vast interior, where it can hold every item you need to carry for your child.
The breast pump backpack is designed in a color-block white and grey style that effortlessly matches any of your outfits. The front flap has an additional pocket so you can keep your keys, phone, or anything else smaller in size. The pockets inside are structured for keeping bottles, while the side pocket has a cooling effect for the milk bottles.
Pros
This backpack is the perfect fit for the Spectra S1 and S2 pumps.
The breast pump backpack makes the pumping sessions so much easier.
A perfect-sized backpack for everyone's taste.
There is room for a cooler inside the backpack as well.
Cons
The fabric of this breast pump bag could be of better quality.
A functional enough to carry all your things and one of the best breast pump bags, this is another excellent breast pump bag by Sarah Wells.
This tote bag features a printed fabric and is a two-in-one product. That means it can be a shoulder bag and a backpack. You need to unhook and hide the backpack straps in its pockets to transform them into the perfect work bag.
This breast pump bag is made of a very light material with a durable fabric to last for a long time. This nylon tote bag is effortless to clean.
It has eight pockets to keep your things organized and all your necessary supplies with you on the go. With an extra-tall breast pump pocket, it can be used to store hospital-grade pumps as well.
The thermally-lined pockets can keep the baby food and milk cool for up to 6 hours. So, you don't need to rush back home after your pumping sessions because the milk is safe from spoiling. It can easily be converted into a diaper bag when not in use for pumping.
Pros
The bag has significantly more space than other bags for all the pump parts, breast milk, and baby gear products.
Great pump bag for the Spectra S1 set and even the Medela pump.
This breast pump bag offers excellent quality for the price.
You can convert the Sarah Wells pump bag into a diaper bag.
Cons
The zipper could be made more durable.
The model isn't easy to transform into a diaper bag.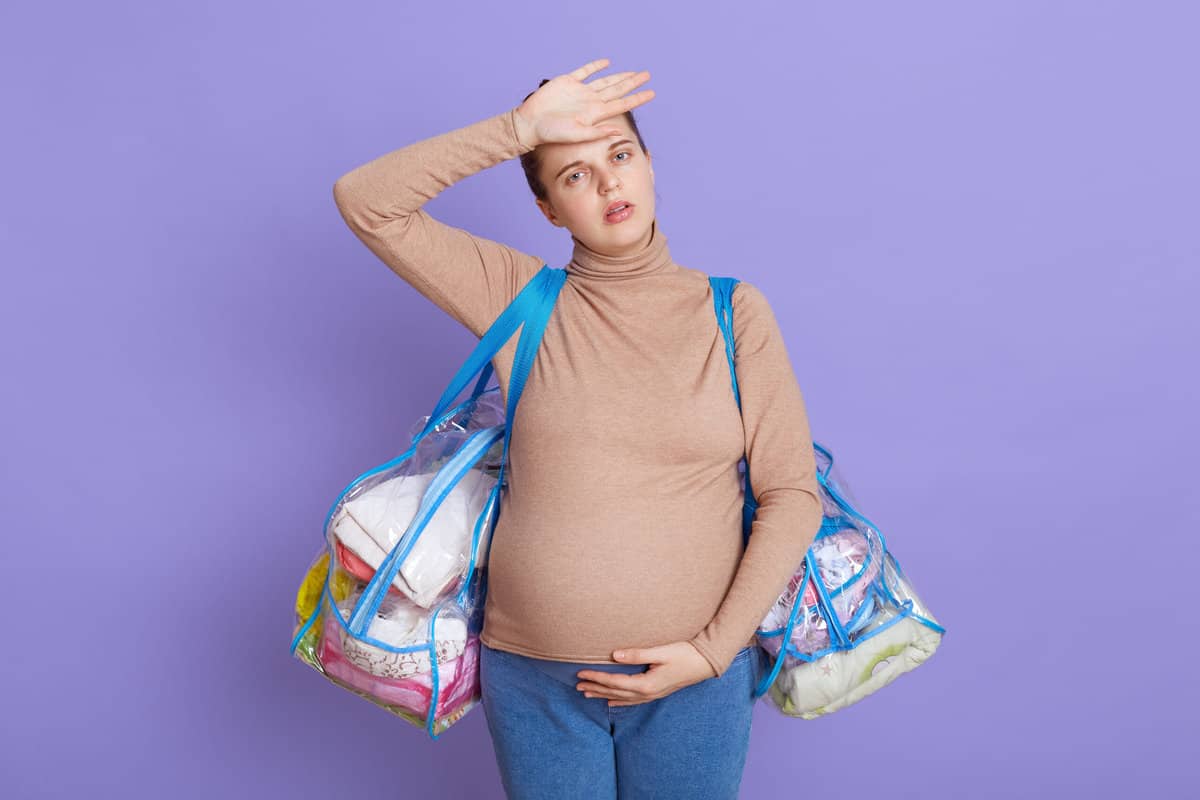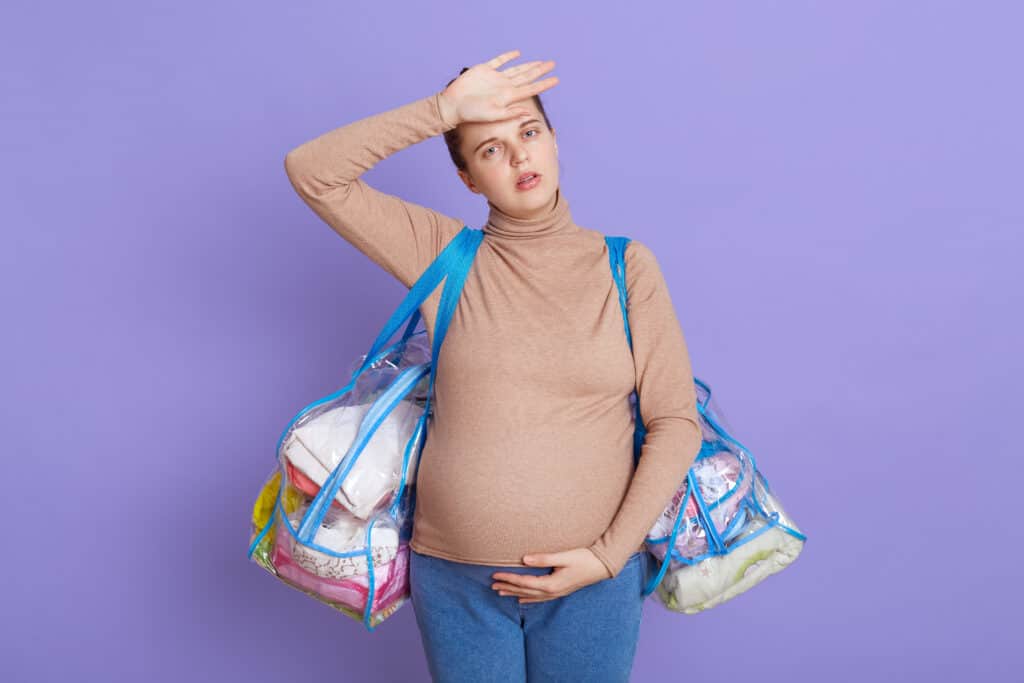 Charlie G has designed another excellent pump bag that deserves to be among the best breast pump bags, thanks to all its features.
This breast pump bag is an ultra-stylish design which is the ultimate solution to pumping. It comes in a black color that goes well with all stylish and sporty outfits and offers a large storage compartment for breast pumps and pump parts and all the other baby products you might need to take with you.
It can store breast milk and keep it cool effortlessly, so you know your baby will only get the best.
This breast pump bag is made to hold the following breast pumps:
Spectra
Medela
Freemie
Ardo
Ameda
Hygeia
Its design covers almost all popular breast pumps used by moms today. Not only that, but as a pump bag, it is convertible from a tote to a crossbody bag with its long crossbody strap. As such, it will match all your outfits, from work clothes to a simple stroll in the park with your little one.
The pump bag has dedicated compartments for your breast pump and all the pump parts and products.
It has dedicated compartments to house your pump, the parts, and your breast milk. With this bag, you can keep your baby items more organized thanks to its large capacity and pockets.
The insulated compartments won't only keep the breast milk fresh and cool but also safely store food and drinks. Specially designed for the working mom, you can take it in your office without anyone knowing that it is a breast pump bag. Undoubtedly, this bag is a perfect choice for all moms for its great price.
Pros
This bag is made of water and spill-resistant nylon material.
Its small metal legs will keep the bottom of the bag clean.
The pump bag is made of premium metal hardware.
This product is light in weight and stylish looking.
It has a large enough compartment for all the pump parts.
Cons
The zipper pull of this bag can break easily if you're not careful.
Stylish, discreet, and spacy, Dr.Brown's breast pump bag is great for all moms. It perfectly fits a bottle cooler bag so you can store everything you need.
This pump bag has enough space to accommodate a pump with all its parts. Made of highly durable 100% polyester material, it certainly guarantees long-lasting use.
Apart from the large compartment, it has many small side pockets and internal pockets that give you a feeling of staying organized.
The height of the large compartment can easily be used as a laptop bag or to store a full-size breast pump with all its parts and additional baby gear products.
Thanks to the side pockets that connect through the laptop compartment, you can carry this bag to yoga and easily fit a yoga mat inside.
For cleaning, you don't need to immerse it in water as it can be wipe-cleaned only. Not only the outer shell but its lining is also made of polyester material. Fitting to most of your routines, it is a lightweight bag with straps making it easy to carry. It can be a multi-functional bag and can be used as a diaper bag, work, baby, or gym tote bag.
Pros
This tote bag has good size and offers versatility.
An excellent choice for breast pumping at a budget-friendly price.
It is easy to store your Medela or Spectra breast pump and all proprietary baby products.
The pump bag is easy to wipe clean.
Cons
The seams might start ripping soon if you overfill it.
There is no thermal pocket.
Pump Bag Buying Guide and FAQs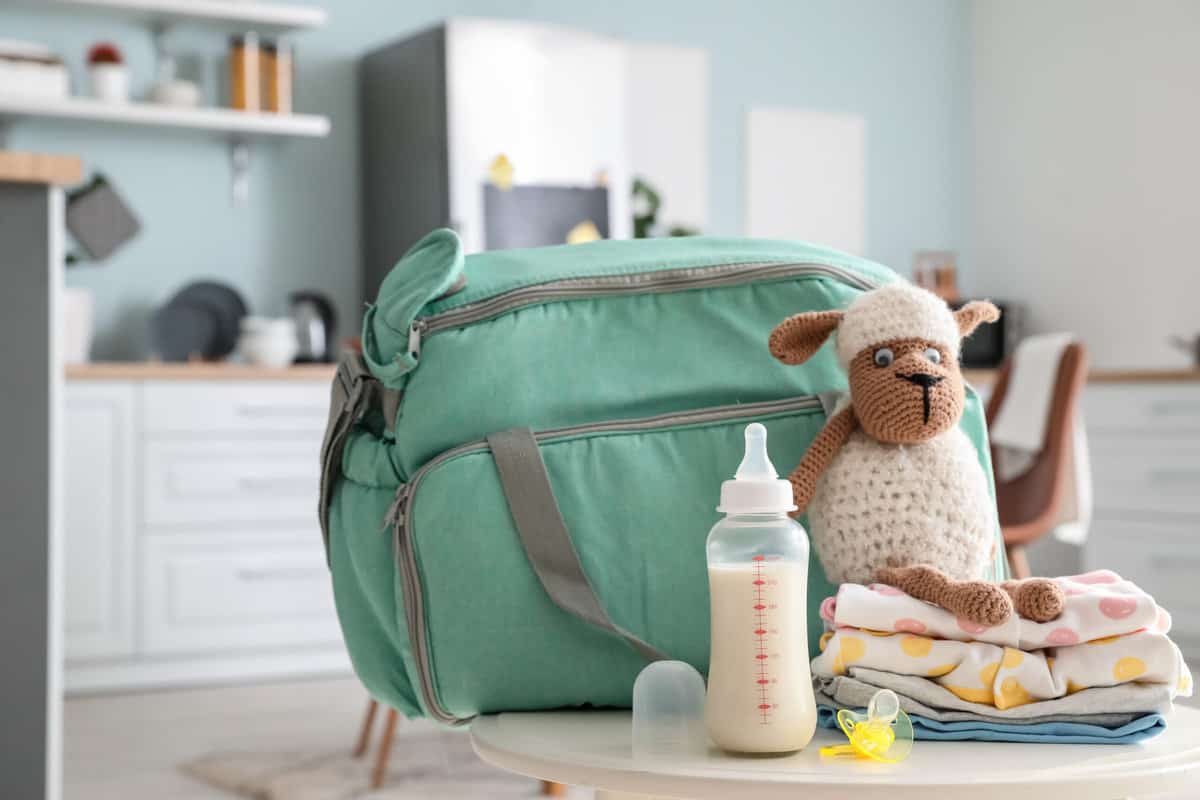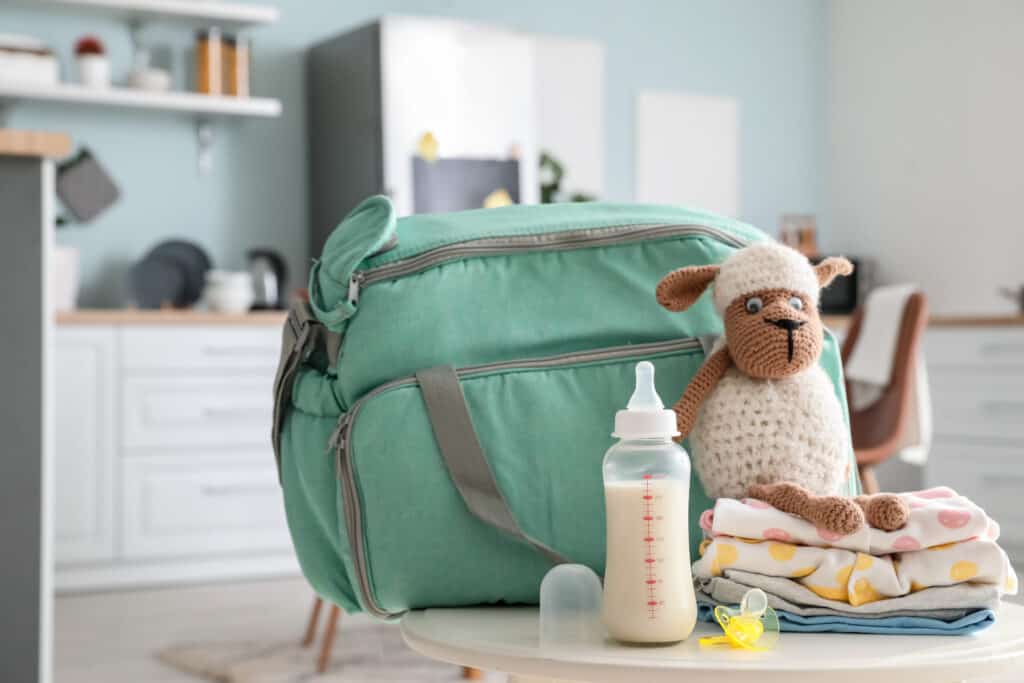 The most commonly asked questions by moms and professionals regarding purchasing the right pump bag are:
What Is the Use of Breast Pump Bag and Why Should I Buy One?
Breast pump bags offer convenience without making you feel overwhelmed by carrying all the necessary nursery products. Aside from convenience, pump bags provide ample space to store all the things you need.
They have enough room in them to carry pumps, bottles, and food without causing a backache. Their lined interior provides a cool environment where you can store your baby's milk. The pump bags look like regular bags and are made with stylish designs to carry them around like any other fashionable bag.
What Are the Materials Used in Their Construction?
Like a standard bag, breast pump bags are made of nylon material or polyester. They have pockets inside, including thermal pockets, which can keep the milk cool for some time.
Having a bag made of nylon is an advantage as you will only need to wipe clean it. Some are made of a faux leather material on the outside which makes cleaning easier. Apart from this, many companies offer different materials, and you can choose the one which suits you the best.
When Should I Buy a Breast Pump Bag?
You will need it as soon as you have a baby, especially if you are working and have to go to work daily. Buying a pump bag in advance will save you a lot of time later on. You will need to feed your child from the very next day, and for that, it is necessary to have it in advance.
What Are the Basic Things to Look For in a Breast Pump Bag?
There are some of the tips and things you need to check before buying any breast pump bag. Here are some of the most important ones:
Features
Having a bag that has enough pockets to keep all your supplies is a blessing. So, make sure that your tote bag has extra room to carry your necessary things apart from the baby items. This includes side and front or internal pockets for phones, cards, keys, wallets, wipes, and similar things.
Durability
One of the most important aspects of a bag is its durability and strength. A good bag should be able to carry the load easily without getting its drop handles torn. It should be made of high-quality material to bear the weight of the pump and the other pumping parts.
Easy to use
Your pump bag should be convenient to use in case of emergency. It should not be made of such structure and design, which confuses you and makes organizing complicated. Also, it should be easy to open with just a button or flap.
Lightweight
A good breast pump bag is made of light but sturdy material. It should not be heavy; otherwise, it would be difficult for you to carry with you all the nursing items you need on the go.
Style
The bag should be stylish to meet all your fashion needs as well as your capacity needs. It should be designed with taste and elegance in mind so that nobody can notice what you are carrying in the pump bag.
How to Consider Price When Buying This Bag?
The pump bag should be within your budget. If you can, we would advise buying a good one that might be slightly pricier but of the highest quality. This is because you will be using it every day for the next few years, and even after that.
Many of these bags can be carried as laptop bags or gym or even work bags, so investing in a good one from the start will ensure long-lasting use.
Try to buy the one which has versatility as well as a great price with strength.
How Long Can These Bags Keep the Milk?
There are thermal pockets inside the bags in which you can place ice packs for keeping the milk cool. It depends on the bag's quality and features but, usually, they can keep it cool for up to 6 hours.
Breast Pump Bags Conclusion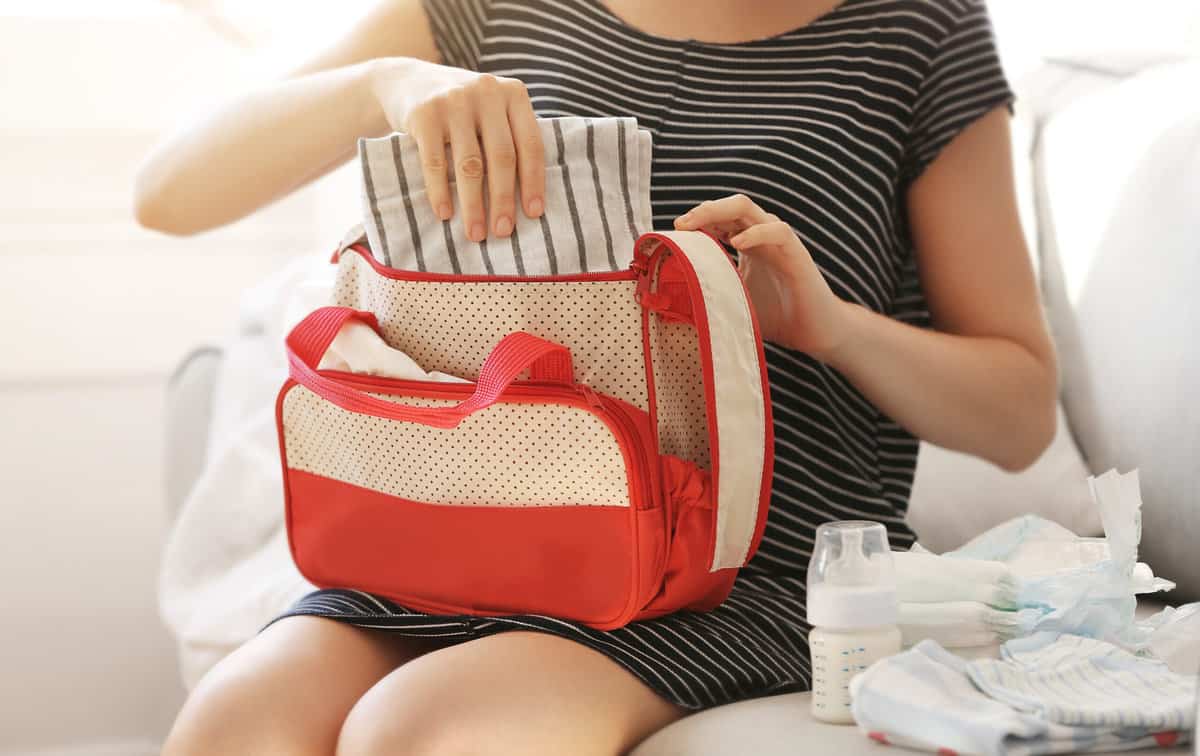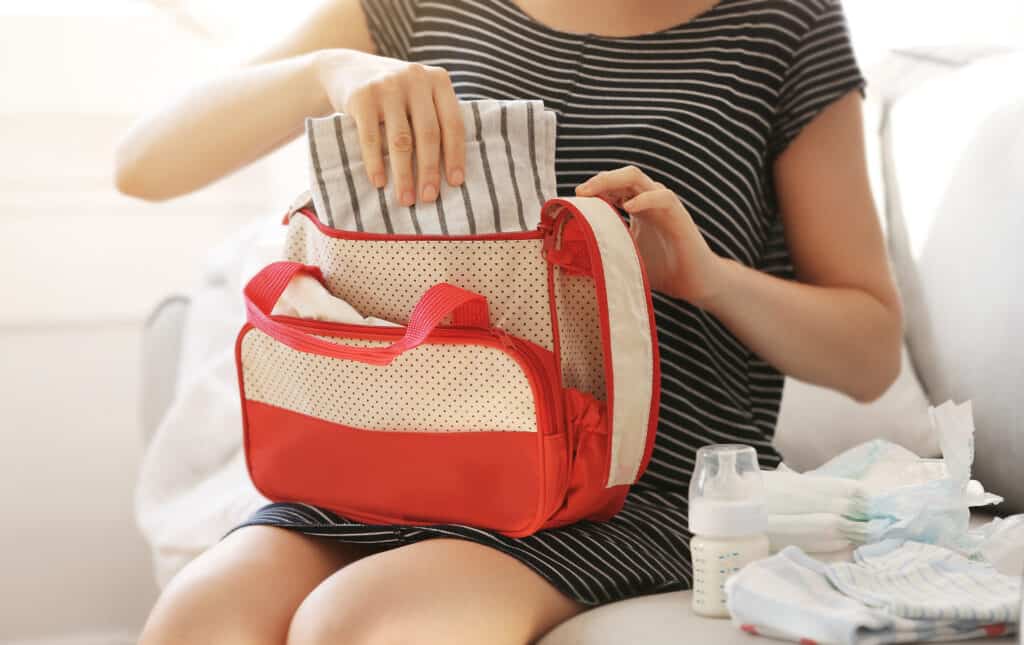 Being a mom and having to care for your child on the go isn't easy. Many products are made to ease the process, yet choosing what to get is not easy.
With that said, breast pumps, although portable, still come with multiple different parts and can be pretty challenging to carry into most ordinary purses.
Seek a bag that matches your style and is made of synthetic material that's easy to wipe clean. If you prefer a fabric pump bag, read the product information to check if it can be hand washed or machine washed.
Apart from these features, a breast pump bag isn't that different from any other bag or backpack. The most important thing for a good pump bag is to offer ample storage space and internal lining to keep your baby's milk cool.
As a final piece of advice, it is always good to have a hand sanitizer, wipes, and a cloth in the bag so that you can quickly wipe spills and keep the bag fresh and clean no matter where you are.
When not in use, store your pump bag open so that you prevent any stale smells from developing.