Being a mom and being able to breastfeed your little one is an amazing feeling. However, mothers know it's true when we say that there is a great responsibility in this period. Nursing, breastfeeding, and caring for your little one, are no easy tasks.
Companies over the years have developed a multitude of baby gear and tools that help moms make this period all the more enjoyable for them and their children. One of the products that have been developed and significantly advanced over the year is the breast pump.
There are many manual and electric breast pumps on the market, and while it is great to have such a variety, picking one that suits you can be a hard decision to make.
Double Electric Breast Pump Review
Electric pumps are more convenient and overall better to use, but they can also be quite expensive. Fortunately, there are a few affordable options. With so much choice, one question comes to mind: are the inexpensive options any good? We have decided to review the Tomy The First Years Quiet Expressions breast pump to give you an answer. We are shining a light on its features, efficiency, and functionality.
Read on to learn more.
Product Overview of Tomy the First Years Quiet Expressions
The reason why this pump is so popular among moms right now is its price tag. Because of this, we have decided to review the product and see if it truly lives up to the promises it makes.
Many double electric breast pump picks out there are pretty expensive, but the Tomy matches all their features at an excellent price point, and it's a real deal. Here's what you get in the package upon purchasing this electric breast pump:
One electric breast pump with pumps for both sides.
Tubing. It involves all you need to make your pump working.
One sturdy tote bag. It contains five interior pockets with enough space to store your baby's all feeding equipment.
AC Adapter
Two GumDrop bottles with the capacity of 4 oz each. It comes with slow flow nipples and storage lids.
Pros
The biggest pro is its price. You would not find an electric breast pump at this price with these features and accessories.
It offers versatility.
It is compact and quiet.
Its trendy storage bag makes transporting it easier without the hassle of carrying all parts.
Cons
Though it is operatable on batteries as well, these are not rechargeable.
The absence of a back-lit display. It makes it slightly challenging to use this pump in a dark room.
The suction of this breast pump takes longer than other pumping units. The pumping time increases if you use both at a time.
Key Features and Benefits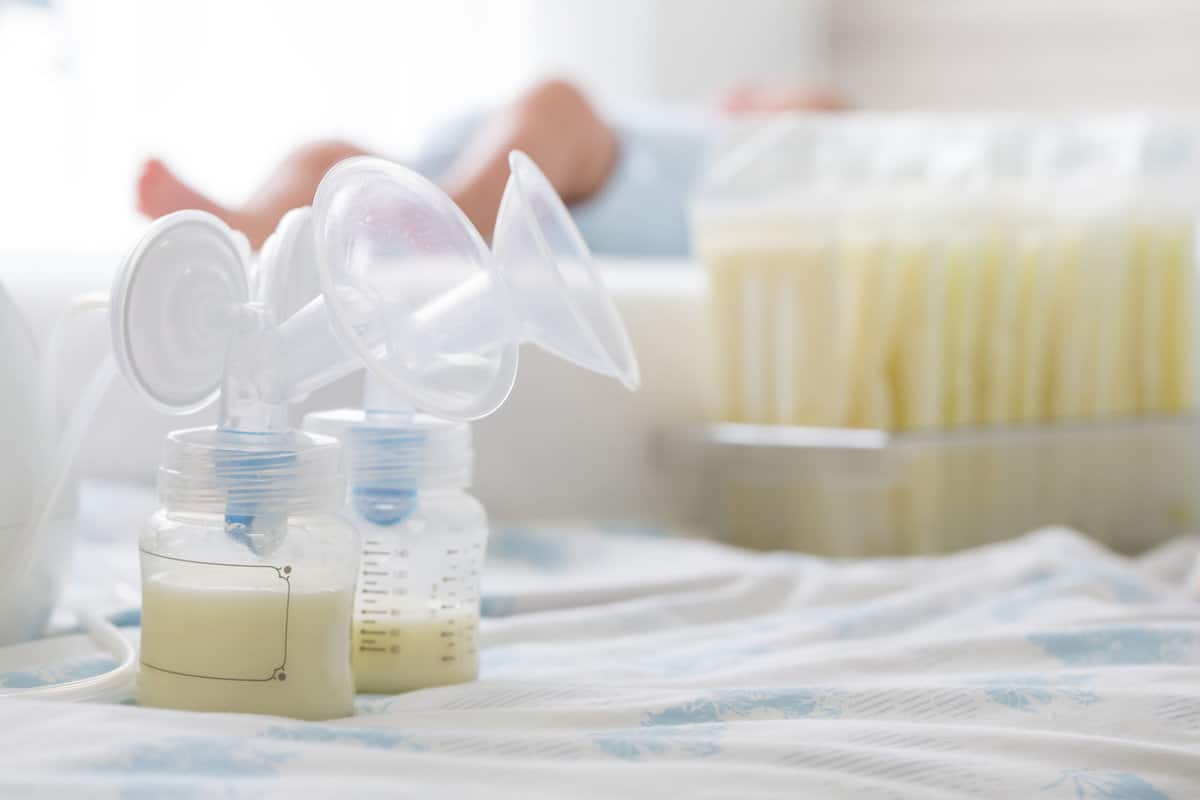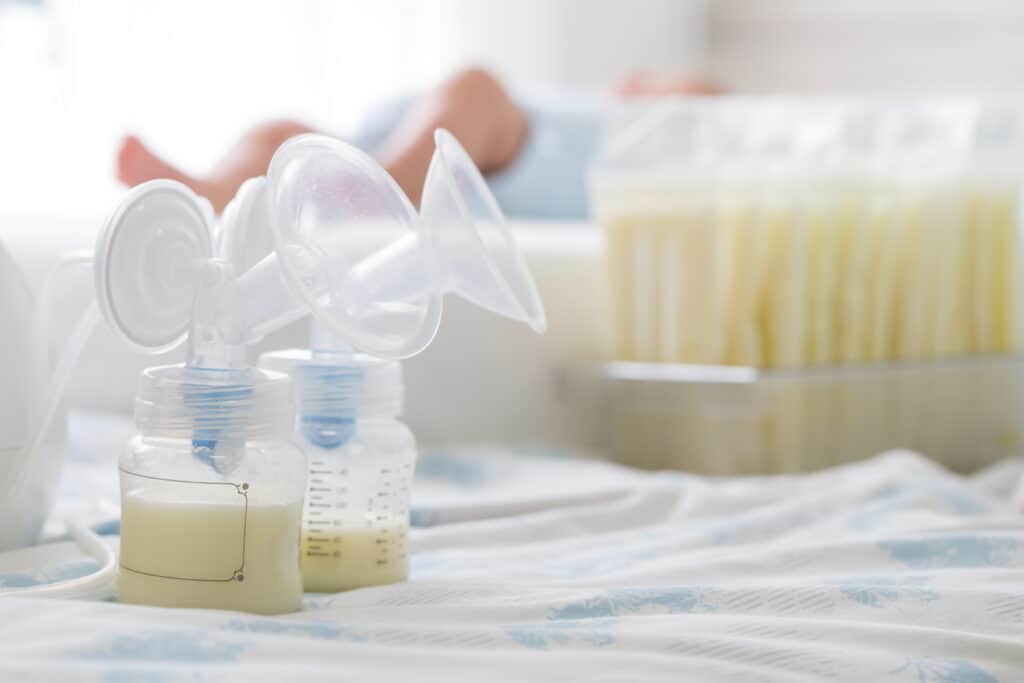 The Stylish Tote Bag Hides the Presence of a Breast Pump
Many moms don't want everyone to know about the breast-pumping tool they are carrying inside their bags. For this, the tote bag is a great benefit.
Despite having a great appearance, it also contains five internal storage pockets. It makes your things organized and easy to sort out.
The bag enables you to carry your breast pump anywhere you want. Forget worrying about how you might look with carrying this stuff in public. The tote bag is here to help you look and feel fantastic.
Flexi-fit Breast Shields
The Flexi-fit breast shields of this double electric breast pump allow mothers of all sizes to pump more comfortably.
What could be more irritating than having a poorly fitting breast shield size of a breast pump? Having such shields can make your pumping process a nightmare.
This Quiet Expressions item is created with having mothers' concerns in mind. The Flexi-fit shield is made quite soft and flexible to fit you nicely so that it won't irritate your nipples.
All this becomes possible thanks to this pump's flexible and soft shields. All you have to do is relax while pumping in utmost comfort.
Flexibility and Portability
The Tomy Quiet expression pump allows you to get power from the outlet and 4AA batteries to operate your pump.
Few pumps come with the ability to get power from electric outlets only. What annoys the most in this situation? It is the feel of staying bound with
This versatility doesn't oblige you to stay close by the power plug throughout the pumping. So it's suitable both for pumping on the go and for stay-at-home moms.
A general problem with breast pumps that operate on AA batteries only is that they quickly lose power and deliver low suction levels overall. They might seem like a convenient choice, but as soon as you start using them, you'll realize how much of a nuisance it is to have to change batteries constantly.
So, after reading this part of the review, you know that having a pump that works both ways is the best possible choice. This model can make your pumping task a lot easier.
One-Handed Double Pumping
This breast pump comes with a distinctively long centra handle that allows double pumping one-handedly.
Pumping both sides simultaneously occupies both of your hands, and if your little one is nearby, you know how much of an annoyance that could be.
Tomy Quiet Expressions resolves this issue by making a large handle at the center of a breast pump.
It allows you to hold the pump by using a single hand only. So, with your other hand, you can do something else like talking on the phone, reading, or even cuddling with your baby.
Pumping Sessions at Your Convenience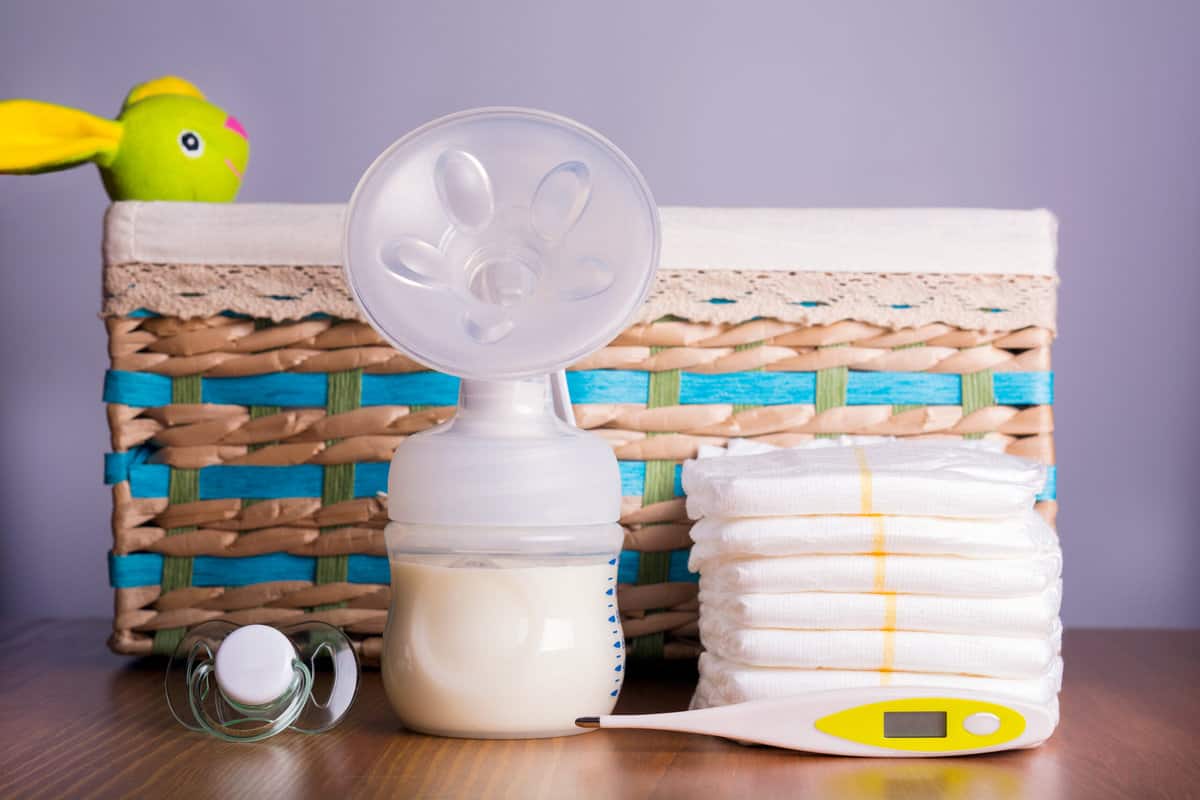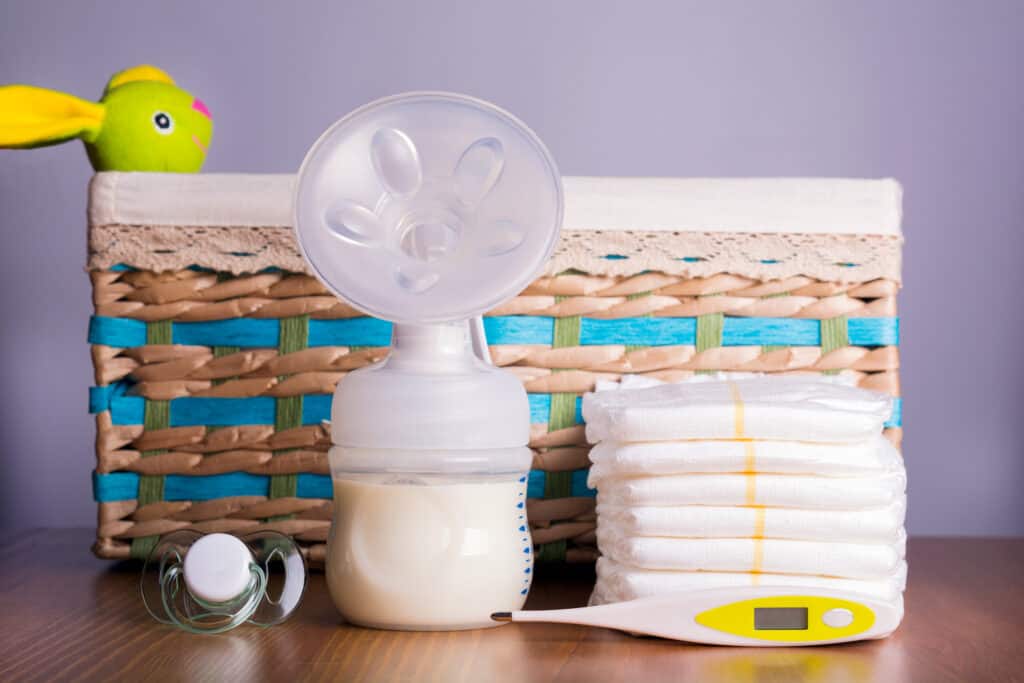 This Tomy breast pump lets you adjust the suction speed according to your liking.
What if we tell you that you are getting great versatility in a low-priced product? You won't believe it, of course. But Tomy Quiet Expressions gives you ample options.
It comes with eight adjustable suction level settings. You don't need to operate the pump at the same speed every time. So now, you can customize your pump according to your choice. If you have more time, then a slower rate with a massage mode might suit you, but if you're in a rush, then increasing the speed a little will save you a lot of time.
This feature can significantly help you continue feeding your baby even when you have many other chores to complete.
Lightweight
Always go for lightweight breast pumps. Whether you're planning on traveling with it or staying at home, light pumps are always better.
Despite having a double power pump motor and two pumps, this breast suction unit weighs only 3 pounds.
Having lightweight products is especially crucial for new mothers. They already have loads of baby gear to carry with them. So, having a lightweight pumping machine can make going out considerably more manageable.
Silent Hospital-Grade Pump
This Quiet Expressions breast pump is quiet.
How does it feel to use a breast pump that diverts everyone's attention towards you? It will obviously make you feel uncomfortable in public. Not only this, it may wake your sleeping baby up resulting in more trouble.
This suction unit barely produces any sound. Instead, it lets you do your work calmly without distracting you or waking your baby up. More expensive pumps on the market make more noise than the Tomy, so moms are pleasantly surprised to see how well this pump's motor works.
Tomy First Years Quiet Expression Details
We have discussed a few significant features and benefits of Tomy the First Years Quiet Expressions breast pump. However, there are few more facts that you might want to know before you purchase one.
Your hospital-grade pump gets power from outlets delivering 110 volts.
It is not easy to get replacement parts of this breast pump online. In case of damaging any of its parts, you will need to contact the company. They will replace it for you. Moreover, it's good to use only Gumdrop Bottles or Breast Flow bottles with this unit.
The power cord that comes with this unit is 70 inches in length. This will impact your mobility while pumping connected to the power outlet.
To clean your breast pumping unit properly, you will need to use dishwashing liquid. It is better to sterilize it afterward. Also, it is crucial to dry the pump properly before using it for further breast pumping. Otherwise, the presence of moisture while working can damage your unit.
Though this unit comes with slow-flow nipples, you can also get the one with the medium-flow separately.
If you are getting irritated by its handle, you can detach it.
As its two bottles contain the capacity of 4 oz each, you will need to purchase more accessories if you have more milk supply.
You can either use a single or double pump with this unit. The choice is entirely yours.
Comparison With Competitor Breast Pumps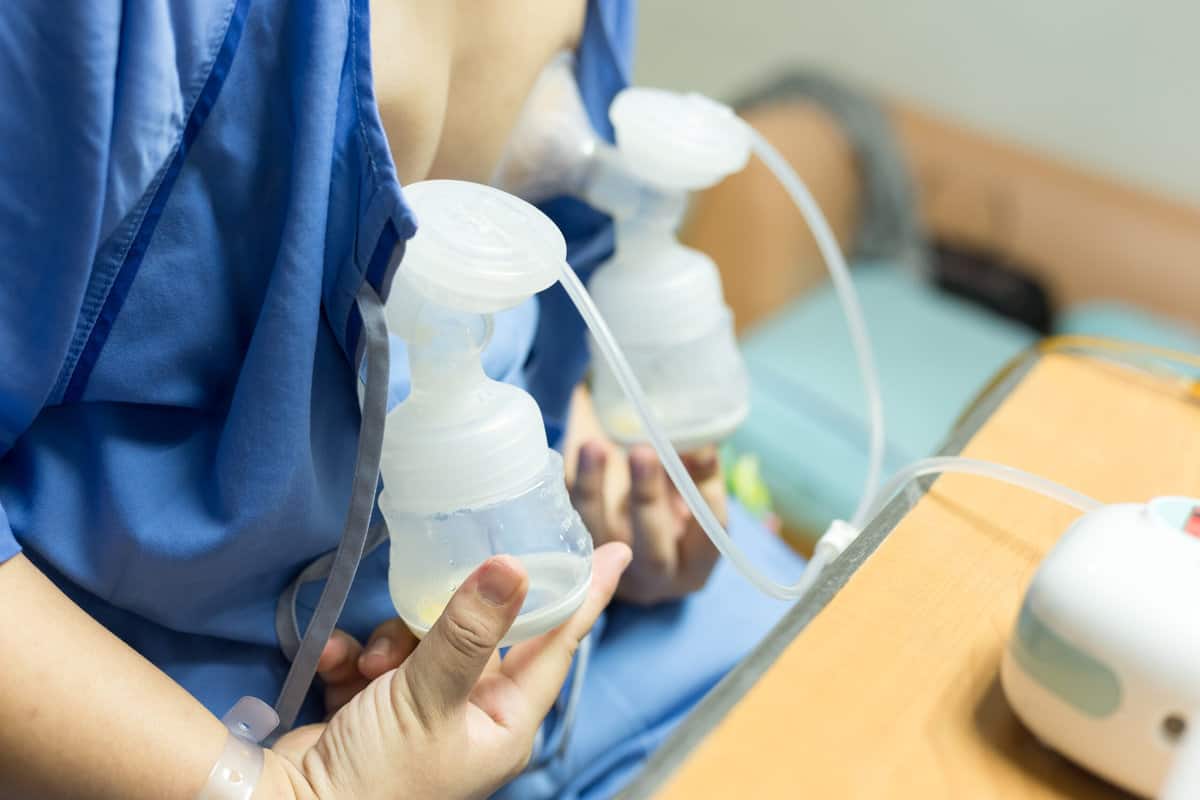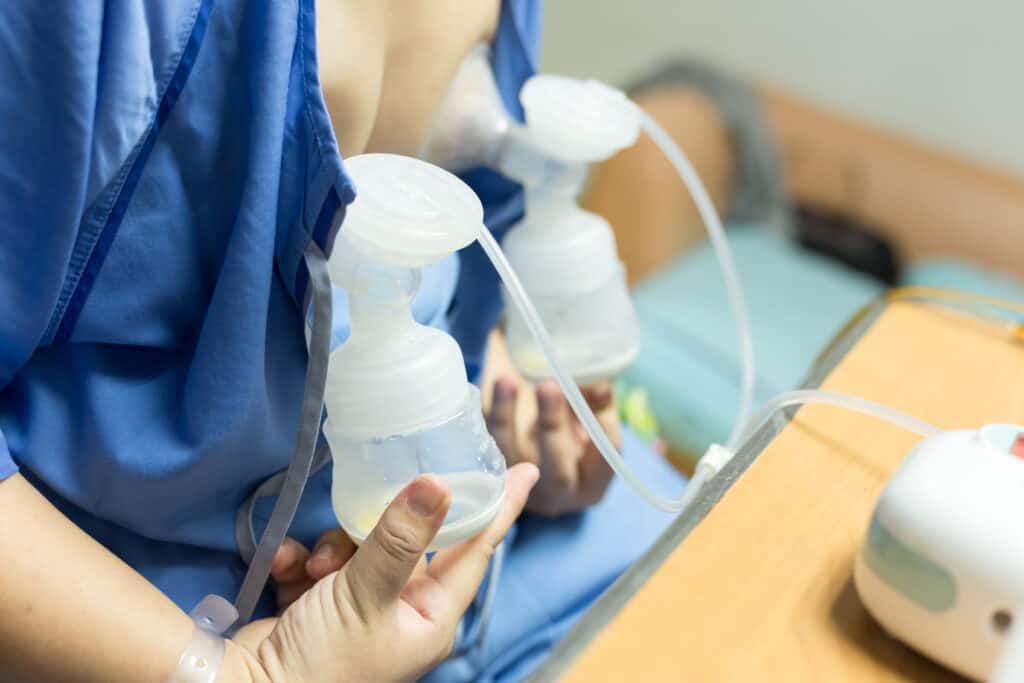 If you're looking for a comparison of the Tomy First Years breast pump, we are comparing a few other breast pumping units here. You can see what additional features they can offer.
Philips Avent
If anyone dislikes the large central handle of the Tomy Quiet Expressions pump, they can check other available alternatives. One such option is Philips AVENT Double Electric Comfort Breast Pump.
The handle might make you feel tired after prolonged pumping. Thus, the unique style of AVENT can come in handy in this case. Its bottles contain a broad base that makes holding them easier for longer pumping sessions.
Moreover, its gentle stimulation mode makes pumping a more convenient task.
NUK Expressive Double Pump
For mothers looking for an exceptionally small and compact-sized breast pump, the NUK Expressive Double device could be a suitable option.
If you are not willing to take a separate pump unit tote bag with you, this double pump can solve your problem. It weighs around one pound only.
You can simply wrap it up in a plastic bag and store it inside your handbag. Moreover, it comes with many convenient and comforting pumping features.
Medela Pump in Style
If you want to pump breastmilk quickly, then go for Medela Pump in Style pump. This powerful unit can perform the taks in a matter of minutes. This device, with its time-saving property, will provide relief during your hectic routine. Cleaning this unit after each use is also made more accessible. With its BPA-free parts, this product is the best when it comes to pumping milk on the go.
Spectra S1
The Spectra S1 is a closed-system pump. It is BPA-free and provides a solid pumping experience, and we get many recommendations from health-conscious mothers who advise getting this pump because of the closed-system design. Getting an open-pumping system will be easier to clean, but it won't protect your milk from getting contaminated by external sources.
The most significant benefit of this hospital-grade pumping device is its closed system and the massage mode that helps moms get an increased milk supply. However, this brand pump's cost is relatively high compared to the Tomy pump, so we are not sure if spending all that money will be worth its value to you.
Freemie Freedom
Though pumping with the Tomy Quiet Expressions singlehandedly is quite convenient, you can get a better experience pumping breastmilk with other pumps.
If you are a mom who would like to run some errands around the house or be with her baby while pumping, we advise looking at the Freemie Freedom pumping unit. This device will keep both your hands-free with its unique design.
You can also use this pump while working in your office. The best part about it is its relieving feature that allows you to stay fully covered while pumping.
Who Should Buy This Electric Breast Pump?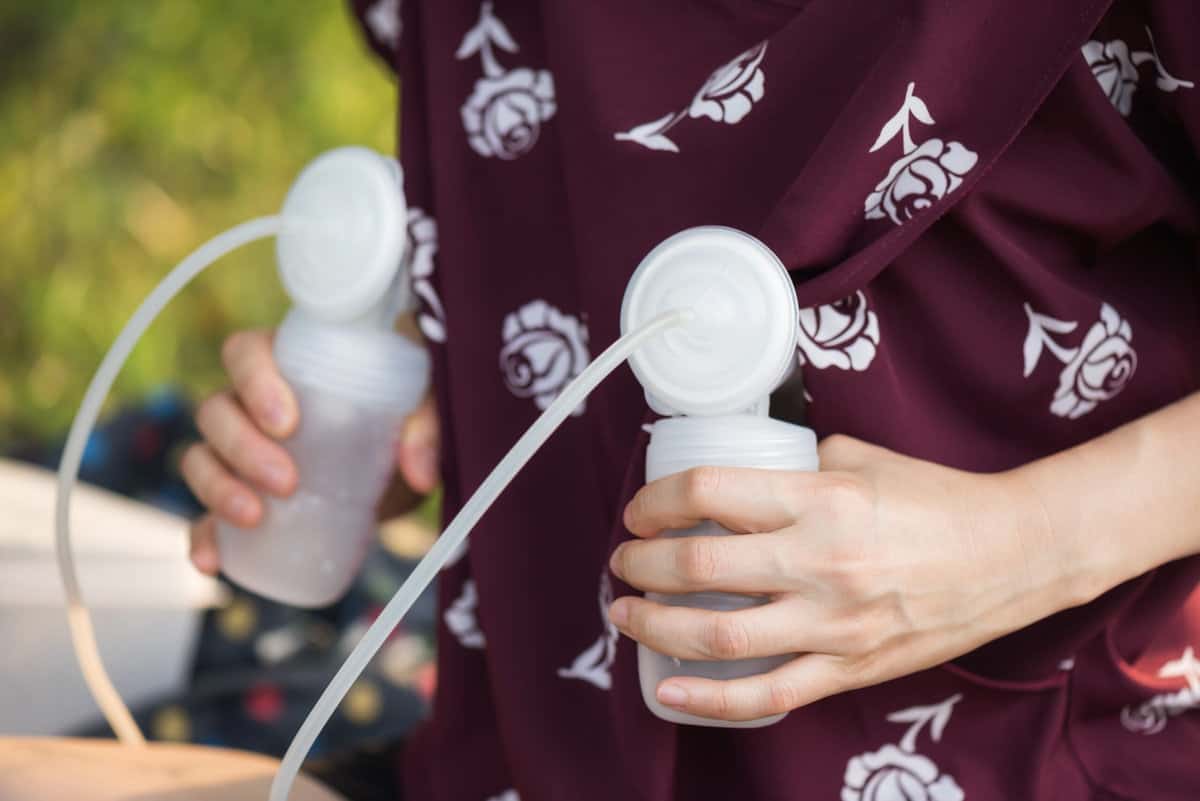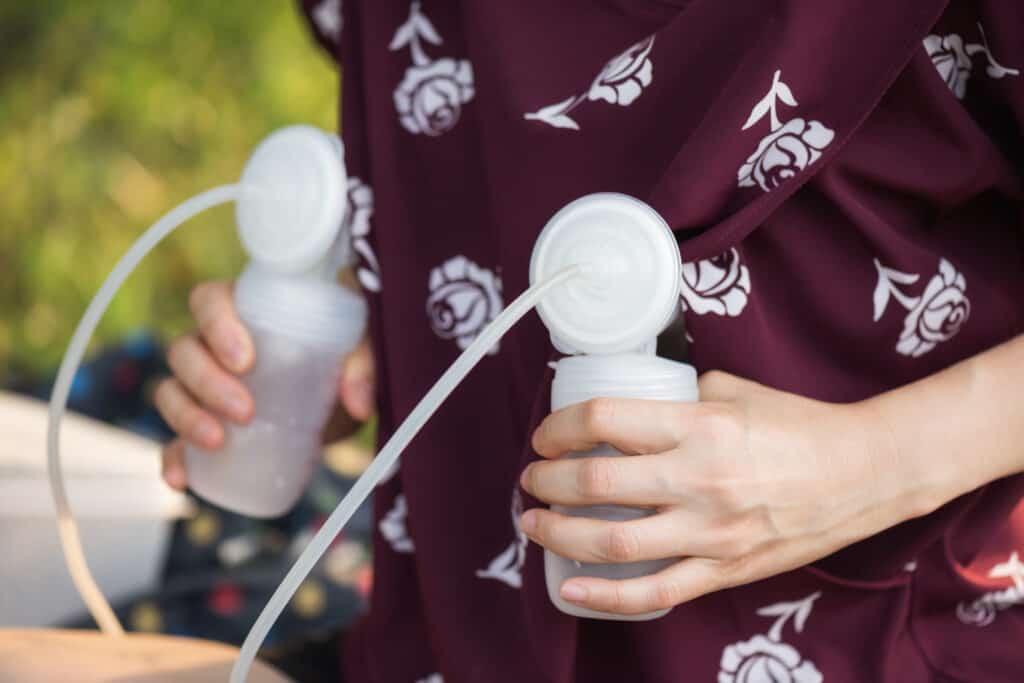 This Tomy Quiet Expression product is meant for all those mothers who can't afford high-priced baby products. But still, they want to provide their babies with the best.
If you are a mother who doesn't have an excessive budget, or your company doesn't cover this item under their insurance policies, you can purchase this item without spending too much money.
However, the fact that it doesn't cost a fortune does not mean that this is pump isn't any good. It comes with a display, a one-hand pumping experience on both breasts, and it offers functionality both on batteries and AC outlet.
Parents love this breast pump because of its high versatility and good quality that matches some of the best pumps on the market.