8 Best Step Stools for Kids
Children are active, and they like running around and climbing and doing cheeky things, but when it comes to reaching for things at home, climbing the furniture can be a dangerous thing to do for them.
Adults shouldn't do it either, but kids especially. Their safety should be put first, so investing in step stools is always a good option.
These step stools will aid with mobility around the house. They are very sturdy and offer excellent support when leaning on or directly standing on them.
You never know when your child might stay home alone and need to reach something, so instead of leaving it to chance, you should secure them a good kids step stool and know that they will be safe.
These step stools are lightweight and can be used in any room for reaching the kitchen counter, cabinets, toilet sink, or even the shelves in their room.
The stools are versatile by design so that they can match any furniture and floor.
Currently, we have many step stools that are ideal for children on the market, with their cute designs and trendy looks, but how do you pick the one? The chair you buy needs to be robust, non-slippery, space-saving, and have an attractive design.
We have selected eight stools to review that match our criteria and deliver even more with those features in mind. Please take a look at our comprehensive list below and pick the one that suits you the most.
This product is ideal for kitchens as well as other rooms. It can bear the weight of adults and children alike and is highly safe and space-saving. It can quickly unfold with a slight tap, and you don't have to exert a lot of force opening or closing it.
Features
Here are some of the features worth mentioning of the product.
Weight
This step stool's weight is its high point since it only weighs 2.3 pounds and can carry 300 pounds of weight. This is very impressive, and both adults and children can use it without worrying about falling. Being so lightweight means that your child can take it anywhere they need it for without needing anyone's assistance.
It is made of sturdy plastic that promises long-lasting use.
Safety
This product is certified and recognized by the ANSI III requirements. It has all the safety measures required for both children and adults. The top part and the footpads are made with anti-skid material to prevent slipping on any surface. Moreover, the stool does not fold at small movements but instead has a specific folding method for the sake of safety.
Space-saving
You can easily fold the toddler step stool into a thin object that fits anywhere. You can leave it between the wall and your fridge in the kitchen, near the washing basin, or simply leaned on the wall behind the door. It also comes with a handle so that you can carry it around effortlessly.
Our Verdict
The price range, utility, and safety it provides make this the best stool step for kids. Moreover, its beautiful and chic polka dots design makes it all the more desirable for children.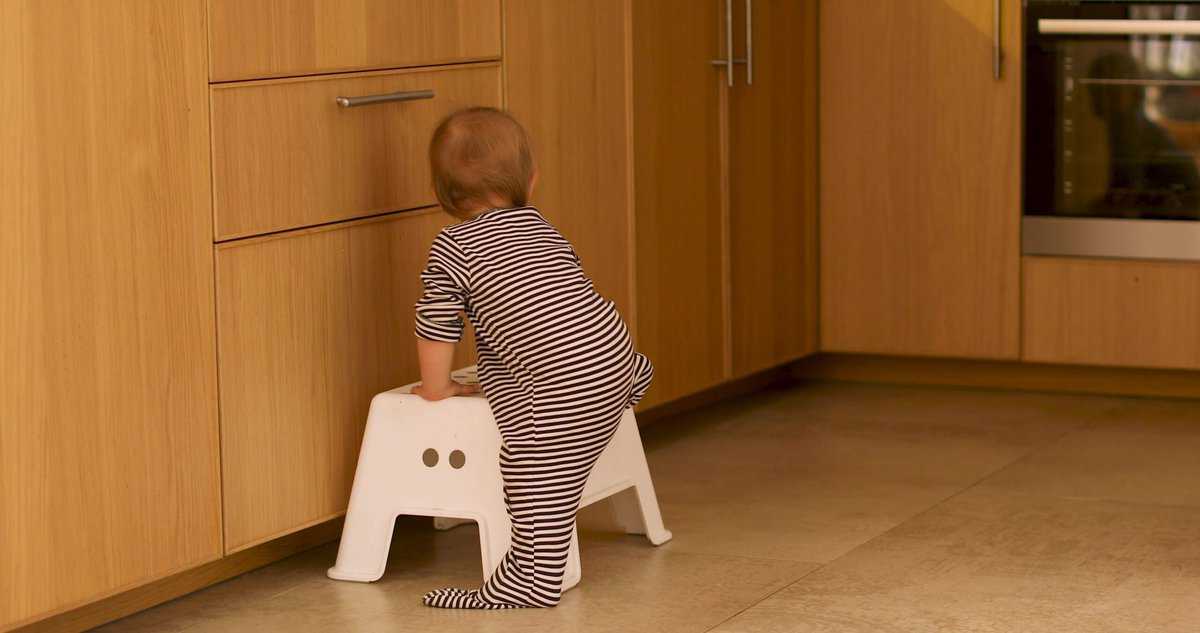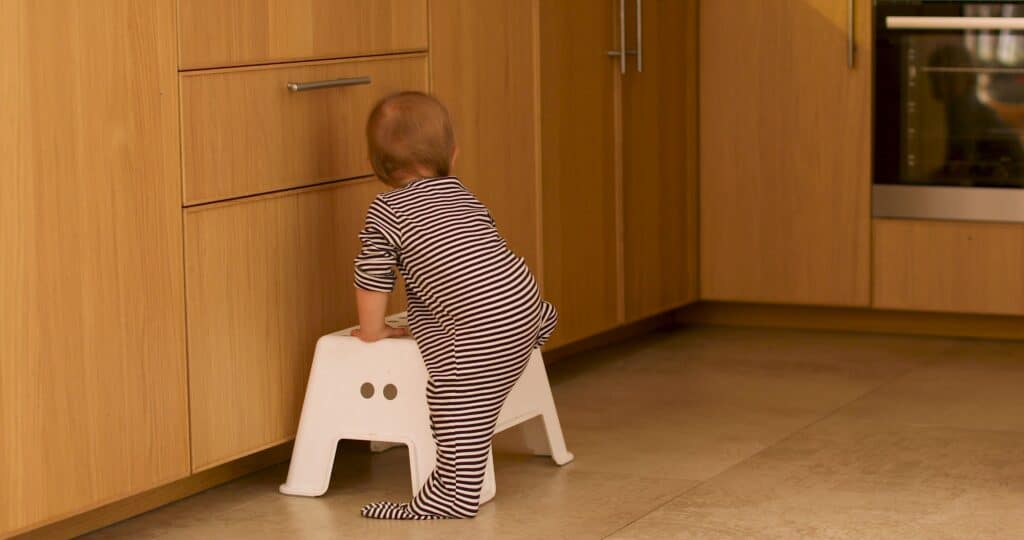 As the cute name suggests, this stool is made for children. It can help them reach high places, potty train when combined with a bumbo potty trainer and help them swim in the tub.
Features
Some of the best features of this toddler step stool are:
Colors
Since we are talking about kids here, we all know kids love colors. This stool step comes in three different colors, and this is ideal for them to grow fond of it and use it often. It comes in black, blue and pink color.
Safety
This stool step has a wide bottom with anti-slip technology and a surface that is slip-resistant. The broad base has wide feet, which lowers gravity and gives the stool better safety and sturdiness.
Size
This product is specifically made for kids, so it is lightweight so that the children can pick it up and carry it wherever they want to. The fact that it is lightweight has not affected the quality and strength of the product. The material is very sturdy and provides excellent support. Its dimensions are 15.125 x 6.5 x 11.125 inches, and its weight limit is 11o lbs.
Our Verdict
This product is an ideal stool step for your kids. With its design, it's perfect for home use. It is colorful and meets all the safety requirements.
If you have a child older than 6, this stool step will be a great choice. You can use it anywhere around the home, and so can your child. The three-step stool can help your child reach anywhere they want without the risk of falling.
Features
Some of the highlighted features of this step stool are:
Anti-slip
The steps, as well as the leg tips, come with anti-slip technology. Whether you use it on the carpet, chip floor, or tiles, you will never find yourself rocking or being unstable while climbing. Moreover, the leg tips are made such that they don't strain and scratch your floor.
Safety
The safety of the user is taken into account in every aspect of the design. The leg tips and the steps are made of anti-slip material. The complete stool step is made with titanium to be used for heavy-duty without safety hazards. There is continuous support from the back of the stool step with the titanium rods that keep the steps sturdy in all situations.
Folding
The product can be easily folded and fit into any place you want. You or your child can also carry it around easily.
Our Verdict
If you want to provide safety for your child around the house, this product is the best stool step for them as it is exceptionally sturdy and durable.
This dandy-looking two-step stool step comes in white and black. Your child can practice independence with the peace of mind that they are safe and sound while climbing. Due to the neutral-looking color, you can also help your child customize it and make it more personal. They can draw or paint on it or even use stickers.
Features
Here are the most prominent characteristics of this toddler step stool worth mentioning.
Material
This step stool is made of medium density fireboard wood engineered specifically for being strong yet lightweight, which are exactly the features that this product depicts. The beautiful look and low center of gravity are due to using MDF wood.
Safety
This stool step was made following a lot of research and parents' experiences to keep your toddler safe. It is made wide so that the center of gravity is lowered down. This gives extra stability to the stool step and prevents your child from falling or tripping even when they have their hands full.
Utility
Adults and toddlers can easily move it around the house thanks to its three handles, two at the sides and one at the center. The screws are tucked in for extra safety.
This step stool is entirely rust-resistant, which ensures durability and long-time use.
Our Verdict
This step stool is perfect for regular use around the house. Your toddler will easily reach any kitchen surface easily or step up to the faucet and brush their teeth without your help in the bathroom. It will help them reach any shelf around the house effortlessly.
Although we like the fact that it isn't made of plastic, there is a downside to it being made of wood regarding its weight. Namely, it weighs 6 lbs, and toddlers or even older kids may not be able to carry it around as easily.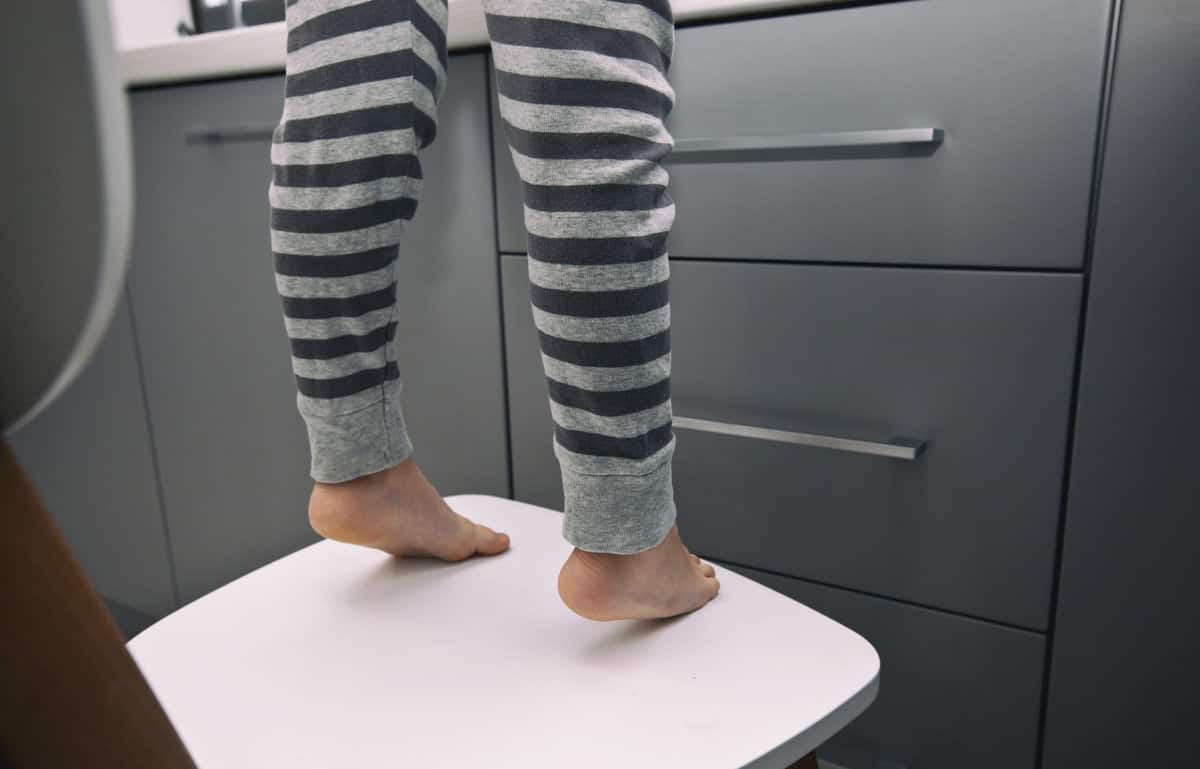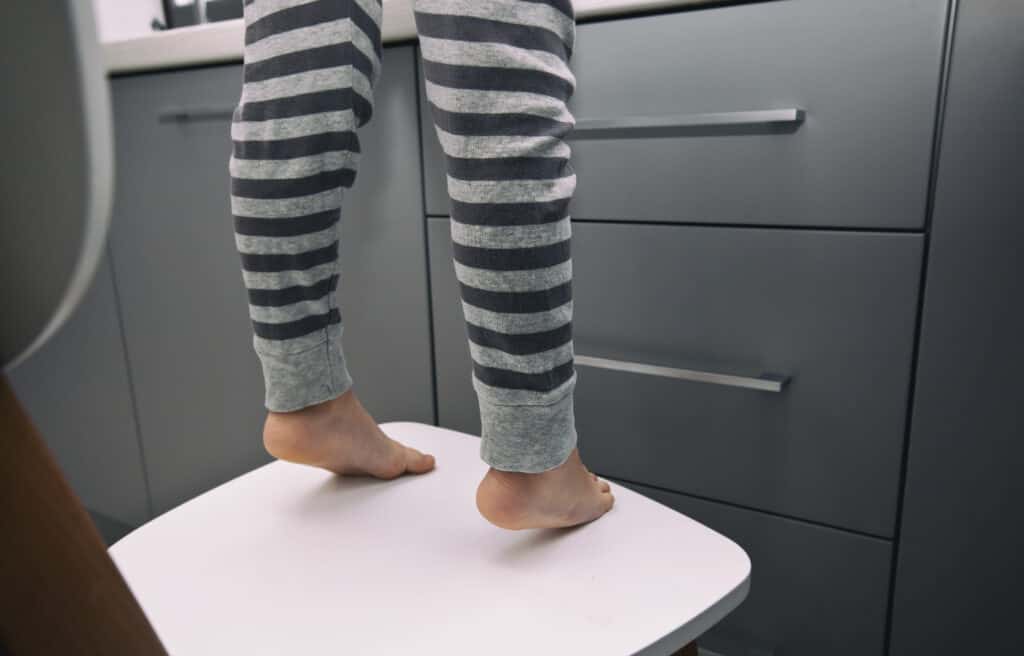 This pink color stool step is primarily made for girls to enjoy and use in the bathroom and around the house for other uses. It is lightweight and slip-resistant. Moreover, it is ideal for potty training.
Features
Some of the best features of this step stool are:
Safety
The step stool comes with grippers on the base of the stool to prevent slipping on the floor. It also has the same anti-slip surface on the top of the stool, which provides your child with extra stability and more balance. Even after getting wet, the grippers keep on working and make the step stool anti-slip.
Portability
The step stool weighs only 9.6 ounces which is ideal for your little daughter, yet it is very durable for her weight. With the lightweight and small dimensions, it is effortless to be moved around the house by kids.
Weight-bearing
The step stool can bear weight up to 70 pounds which is perfect if you only use it for kids.
Our Verdict
The Kids Best Friend Girls Pink Step Stool is ideal for you if your child is between the ages of 2 and 5. For toddlers above 5, this step stool might be too small.
This highly reasonable and incredibly stylish stool step will be your child's all-time favorite. It can be used in collaboration with a potty trainer or alone. The lifetime money-back warranty is the best feature of this product and promises quality.
Features
Some of the best features of this step stool are:
Material
This step stool is constructed using durable elements to keep your child safe. The material is lightweight and easy to clean. All you have to do is wipe this step stool with a washcloth, and it will shine like new.
Safety
This stool step comes with a GrippySafe anti-slip ring around its bottom that prevents it from slipping. So, your kids can step on it even if the floor is dusty or wet.
The GrippyGuidance Feet are foot rings on the step stool made with an easy-grip surface and show your child where they need to step.
Warranty
Cozy Greens gives a lifetime warranty for their step stools. You get can a 100% refund of the product anytime you feel its quality is degrading.
Our Verdict
If you want a chic and fail-proof step stool that will keep your child safe and do it in a fun way, this is the best choice.
This product by Rubbermaid is not very attractive to the kids, but it is one of the best and most durable stool steps in this price range. Apart from this, it also has a folding feature, which means moving it around quickly and storing it anywhere.
Features
Some of the best features of the Rubbermaid step stools are:
Safety
The stool comes with a one-piece top to ensure sturdiness and prevent your toddler from falling. The top is made with a gripping material that prevents slipping even if you are standing with wet feet. Moreover, the fold lines have locks on them, so they don't fold while standing on these step stools.
Weight
The stool only weighs 2.75 pounds and can bear a load of up to 300 pounds. It is made of high-quality plastic that depicts great strength even under heavy duty. Both kids and adults can use it.
Folding
The folding design of this product makes it very easy for kids to use. They can store it almost anywhere due to its sleek design and low weight.
Our Verdict
If you don't care about the looks of the stool, but you want high-quality, safety, and utility, then this is the step stool you've been searching for.
The adorable Mommy's Helper Step Up stool makes the daily bathroom responsibilities like brushing teeth and kitchen chores fun for the kids. It comes in an attractive green color with a cute frog-like structure.
Features
The worth mentioning features of the product are:
Design
Most products have cute and colorful designs, but children usually prefer cartoons and characters on them. This product has a sweet design that all kids will love.
Safety
The manufacturer did not compromise on safety for looks and used high-quality materials to make their stools one of the safest ones on the market. So, apart from making it sturdy and durably, the stool is super fun with its frog-like shape and color.
The top and bottom are both loaded with grippers to prevent the toddler from falling.
Size
The product is not very big, its dimensions are 13 x 9 x 6 inches, and its weight is 14.9 ounces, which makes it easy to carry.
Our Verdict
If you have a toddler from 2 to 5 years of age who is fond of colorful things, this product will be the ultimate gift.
Kids Step Stool Conclusion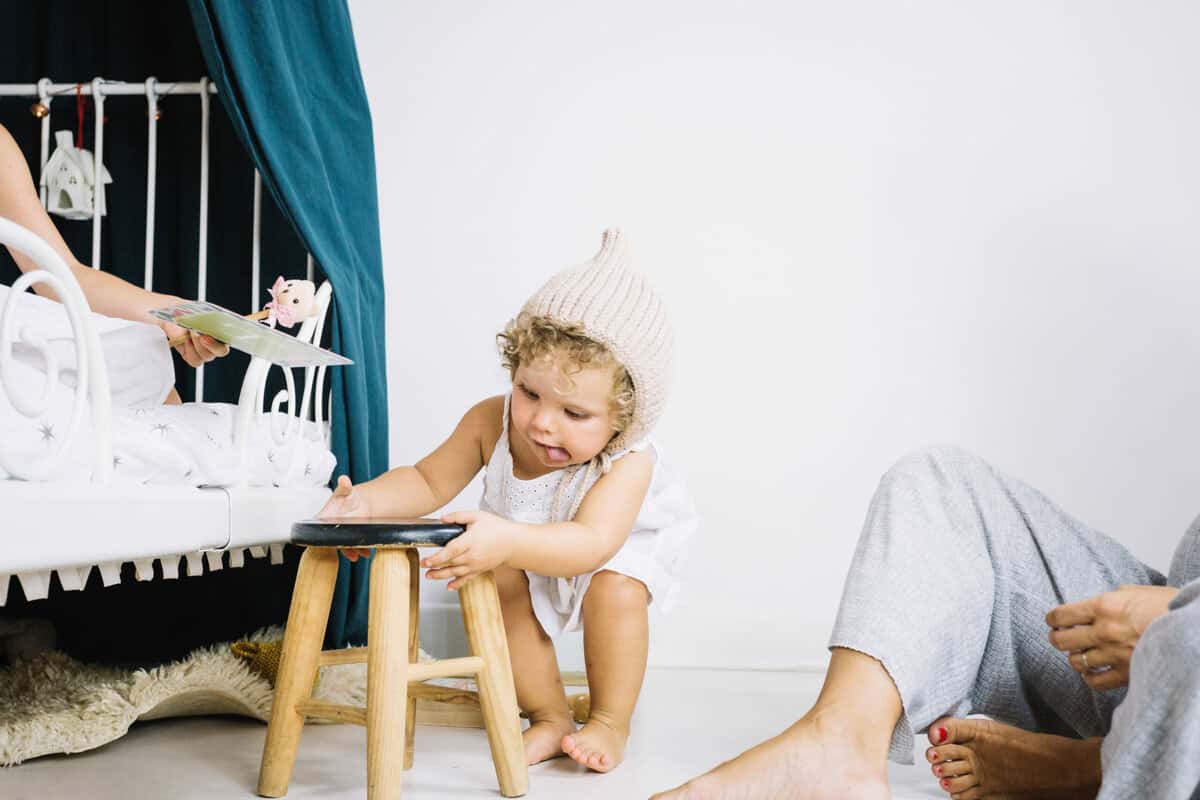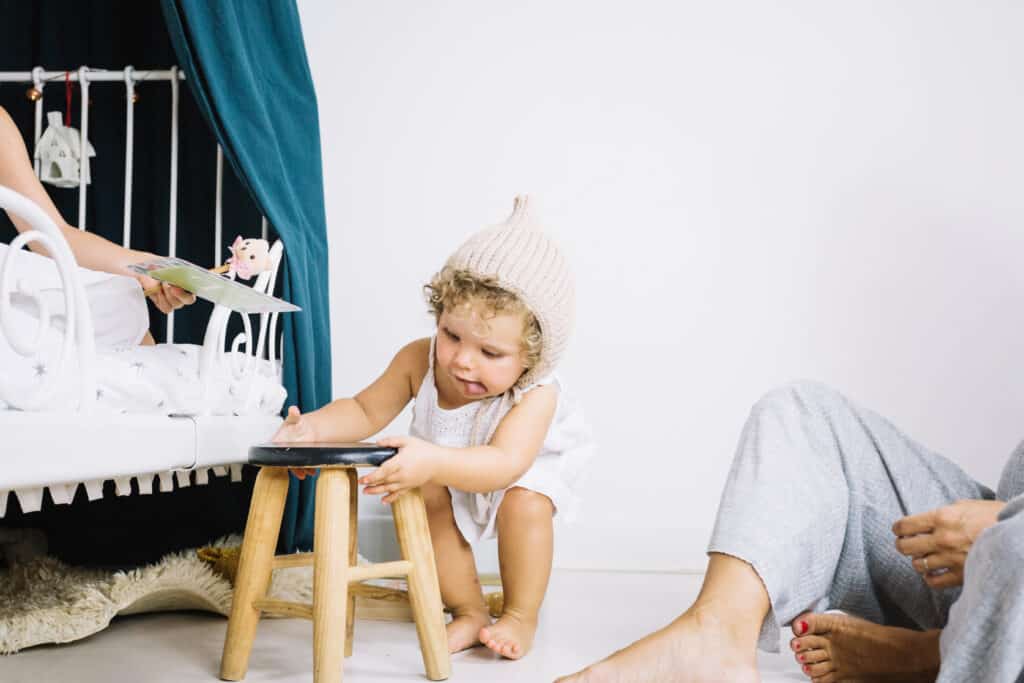 Since there are many stool step options on the market, you have a wide range to choose from. Finding the best step stool for your kid can sometimes be tricky as most children have their own choices and preference.
To help you narrow down the decision before your order, here are our two top picks:
Handy Folding Step Stool. If your toddler is not that picky about the colors and design of a step stool, then, having the price and convenience in mind, this product is ideal.
Cozy Greens Step Stool is great for children who love colors and vivid designs. It offers complete safety and a guarantee for long-term use.
All in all, we hope the items in this article helped you find the one among many good stools on the market. Your child's safety always comes first, and we believe all these stools will keep them safe and protected while exploring.