Babies begin to hear through the body tissue of their mother as early as 23 weeks into the pregnancy. This is called the fetal doppler effect. So, many mothers use that opportunity to bond with their children. You can do this through singing, reading, or talking to the baby to create and maintain the connection until birth.
The fetal doppler effect was discovered back in 1842, but it wasn't until 1958 that Dr. Edward H. Hon, a scientist, and physician, invented the first baby doppler. With it, mothers can listen to their babies instead of just talking to them.
Fetal dopplers are also great for high-risk or complicated pregnancies with safety concerns. With them, moms have the added peace of mind of allowing the mother to listen to the baby's heartbeat and ensure it's normal. It is like having a baby heart monitor at home.
Many fetal doppler devices are currently available at a much affordable price than they were. That said, some monitors are more accurate and effective than others, so here are our picks for the best home fetal dopplers on the market.
Best Fetal Dopplers For Early Pregnancy
Ultrasound imaging and listening to your baby's heartbeat with a home device is a beautiful thing for any expecting mother.
The Angelsounds fetal heart doppler is the most popular model on the market. It recently experienced an overhaul, so it now offers an improved sound sensor, enhanced ultrasound accuracy, and an easy-to-use, compact design.
This baby doppler is roughly the size of a computer mouse and includes a second-generation ground sensor from Medi-K that records sound from inside the womb. It's also easy to use, only requiring a lubricant, like baby oil or ultrasound gel, to get started.
The Angelsounds device can also pick up a heartbeat as early as 11 weeks. It includes a sound amplifier for enhanced clarity and two audio jacks so that partners can listen too. These sounds can be recorded and saved in MP3 or WAV format by connecting to a computer. This is a significant advantage for the health care of the mother and baby as they connect from early stages.
Pros:
Compact
Easy-to-use
Non-invasive
Safe
Accurate
Sound amplifier
MP3 or WAV options for recording
Two audio jacks
Money-back guarantee
Cons:
No heart rate display mode
Best Fetal Doppler for Home Use
Like other fetal heart monitors, the Bundle Tumble Babyblip has a crisp, accurate audio quality and features two audio jacks. Additionally, it comes in a cute, two-tone casing design that's pleasing to look at.
The Babyblip is one of the most popular monitors on the market due to its incredible accuracy. Not hearing a heartbeat can be unsettling, especially for new mothers, but the Babyblip can pick up a heartbeat sitting or standing without the use of gel or lubricant. It's also high-quality sound, unencumbered by static or interference, and picks up even the most minute sounds. Because of this, it also offers a volume knob to adjust the sound.
Like Angelsounds, the Babyblip can connect to a computer or audio recorder to hold on to those memories or have a heartbeat or other sound recordings readily available for your doctor.
Pros:
Compact
Attractive
It can be used sitting or standing
No static or interference
It can be used without lubricant
Two audio jacks
Ability to record sounds
Safe
Noninvasive
Cons:
Included earbuds are oversized and ill-fitting
Best High-tech Fetal Heart Monitor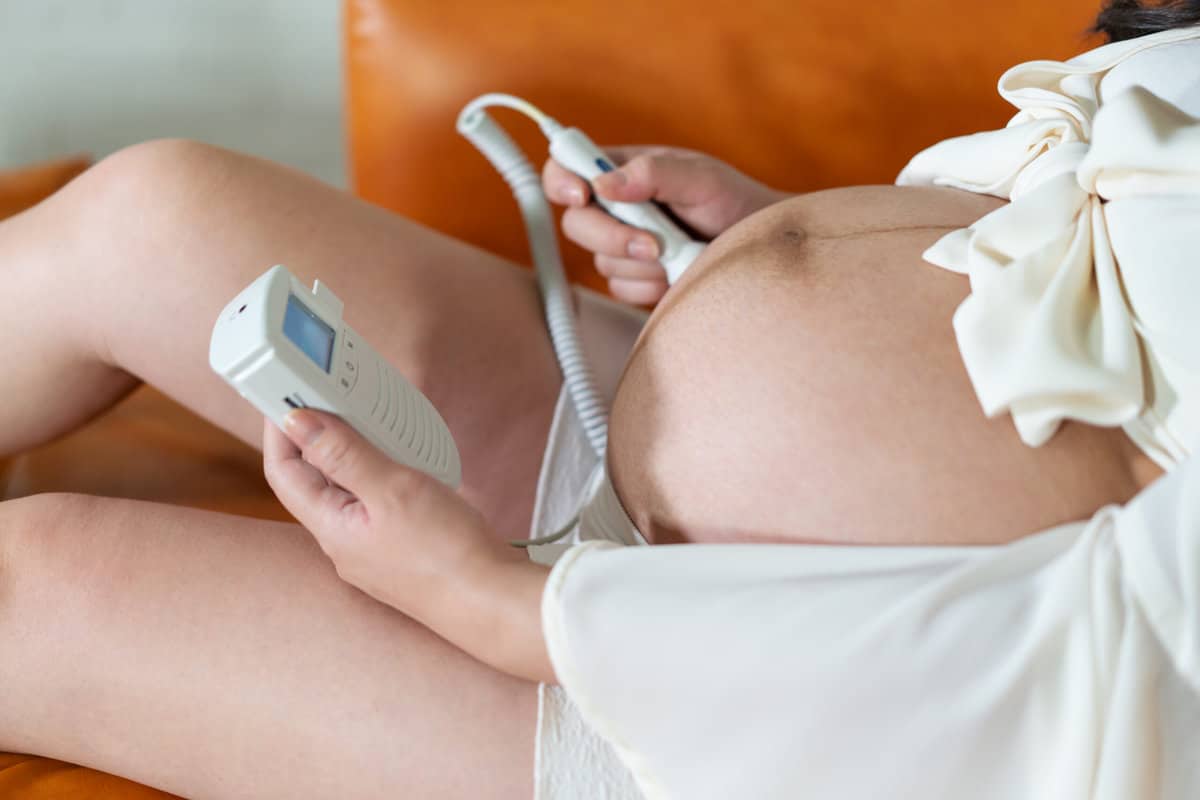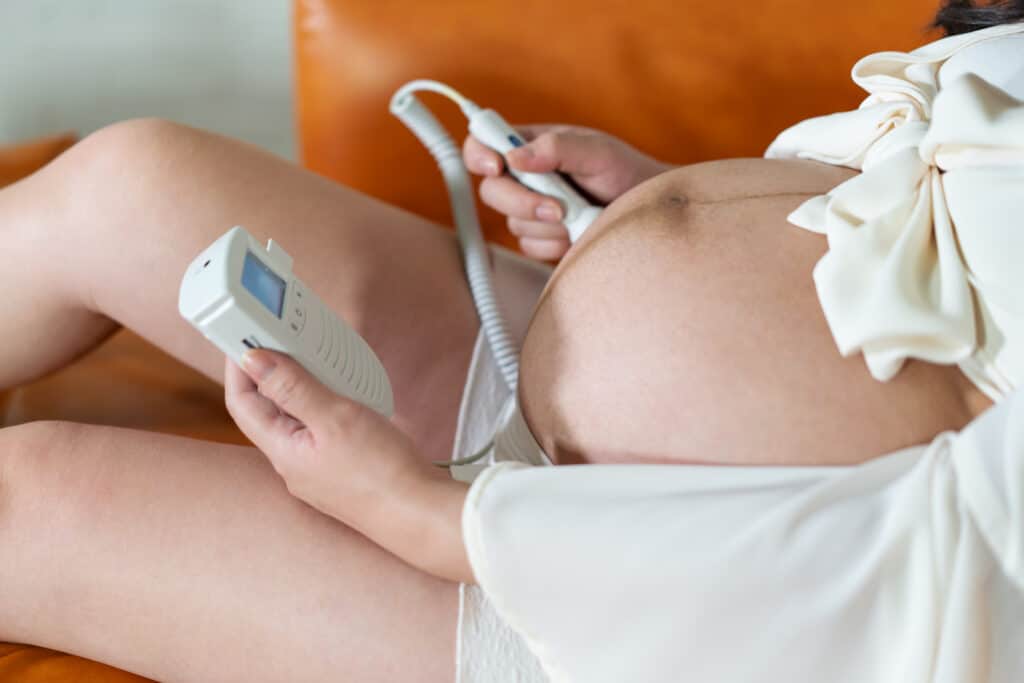 Unlike the "computer mouse" style of most baby doppler operators, the Little Martin's Baby Sound Home Amplifier and Recorder are designed more like cell phones. The probe takes up nearly half of the unit, and it offers an LCD backlit display and sleek external casing.
The built-in sound amplifier picks up even the slightest sounds for added peace of mind, and the digital display shows the heartbeat in real-time. The home doppler systems by Little Martin include a USB speaker, so there's no need for a headset. There are, however, two audio jacks on the device for privacy and to allow others to listen.
One of the more exciting features of this item that moms love is the multi-colored backlit LCD. Blue indicates a regular heart rate, and yellow suggests that the heart rate is too fast or too weak. This makes it much easier to know when it's appropriate to contact your doctor. It is like having an over-the-counter ultrasound machine that allows women to get health information on their babies.
The product can be connected to a smartphone or computer via a USB cable to record sounds. The smartphone feature on these devices is convenient for sharing your baby's heartbeat with friends and family instantly.
Pros:
Stylish Ultrasound Experience
Ergonomically-designed
Multi-colored backlit LCD
Digital readings
Two audio jacks
Integrated sound amplifier
Accurate Checkup
Ability to record on smartphone or computer
Cons:
Home Fetal Dopplers for Plus Size Women
Nearly all home fetal doppler devices are compact, but this one is designed to fit in your pocket for on-the-go use. It also includes an LCD and customization settings for more information on the health of your child.
The design is innovative, with an independent probe and coiled cord for room to move around. There's a speaker that eliminates the use of a headset to listen to the sounds of the fetus.
The display on this product is LCD-backlit, with a customizable brightness, and includes the heartbeat of the baby, battery status, and frequency power. These home fetal dopplers are incredibly useful for the new mother in the early stages of pregnancy or for high-risk pregnancies.
None of these features sacrifice sound quality and accuracy in this home fetal doppler. There's little-to-no interference, and the amplifier boosts small sounds, like hiccups or changing positions. This monitor also includes the ability to connect to a smartphone and record the womb sounds.
Pros:
Pocket-sized
Backlit LCD
Independent probe
Coiled cable
Three modes
Real-time display
Integrated amplifier
Accurate
No interference
Connects to a smartphone for recordings of your baby's heartbeat
Cons:
Best Simple Home Fetal Dopplers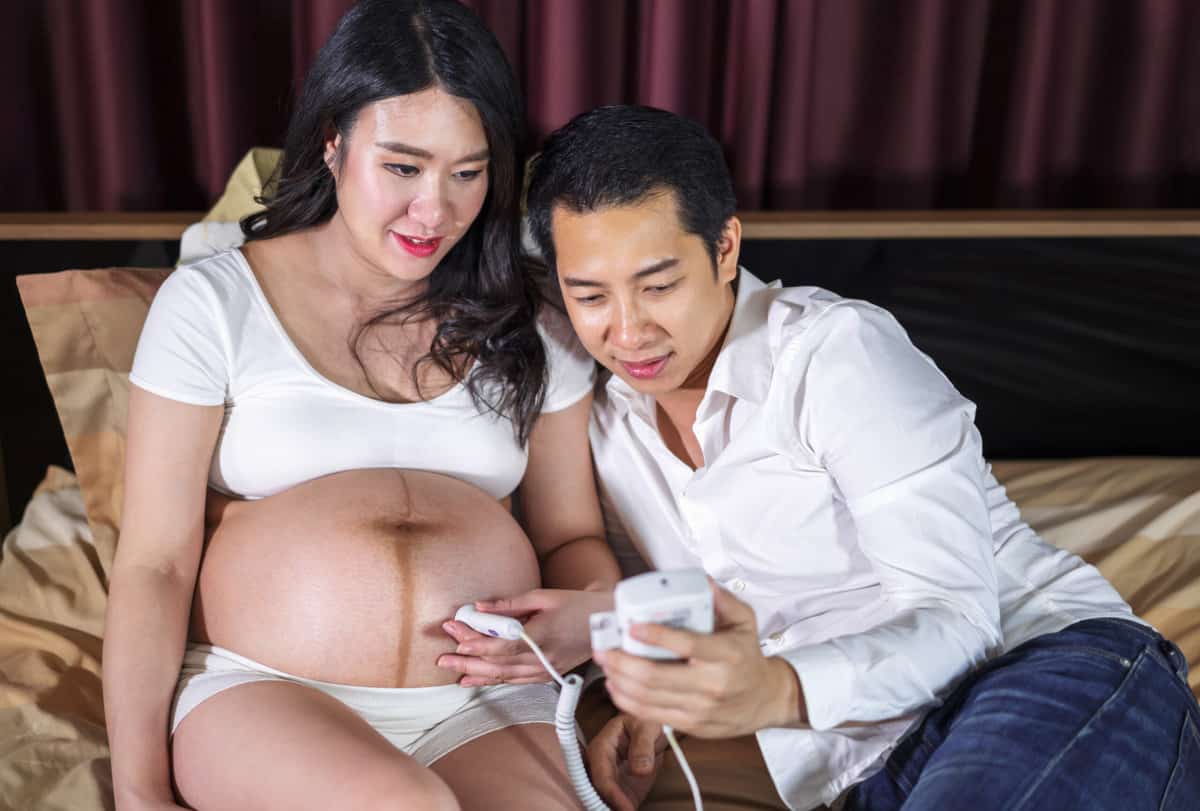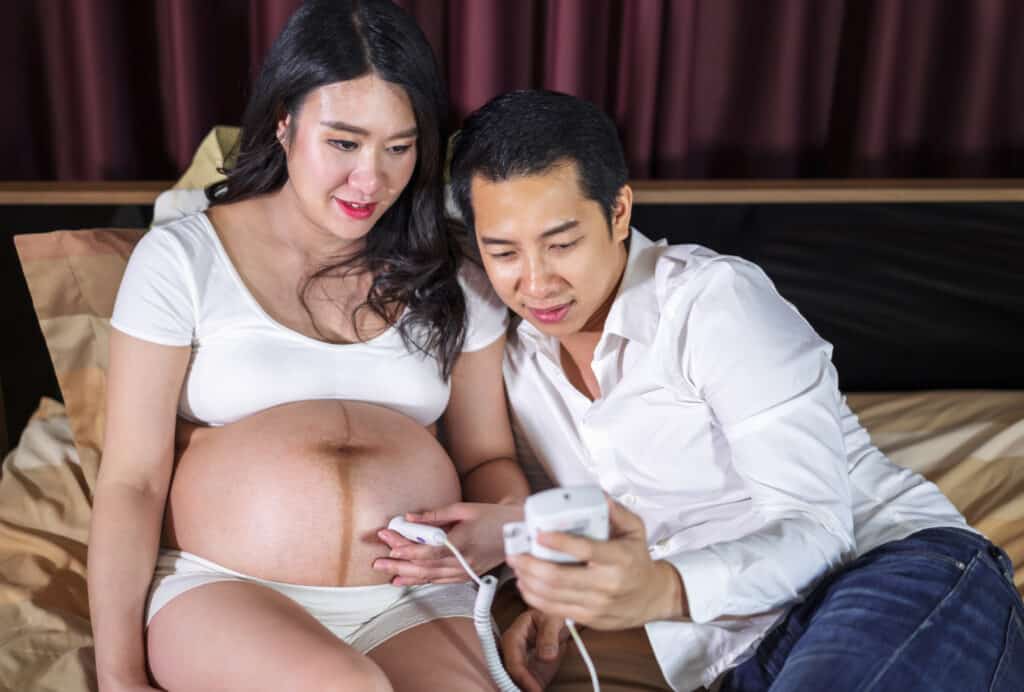 Based on buyer reviews, the Womb Music heartbeat devices are the best-selling home fetal doppler picks for a reason. It can pick up even the slightest womb sounds without any interference or static.
This monitor is incredibly compact, fitting in the palm, and moves smoothly and evenly with the use of lubricant. Because of this, it's easier to pinpoint an exact location, and it can detect a heartbeat as early as the seventh week of pregnancy.
Not only is it highly accurate and compact enough to be carried in a purse or pocket, but it's also simple for moms to use. An LED light indicates that it's on and ready to use, and its only features are volume control and two audio jacks.
Pros:
Simple
Compact fetal dopplers
Portable
Accurate Pregnancy Information
Easy-to-use
LED "Power-on" indicator
Volume control
Two audio jacks
Cons:
No display
No advanced tracking or recording
Choosing a Baby Doppler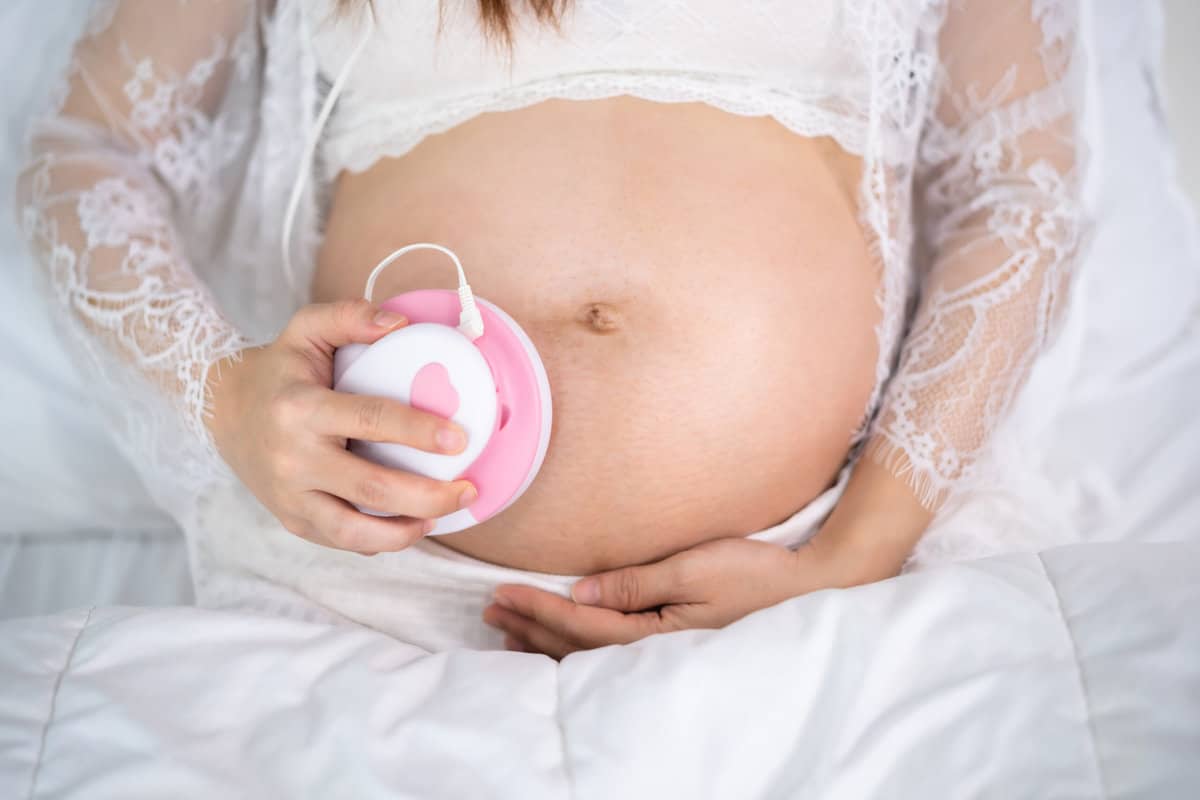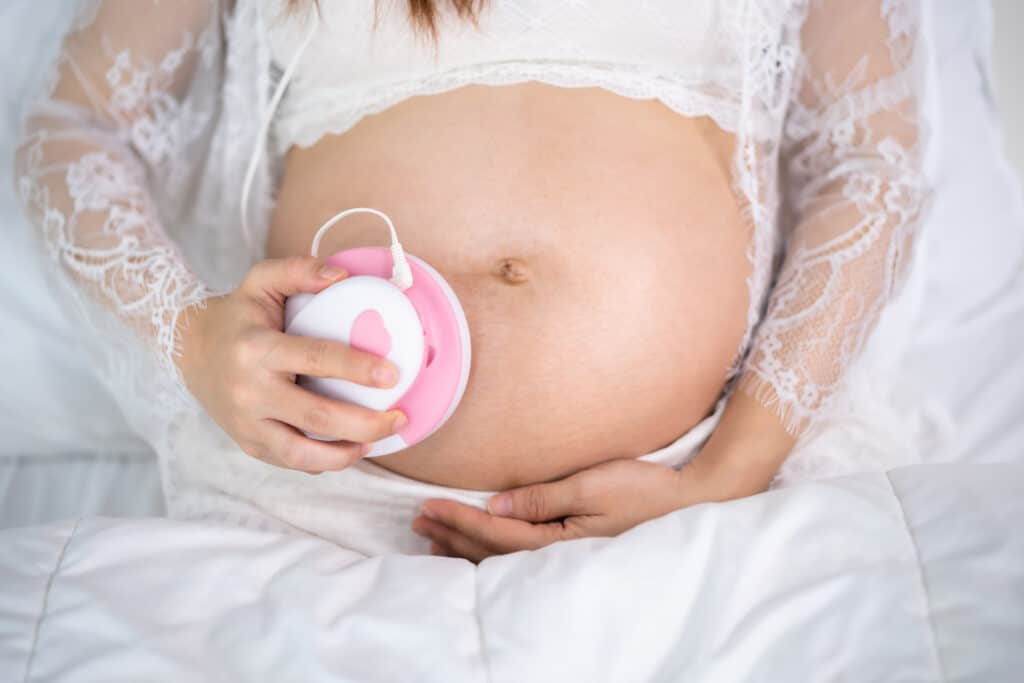 Choosing a fetal doppler with so many different models on the market right now is not an easy task.
Although different from the dopplers at your doctor's office, the over-the-counter home fetal doppler products are excellent for delivering a pregnancy report of the baby's heartbeat with the latest technology of compact ultrasound scans.
With these items, a woman has a way of hearing and recording your baby's heartbeat without visiting your doctor's office. However, the wide choice of different kinds of home fetal doppler options may confuse the buyer. Apart from reading reviews, checking data on their websites, and consulting with your doctor, you can read more about what a good home fetal doppler is here.
Size
Size isn't usually the first concern people have, but it makes a huge difference when using the item. Ideally, a baby doppler will be compact enough to hold comfortably and be easily transported.
Accuracy
Regardless of its design, no fetal doppler device designed for home use will offer the same accuracy and precision as a medical-grade monitor. That said, home dopplers are incredibly accurate for their purposes, though some are more prone to static or interference that can impact the heartbeat sound. When choosing a fetal doppler, remember that listening to the heartbeat is the main reason for buying it, so don't neglect the value of accurate recordings.
Features
There are two types of baby dopplers for home use. One is a simple device that allows you to listen to the heartbeat with little else. The other is a more high-tech device that may include features like an LCD with real-time heart rates, average heartbeat number, and the option to record the baby's heartbeat to share with family, friends, and your doctor.
Most models include audio jacks for headsets, but that is an essential feature for allowing a partner or other family member to listen and built-in speakers and the option to connect to an external speaker.
Price
Though it's not always an indicator of quality, you do get what you pay for when it comes to most things. Fetal dopplers have a wide range of price tags, but most good-quality monitors fall in the range of $40 to $60. Like other things, it comes down to the features you want and your budget.
Some of the cheaper options may not work as promised or be as accurate, and some of the higher-priced options may include features that raise the price but aren't necessary for your purposes. It's important to consider what you'd like to spend and focus on size and accuracy first.
Frequently Asked Questions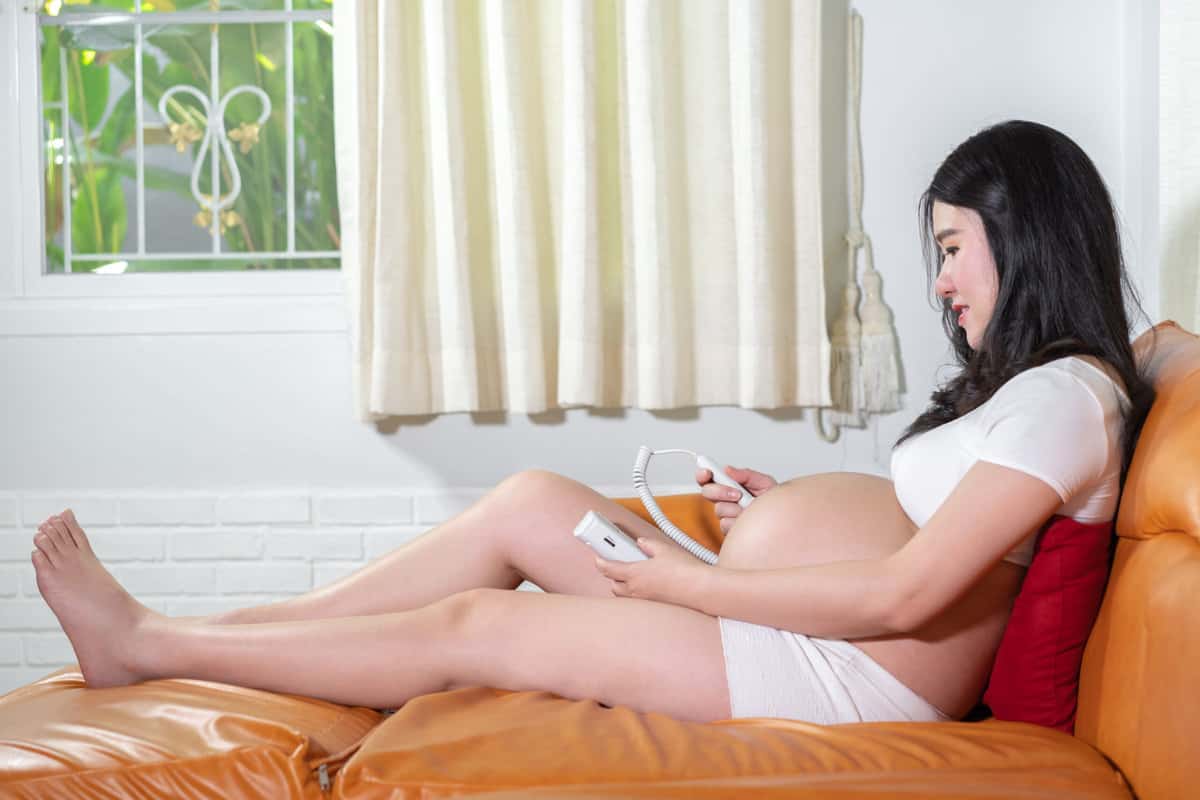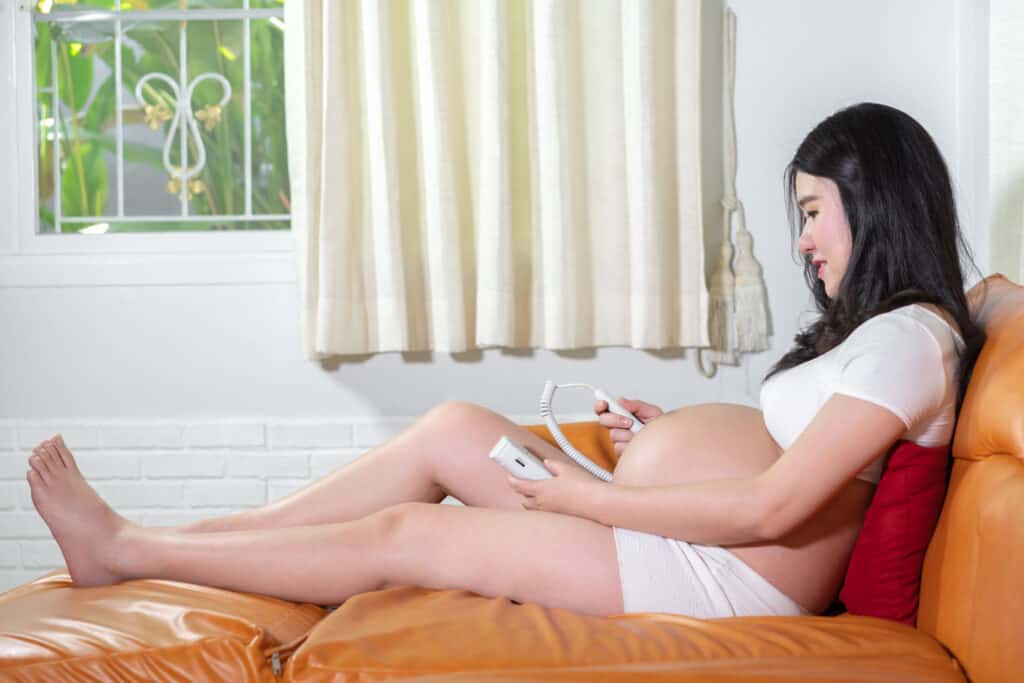 Why Buy a Fetal Doppler Monitor?
For mothers with high-risk pregnancies, complicated pregnancies, or who have had miscarriages or complications in the past, a fetal doppler monitor can offer a lot of peace of mind by ensuring that the baby's heartbeat is fine. In addition, some baby doppler products allow recording you can take at your doctor's office.
Should I Buy a Fetal Doppler Monitor?
Fetal doppler monitors were once a fad, but they've now secured their place in expectant mothers' "must-have" lists. These baby products are no longer as expensive as they once were, and newer models offer plenty of features and options that weren't available in the past.
When to Buy Pregnancy Doppler?
Though some monitors can detect a heartbeat in the early stages of pregnancy, it can be challenging to detect sound before 18 weeks. Unless there's a pressing reason to purchase this product, such as a high-risk pregnancy, it's not necessary to buy one before 18 weeks. Every baby is different, so there's no guarantee you will hear a heartbeat.
How Often Should a Fetal Doppler Monitor Be Used?
Fetal doppler monitors have been cleared for continuous use, but it's best to use them sparingly or at times of concern. In general, you should not use fetal doppler for more than ten minutes each session. If you don't detect the heartbeat at that time, it's best to try again later.
Do I Have to Use Lubricant or Gel?
Lubricant acts as a coupling agent to reduce the static that often accompanies the use of a fetal doppler. Some monitors can be used without a lubricant, but that may impact the ease of use or sound quality. This way, you can get high-quality baby heartbeat data.
How Do I Know I'm Hearing My Baby's Heartbeat?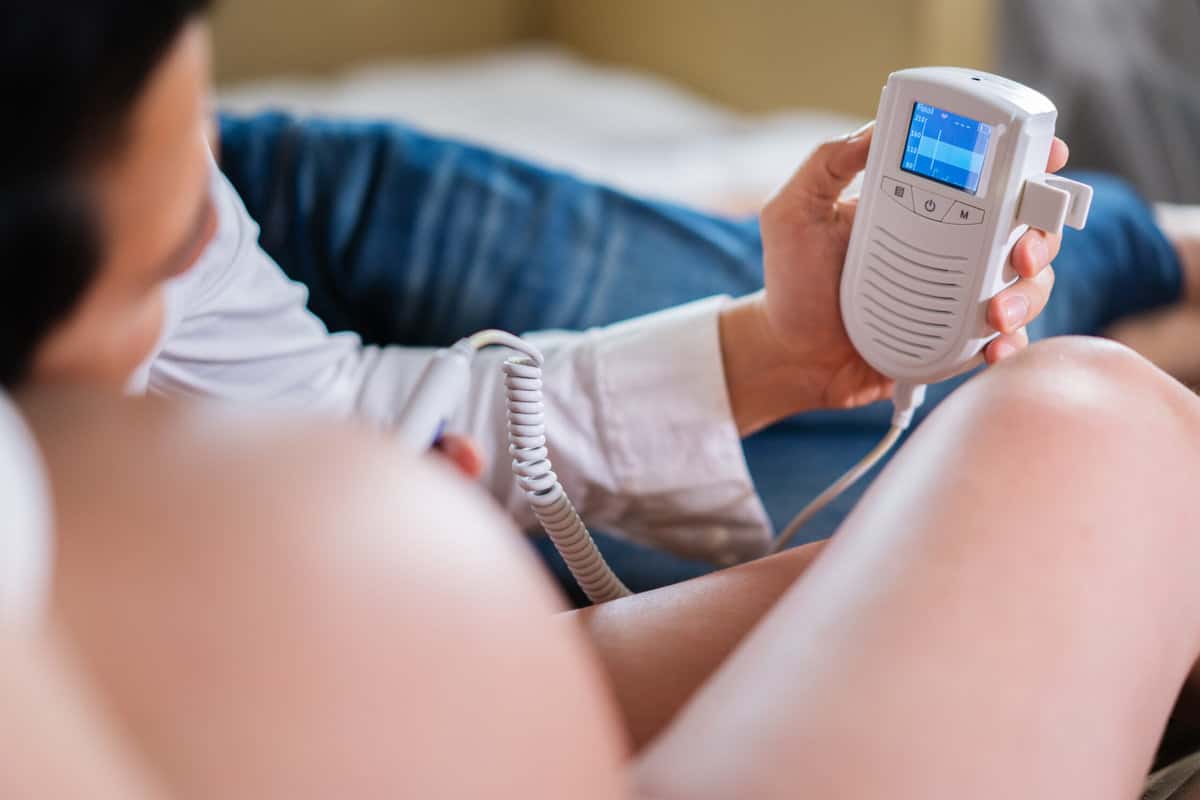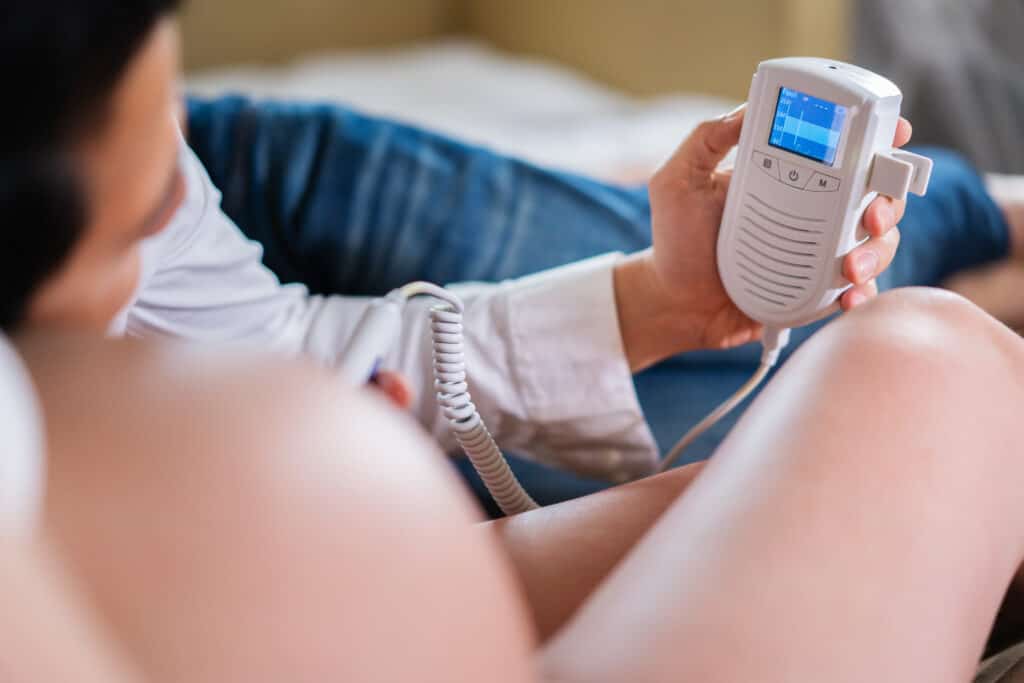 Until you get used to using a monitor, it can be challenging to differentiate the sound of your heartbeat from the sound of your baby's in the whole experience. The best way is to calculate the beats-per-minute (BPM) and use that to identify each heartbeat.
Babies have a BPM between 120 and 180, and adults have a BPM between 60 and 100. In addition, you can use your regular heart rate and the baby's heart rate that the doctor recorded as a baseline.