Breastfeeding is an integral part of motherhood. But, sometimes, it becomes impossible to perform this job conveniently. There could be unavoidable circumstances where you have to stop the feeding session with your little one still hungry. In such a scenario, a breast pump can be a source of great help for you. The pump allows you to store milk in collecting bottles and feed this milk to your baby afterward.
A breast pumping device is a great and beneficial piece of equipment to have on your side at all times. Its importance cannot be denied. But, simultaneously, the purchase of one asks for extreme care and attention to detail.
There are huge varieties, and types of breast pumps available in the market. At first glance, it may look that they're all doing a somewhat similar job, but one look closer by an experienced mom, and you will realize that there are plenty of differences between each pump.
Among the name on the market, one worth reviewing is the Freemie Breast Pump. It is mainly known for giving mothers freedom.
But does it save time? What are its other attributes and features? This Freemie Breast Pump review will help you in getting answers to all these queries.
Read on to see how you can make the best use of your time with this product.
Freemie Breast Pump Review
Product Overview
This Freemie Freedom Breast Pump comes in a white color unit. What does this pump offer? It is equipped with two attributes. First, it is hands-free, and second, its concealable pump.
These two features are what make Freemie distinguished among other pumps. It makes your pumping process more manageable, more convenient, and silent.
When purchasing the Freemie double electric breast pump, you get a package with the following items:
The breast pump unit. Its dimensions are 7.5 inches in diameter and 5.5 inches in length.
A power cord.
Two Freemie collection cups. These collection cups are BPA and Latex-free. Also, they are compatible with Medela Swing pumps and Baby Buddha pumps. The capacity of each cup is 8 oz. So, in total, you can collect milk of 16 oz. in a single session. Each cup weighs 2.5 oz. In total, both cups weigh 5 oz only. The dimensions are 4.4 inches in diameter and 2.75 inches in depth.
Two Breast funnel sets. One set is being 25 mm, and the other one is 28 mm.
Connection kit. It will contain all types of tubing and valves that you are going to need for pumping milk. It will come with one single and one double-tubing.
If you were to compare this breast pump review with other pump parts, you would notice that the Freemie pumps come with everything you need. There is no reason for you to be buying any additional pump parts.
Unlike others, it doesn't come with a bottle that you will hang to collect pumped milk.
Instead, it contains collection cups that come in a conical shape. Therefore, it is more concealing than other pumps where you are hanging weird bottles with you. Here are a few basic pros and cons that you can experience with the Freemie Freedom deluxe breast pump.
Pros
You can pump milk even while wearing your clothes on. It doesn't ask you to reveal for a pumping purpose.
It is easy to use. The whole pumping process is relatively more accessible and comfortable for you.
It collects enough milk, i.e., 16 oz. in a single session.
It doesn't scream about your pumping. Instead, it is quite a silent pumping unit.
You can change the suction according to your requirements.
Cons
As it only uses an electric outlet as its power source, you can't use batteries with it. It means you can't move around while having this pump on. The Freemie Liberty and the Freemie Independence are portable pumps with a duckbill valve that offer hands-free pumping on the go.
Pumping milk asks for some precautions not to make milk flow back towards the tubes.
It doesn't come with an AC car adapter. You will need to buy it separately.
You can't change its speed.
Key Features and Benefits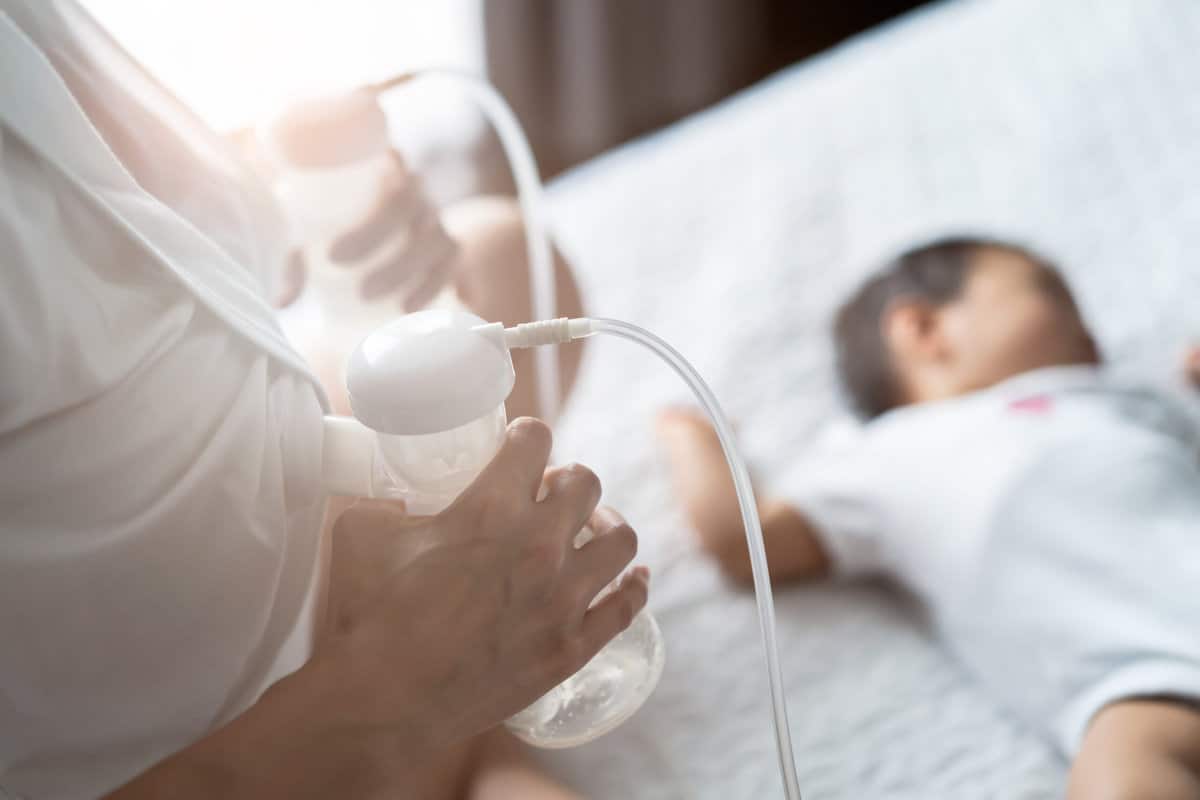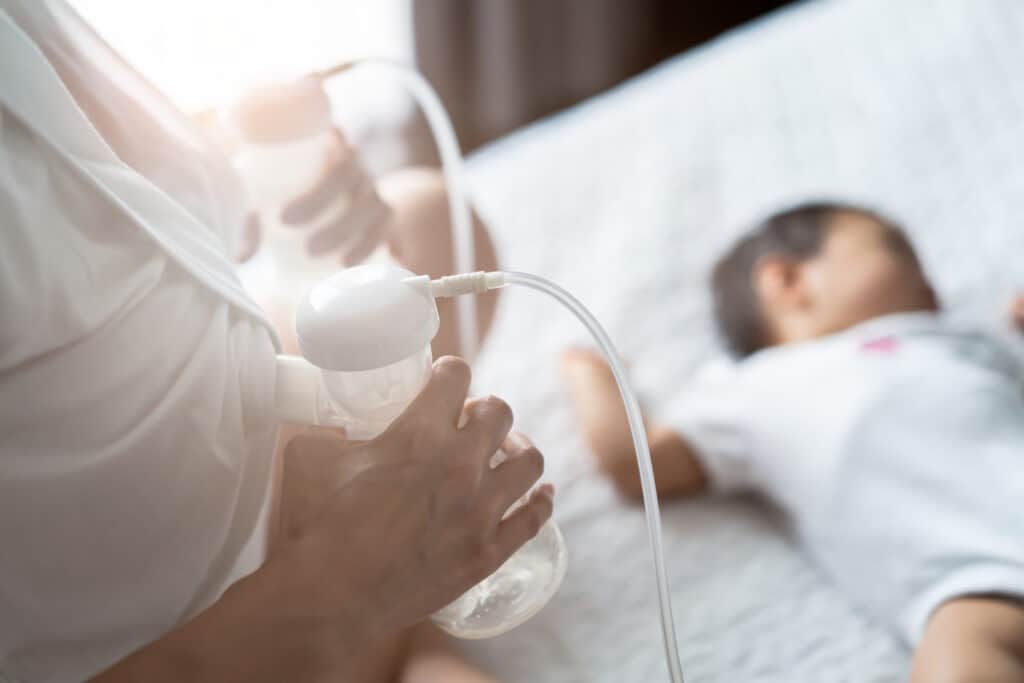 Besides being hands-free and concealable, what other benefits can this pump give you? Here is a detailed list of crucial features that you can take advantage of:
This Freemie Freedom standard breast pump offers a hands-free solution.
Have you ever used a breast pump that asks you to hold the collecting bottles while using both of your hands? It can be tiring, of course, and decrease your productivity at the same time.
Mothers usually need to spend ample time pumping the milk. What if they can't do any work during this time? Pumping sessions might become a severe hassle.
The pump Freemie understands this issue. Therefore, they have created the hands-free concept of pumping. It contains collection cups. These cups adjust perfectly inside either your nursing or regular underclothes.
Fix the collection cup under your clothes, adjust the tubes and turn your Freemie hands-free breast pump on. Now, you can use both hands to cuddle your little one or do some chores around the house.
Freemie Breast Pump allows you to have your clothes on while pumping.
What is the one thing that mothers find most challenging while breastfeeding or pumping? The exposure during the process.
So, how about having the pumping unit that doesn't ask you to expose yourself? It can be a true blessing for moms.
The pump Freemie gives this relief to mothers. You can attach its adequately sized cups with your underclothes. Cover them with your shirt in a regular way, and you are all set for pumping.
The breast pump motor doesn't make a loud sound.
Imagine a scenario when you seriously want to hide your pumping session from other people around. You find a suitable corner, adjust all pieces. Your turn your pump on, and all people turn towards you, distracted by the machine sound.
Few mothers find it completely fine. But, it is not for everyone. Some moms want this whole process to stay hidden from the public and be as quickly done as possible.
So, Freemie serves this purpose as well. Its suction unit can quietly pump while you can even receive phone calls and talk to your friends. The speed and the suction levels are designed to give you a quick and comfortable pumping experience no matter where you are.
Here it is crucial to keep in mind that you can't get a 100% quiet system. Of course, it will produce a little sound as all pumps do. But, it will be light enough to let your baby sleep beside you while you are extracting milk.
Freemie breast pump doesn't like the idea of charging their customers a hefty amount.
You can see many moms out there admiring the prominent features of this concealing breast pump. It must make you think about its price range too.
Like many people, you might think it's a heavy-priced electric pump. But, this is not the case. Freemie values its customers' requirements. Therefore, it has made this pumping unit available in an affordable price range.
You get a true value for your money. It can be categorized as a middle-priced pump device.
Freemie Breast Pump comes with multi-purpose collection cups. You can use it with other breast pumps too.
Freemie Breast pumps also allow you to enjoy a variety of other fantastic breast pumps. How do they do it?
They provide collection cups with their kit that you can use with other brands' pumps as well. However, there is a condition too. You need to have a proper connection kit to attach these cups with other pumps.
Undoubtedly, the connection cups of Freemie are made highly comfortable for moms. With this feature, you can enjoy your customized electric pump. Take a pump of any other brand of your choice and attach the collection cup of the Freemie pump. Enjoy easy and comfortable pumping with your self-designed pump.
The Freemie collection cups can also be switched across different pumps of their own, like the Freemie Independence and Freemie Liberty.
Freemie Breast Pump is effortless to use.
This product was made particularly by keeping working ladies in mind. Therefore, it possesses all those aspects that can make breast pumping easier for you during working hours.
How about pumping while continuing your work? But at the same time, you save more than 20 minutes in managing and storing the pumped milk.
Therefore, the Freemie pumping unit comes with parts you can quickly assemble without putting in much effort. Assembling, disassembling, and then cleaning this whole unit is made very convenient for you. As a result, you don't have to spend a lot of time on this demanding pumping task.
Freemie Freedom Facts You Should Know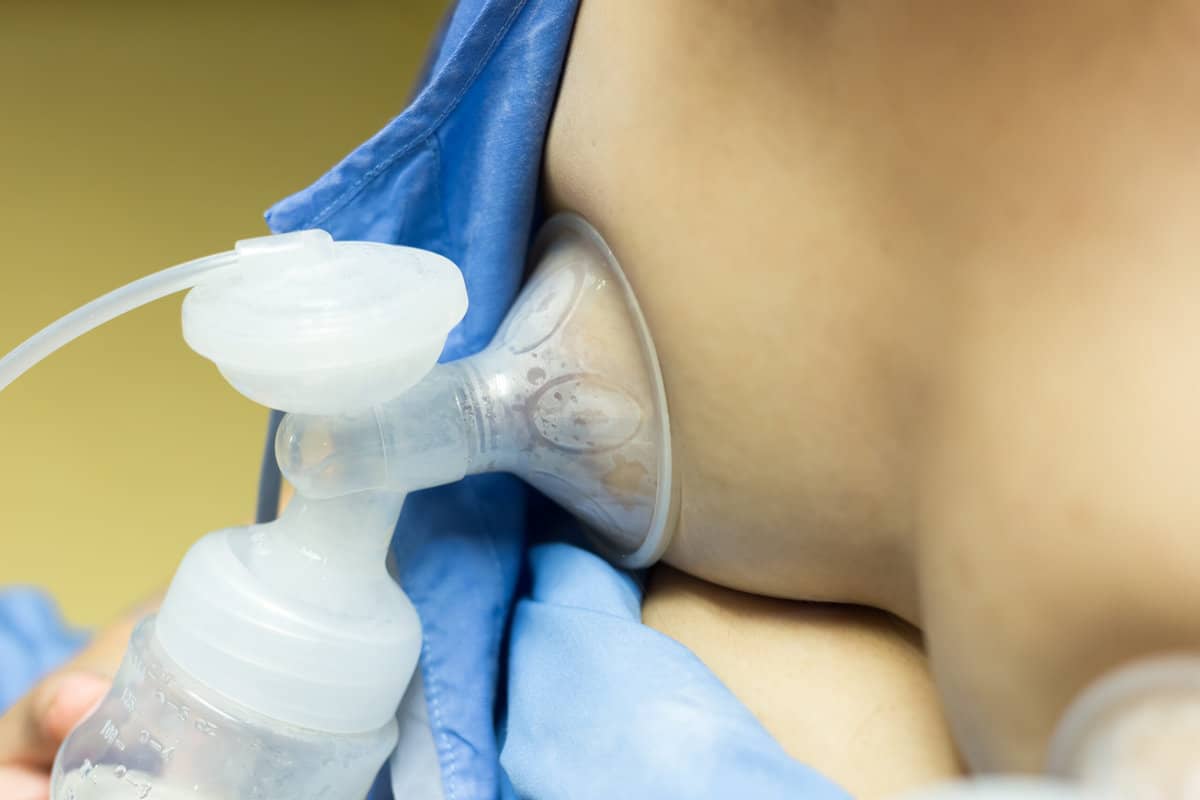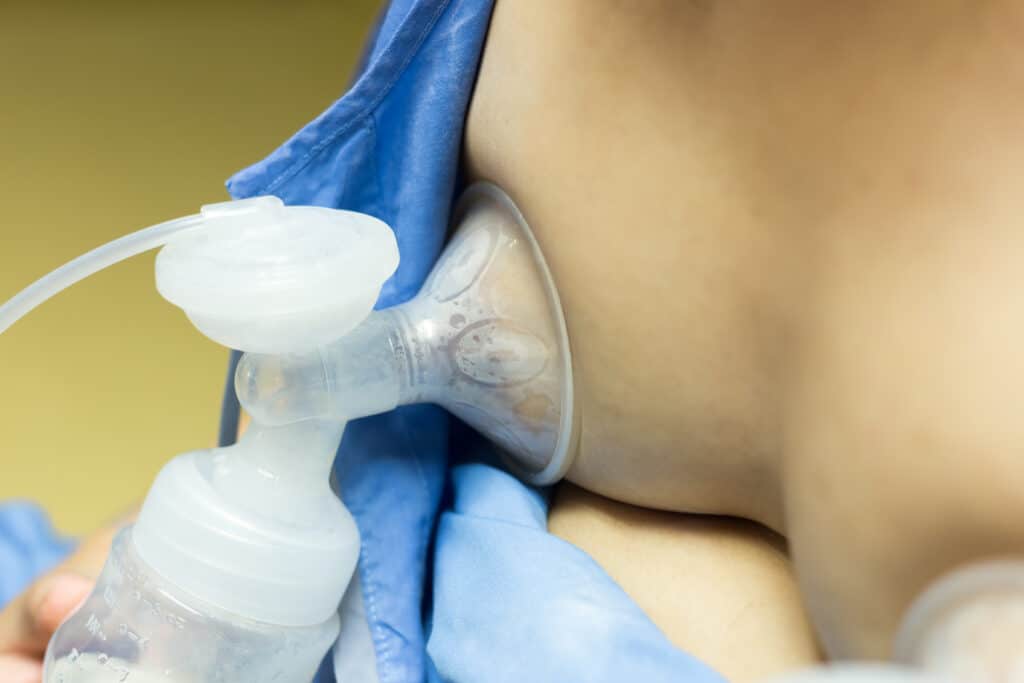 Before purchasing this pumping unit, you should keep the following facts about the Freemie hands-free Breast Pump in mind:
This breast pump unit comes with all its accessories and a connection kit that you might need for pumping.
The power source this unit takes is only from an electric outlet. You can't use battery power and detach its power cord for attaching another source. It will otherwise stop working.
You can't adjust the speed of the suction level. However, you can change the power of the suction with the dial easily.
This unit needs 120v power. No dual voltage option is available. In case you want to use it at 110v, you will need to use a suitable adaptor.
The plastic used in its tubing is also BPA-free.
You can't pump milk while leaning. You need to sit straight. Otherwise, the milk will flow back or leak.
As this unit comes with collection cups, you will need to put milk in some storage bottles or containers later.
Use warm water to wash this unit. Rinse it well. Before using it, it is imperative to dry it properly. Otherwise, condensation might block its tubes.
This system produces very little noise as compared to others. Still, there will be some low rhythmic sound that the pump will make during extraction.
How does it compare to other pumps?
We have discussed key features and benefits that you can get from the Freemie pump device. This section will talk about a few other breast pump units that you can compare with the Freemie.
Read this section to know how the Freemie breast pump compares with other pumps available in the market.
Spectra S2
If you are worried about the open pumping system, then the Spectra S2 is the solution for you. With the Freemie breast pump, there is a chance of getting milk back into the tubes. If this happens, you will need to clean the whole unit thoroughly.
Well, there is an alternative too. You can purchase the Spectra S2 breast pump with its completely closed system made of a medical-grade material.
It will prevent the back flowing of milk and stop bacteria and other molds from infecting the unit. You can rest assured that these germs are away from your milk, and your little one is getting only the best.
Medela Pump in Style
What about those mothers who have very little time for pumping? They can't waste more time so, there is an excellent alternative.
It is the Medela Pump in Style. It comes with great suction power and can extract milk in a matter of few minutes. Moreover, it collects milk entirely due to its power system increasing your milk supply.
However, compared to the Freemie pump, the Medela is more expensive too. So you can choose your pump according to your priorities.
Philips AVENT Double
Although the Freemie breast pump collection unit is quite comfortable for moms, based on experiences from women, the Philips AVENT Double electric breast pump is even more comfortable. What's more prominent about this item?
It is the comforting and soothing feel that it can give to breastfeeding women, especially those mothers with extremely sensitive skin or nipples.
For all of them, the AVENT comes with unique messaging cushions that allow soft suction. Also, it starts with a gentle stimulation mode that later leads towards different settings.
NUK Expressive Double
Few moms have to take a lot of stuff and baby gear with them. Whenever they go out, they carry bundles of stuff with them. On top of it all, women have to carry a heavy pump with all the other stuff.
It can be frustrating and irritating. If you are looking for the most lightweight pump on the market, you can go for the NUK Expressive Double breast pump. It is incredibly light in weight and size is also very small. You can simply put it inside your handbag.
Its small size allows you to take it anywhere you want. With this unit, you won't feel any backache or shoulders cramps from carrying heavy stuff.
Ameda Purely Yours
Here is one more alternative for Freemie Breast Pump. The Ameda Purely Yours breast pump will give you the option of pumping milk without sitting beside an outlet. You can operate this pumping unit both with batteries and an electric outlet as well. The battery life holds well, and it truly gives you the freedom to do other things while extracting milk.
Secondly, it is suitable for those looking for some cheaper but reliable breast pump devices. It comes with competitive features and a price tag.
Who Should Buy The Freemie Pump?
We have discussed all features and aspects in this Freemie hands-free Pump review. We hope that after reading it, you can make an informed decision on which pump to buy.
Not all mothers feel comfortable pumping in front of everyone. Also, some working cannot afford to waste too much time on pumping or bringing a noisy pump at work.
Moreover, there are times when you can't afford to make noise due to a sleeping baby. This is why we have included every kind of pump for all types of situations in this review. Only by comparing can you choose the best one for you.
All in all, the Freemie Breast pump is a great option that offers a covered pumping, good speed, and a rich package with the Freemie collection cups and all other parts that come along with it.
The price range of this unit is also worth mentioning, as it offers a great deal of value at a pretty decent cost.