The 10 Best Swim Diapers for Pool Time Fun
Having fun in the water with your little one is a source of genuine happiness. But sometimes accidents happen, and you might find yourself in an unpleasant situation where your baby's disposable swim diapers start leaking.
What else could be more embarrassing than this? No mom wants that kind of attention.
To stay away from such awkward situations, you need to invest in a swim diaper that your toddler cannot damage while playing in the water. There are different types of leak protection diapers available on the market.
It is essential to choose the right type that will keep the content inside and your baby comfortable. For this, a swim diaper is different than a regular diaper. If it is your first time purchasing these items for your child, then read on.
Here, we have reviewed the best ones to understand better the reusable swim diaper and the right pick for your child.
Reusable Swim Diaper Reviews
This reusable swim diaper is a product of the I play company. This brand has been working since 1982 to deliver high-quality baby products. Their protective baby diaper is reusable. The models offered are in different sizes and colors so that your child gets support as they grow.
The swim diapers come with patented three-layered construction. Such design keeps the content trapped inside the diaper and protects baby skin, and its wicking liner helps protect the baby from diaper rash.
This diaper is manufactured using the imported quality polyester material. Because it is made using such a lightweight material, the I play reusable diaper will support your child's movement.
This comfy diaper can be washed and reused like a new one after each fun pool or beach day.
The design of the diaper is made to fit snugly. In this way, it securely keeps waste and germs inside without letting them disperse. These items with their protective seal can be used under a swimsuit or as a swimsuit. In either case, your child will be comfortable and won't need anything else.
These diapers come in a trim design, a stretchy material, and comfort seams. This way, the design follows your child's movement without pressing the skin too tight.
An easy-lock snap-fit enables you to dress your little one without applying too much effort. The diapers are approved for public pools, and the best thing is that once you buy, you can reuse the same one again.
Pros
Because of the diaper's reusable feature, it helps in keeping the environment clean, and you save money.
The inner lining protects your child from skin rashes.
The diapers support movement and are light in weight.
Cons
The product doesn't come with adjustable straps.
It might feel too snug for some babies.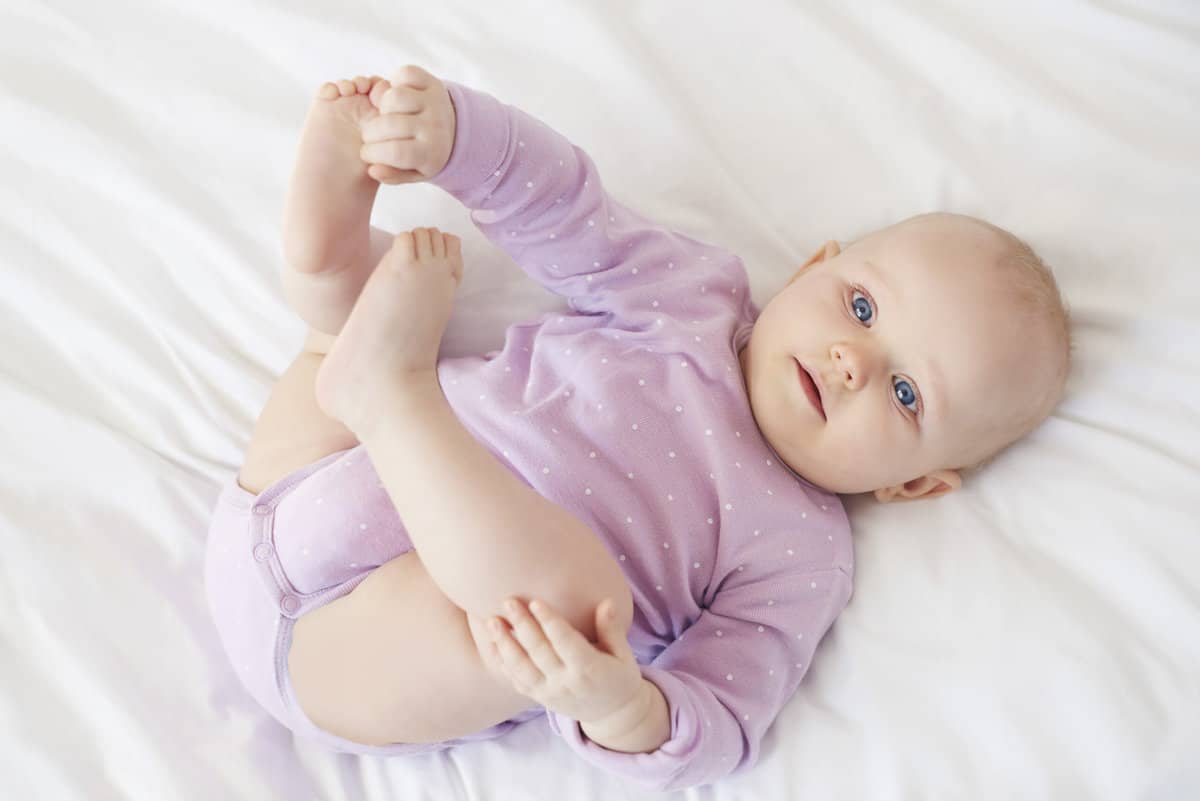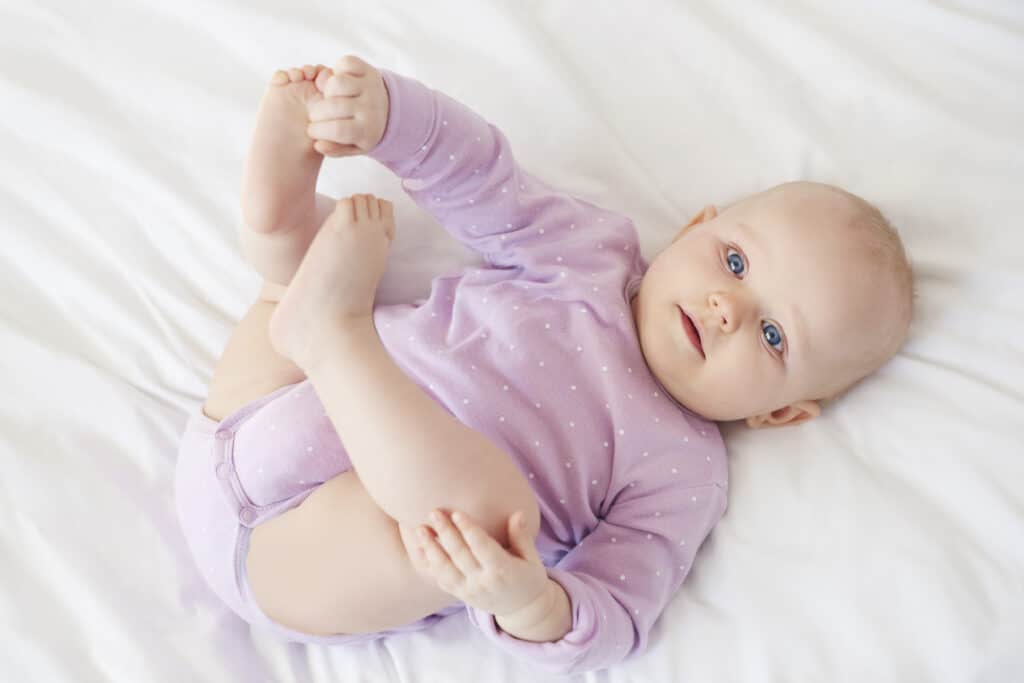 Nageuret manufactures these reusable swim diapers. It is a small family-owned company. The diapers are adjustable and can be used for children between 8-36 lbs.
Nageuret manufactures reusable swim diapers from safe and long-lasting material. As such, the design gives you great value for your money.
Moreover, you contribute to a clean environment because these diapers are washable. You can reuse them instead of throwing them after a single-use.
These diapers also come with an adjustable size feature. So, they grow with your baby.
These diapers contain CPSIA-tested snaps. They go around your baby's waist and legs in three different sizes. Moreover, you can also adjust them according to height.
The outer layer of the Nageuret diaper is made up of soft, breathable PUL polyester cloth fabric. It is 100% pure. Its interior is made up of soft premium mesh Polyester that provides comfort to your baby.
Pros
With their size adjustments, these swim diapers grow with your baby.
They come in beautiful colors and designs.
Being reusable, this product helps in keeping the environment clean.
The soft inner material is safe and comfortable for a baby's sensitive skin.
The material is easily washable, and it fits like new with each use.
Cons
The snaps might be tricky to master at first.
These diapers might not fit chubbier babies.
This Swim Cloth Diaper is a product of Bummis. It is available in various adorable designs and sizes. The Bummis are among the best swim diapers with such design, thanks to their fantastic size adjustments and reusable nature.
These Swimming Swim Cloth Diapers are available in one size that fits kids of various ages. The product can be adjusted for kids from 14 lbs to 40 lbs.
The diapers are designed to hold the content inside and can't absorb liquids at all. They have snap closures that make wearing diapers easy and quick. The diapers are manufactured in Canada and made of fabrics sourced in North America.
Thanks to the high-quality materials, the diapers can withstand multiple uses and washes.
Pros
The design and colors are adorable.
The product comes with a size adjusting feature.
These diapers are feasible, as their durable material is going to serve you long.
The diapers are public pool approved.
Cons
The diapers are not waterproof.
It might feel hard to put the diaper on and take it off at first.
This swim diaper is reusable and manufactured by ALVA. The design is crafted in six beautiful colors and patterns. These adjustable diapers are available in three sizes and perfect for kids from age 0 to 3. Each size adjusts to the baby's different weights and measures.
The small size is suitable for kids between 18-30 lbs of weight. Medium size can fit kids from 30 to 40 lbs. The large size is ideal for kids of 40 lbs to 55 lbs.
The swim diaper comes with trim and lovely designs. The outer layer is made up of 100% Polyester PUL material. The principal purpose of these diapers is to hold solid inside.
The interior is made up of Polyester mesh that is very easy to clean and feels soft on your baby's delicate skin.
The swim diaper comes with an interior made of polyester elastics at the legs opening and waist area to provide a stretchy fit and easy handling. The elastics contain soft Lycra bindings as well.
Being reusable, you can easily wash the diapers after each use.
Pros
These diapers are 100% waterproof.
Their low absorbency keeps your child lightweight and manageable.
The inner soft mesh material is comfy for your baby.
Elastic with Lycra binding makes the swim diaper fit well.
Cons
It might be challenging to fit the diapers on at first.
The snaps don't stay secured for a long time.
The Huggies Little Swimmers Disposable Swim Diapers are the product of Huggies Company. It is one of the most prominent brands for manufacturing baby products.
Thanks to their unique fit and design, their disposable diapers are among the best swim diapers,
These Huggies diapers are available in sizes from 3 to 6. The size three can carry a minimum of 16 pounds, while size six can fit toddlers of 34 lbs.
The snuggly fit comes from the thinner material that makes them stretchy yet soft. However, because of this, the diapers are disposable. You can throw them away after a single use saving you from the trouble of dealing with them at the end of the day.
The Huggies Little Swimmers come with an easy-open design that you can easily slip on your baby in a single move.
The Huggies Little Swimmers are specifically made to be used inside the water. They won't absorb water and expand, unlike others available in the market.
The sides of these diapers are stretchy and soft and protect your child from getting rashes. Yet, with the smart design, they prevent any diaper content from coming out.
Pros
With their amazing fit, the swim diaper can suit babies of almost all sizes.
The specific construction won't absorb water inside.
The Huggies have easy-open sides that are adjustable and fit well.
The soft and stretchy sides feel comfortable and don't let content pass through.
Various colorful designs.
Cons
As these diapers are not reusable, you will need to purchase a new one after each use.
Not very eco-friendly and economical.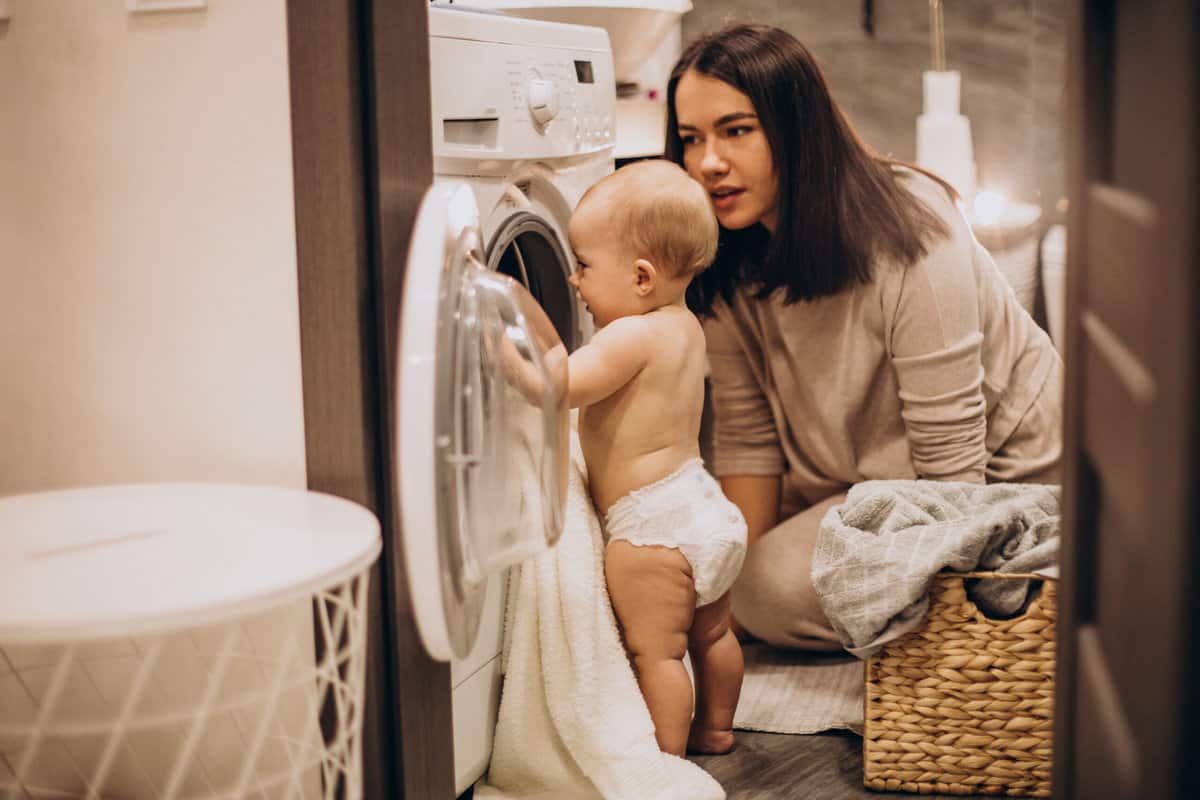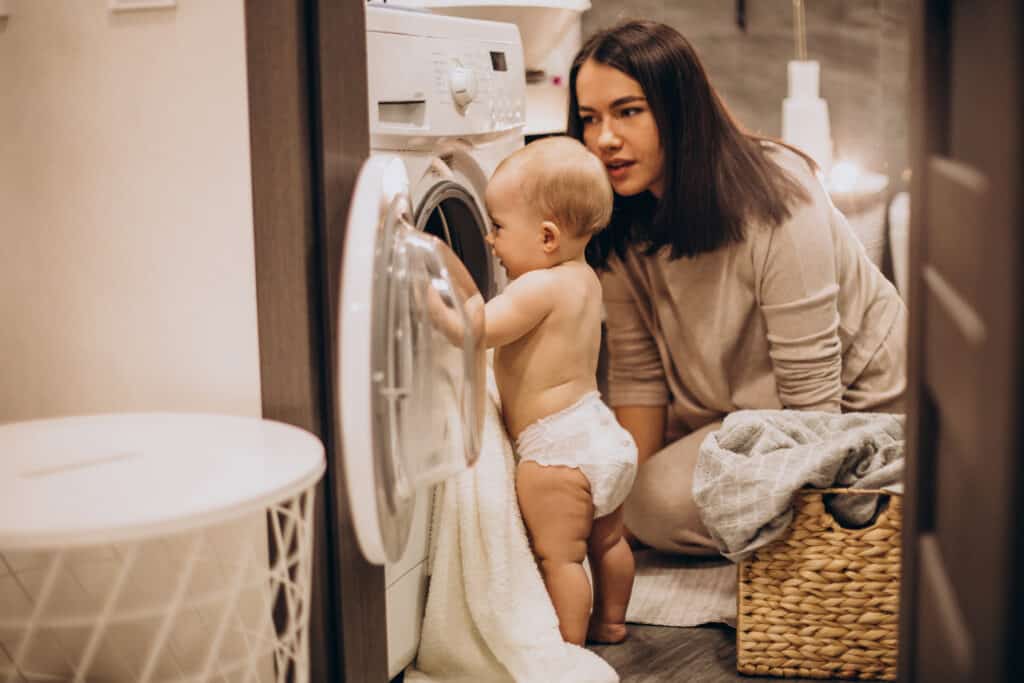 These Washable Swim Diapers from Dwave are available in three colors and three different sizes. When you purchase a pack, you get two diapers inside, which is an upside.
The Dwave baby diapers can fit children from 0 to 2.5 years. The S size is suitable for babies from 10 lbs to 14 lbs. The M size is made for babies between 14 lbs to 23 lbs, while the L or large size can fit toddlers of 23 lbs to 31 lbs.
The outer layer of this diaper is made up of pure Polyester and is waterproof too.
The outer layer is perfect for holding solids inside, while the interior of this diaper is made using a soft mesh Polyester. Such a blend of materials makes diapers easy to clean and comfortable on your baby's sensitive skin.
The diapers come with two snap rows at the front side, making them adjustable according to the height and weight of your baby.
Pros
These diapers are waterproof and reusable.
Due to the inner soft mesh material, they provide great comfort to babies.
The design is exceptionally adjustable to the height and weight of the baby.
The elastics provide the perfect fit around your baby's waist and legs.
Cons
The Dwave baby diapers might get small for heavy kids.
The SunBusters product is one of the best swim diapers as they are approved for use in all public pools, are reusable, and come with many useful features. One of which is the construction that comprises of different materials that make up their good fit.
Its outer part contains 80% Nylon and 20% Spandex, while the interior is 100% Polyester. The material used in the manufacturing is of imported quality. They are both washable and reusable as well.
It is worth mentioning that these diapers are made specifically for boys.
The material is UPF 50+ rated, and it gives maximum protection against UV rays by blocking the majority of harmful radiations.
The construction is made of two layers, one prevents leakage, and the other gives a comfortable feel. With the elastic waist, they provide the perfect fit.
Pros
Because of the reusable feature, these diapers are budget-friendly.
Their soft materials are safe for sensitive skin.
The diapers fit perfectly and prevent any leakage.
The material is UPF 50+ and protects from harmful UV rays.
Cons
The swim diaper might appear too big for some kids.
The Babygoal brand manufactures these swim diapers. They are washable diapers and perfect for babies from age 0 to 2 years in three different sizes. You can get them in eight beautiful designs.
Their outer layer contains 100% Polyester PUL material, and due to this, they prevent the diaper content from leaking outside the diapers.
The swim diaper also contains elastic material at its waist and soft Lycra at the leg openings region. Because of this, the swimwear offers appropriate leg and waist fittings without pressing too strong or being loose. As such, the diaper can withstand the baby's weight from 10 pounds to 40 pounds.
Pros
The swim diaper can fit children from a variety of sizes and weights.
It feels comfy on the baby's skin.
The swimwear is reusable and, as such, environmentally friendly and economical.
There are eight different designs.
Cons
The button closings on this swimwear may come off as unusual at first.
These reusable swim diapers are made by Tuga and are explicitly designed for boys. There are eight different patterns and colors available.
The outer layer of the swim diaper is made of 80% Nylon and 20% Spandex, while the inner lining is made of Polyester only. This construction makes the diaper prevent any leaking accidents while fitting snugly and comfortably on the legs.
This Tuga swim diaper is waterproof, preventing the content from absorbing water and getting too soggy or heavy.
These diapers are available in different sizes, so finding the one that fits well for your baby will be easy. The fabric used in its construction is UPF 50+. It gives excellent protection against UV rays. Moreover, the material of this swim diaper is chemical-free and safe for the soft skin of your baby.
Pros
The imported material of this bathing suit is durable and can serve you for a long.
Its quick-drying feature gives you great comfort.
With the two layers, the swimming suit offers maximum protection against content leakage.
Its material is free of chemicals and safe for sensitive skin.
Cons
You might feel sizing issues with this reusable swim diaper.
Thirsties make this swim diaper. It is available in two sizes with three different designs.
The Thirsties diapers are made particularly to help babies stay mess-free, whether taking swim lessons or playing in a kiddie pool. The inner part contains a soft mesh material that feels comfortable and smooth on your baby's delicate skin.
The diaper has snaps that prevent it from loosening up. The snaps work well at any size and fitting. It contains a waterproof outer body, so it doesn't absorb any water and keeps your baby lightweight and relax—the diapers suit babies from 18 to 40 lbs.
Pros
Waterproof outer body
Adjustable snaps that make the diaper suitable for different-sized babies.
The soft material feels good on delicate skin.
Cons
It might not fit appropriately on bulky babies.
It isn't officially approved for use at a community pool.
Buyer's Guide Tips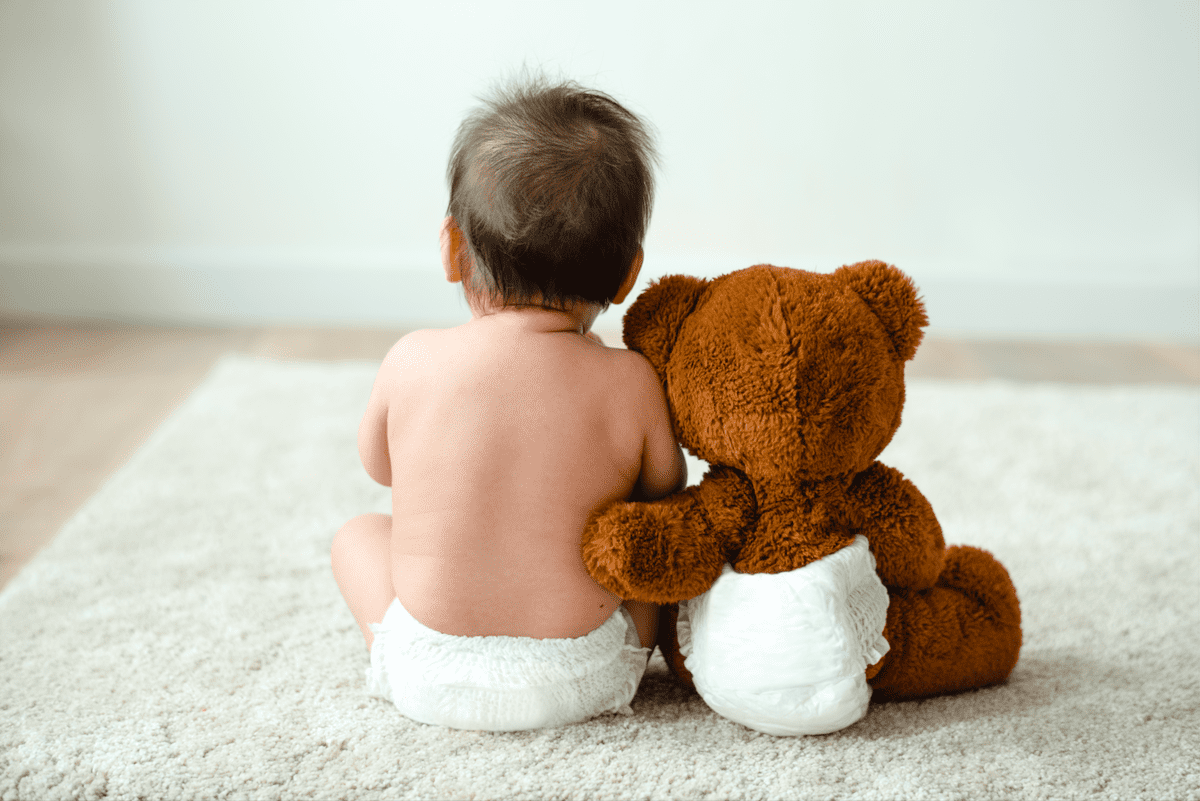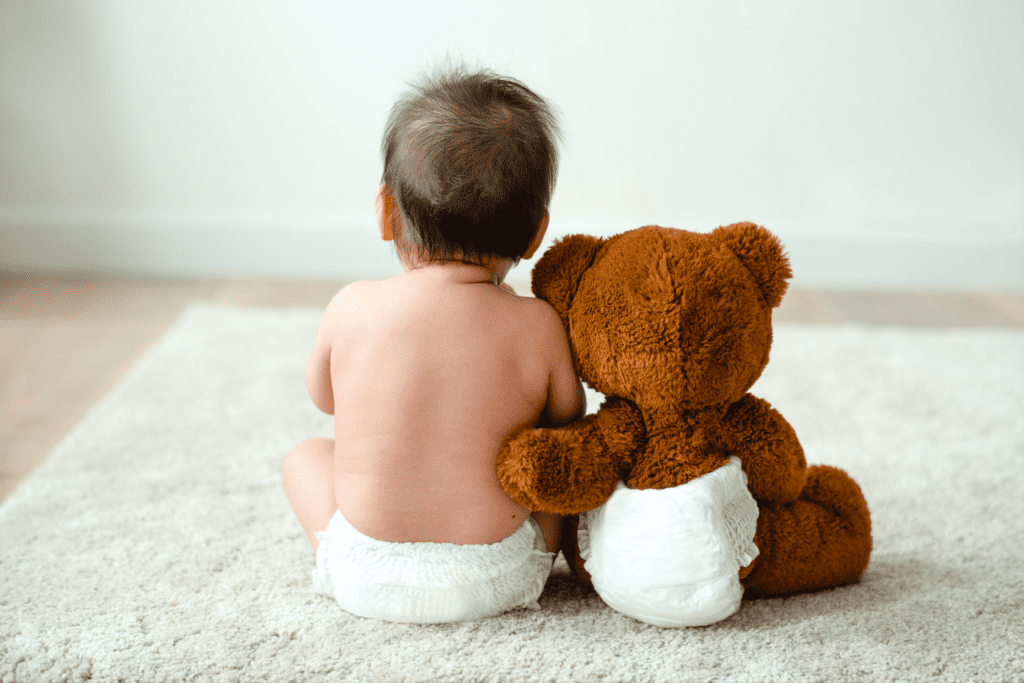 How do swim diapers work? They trap solid content inside without allowing leakage in the water. This brief guide will give you a better insight into swim diapers. It will then assist you in purchasing the right product for your little one.
Types of Swim Diapers
There are two types of swim diapers. One of them is reusable, and the other one is disposable swim diapers.
Disposable Swim Diapers
These types of diapers are used only once. They look similar to regular diapers. However, they don't absorb liquids, so they don't swell like regular diapers.
Additionally, these diapers are made to trap only solid waste inside. They don't absorb it but keep it inside, which is why they can be used only once.
Reusable Swim Diapers
These diapers are also known as cloth diapers. They look almost like other fabrics or swimsuits. They are eco-friendly compared to the disposable ones because you can reuse them after each time by simply washing them.
Things to Consider Buying Swim Diapers
There are some factors you should consider while purchasing swim diapers.
The Size
The size is a critical factor that can significantly affect the performance of the diaper. If the diaper is loose, it will let all waste content into the water.
On the other hand, if it is too tight, it will make your baby uncomfortable.
The Material
Get diapers made of Polyester. It is safe and preferable for sensitive skin. Other blended fabrics may contain harmful chemicals that can cause skin rashes.
Closure
The closure may make it easy or hard for you to put the diaper on your baby. There are different mechanisms available like snaps, pull up, and Velcro.
FAQs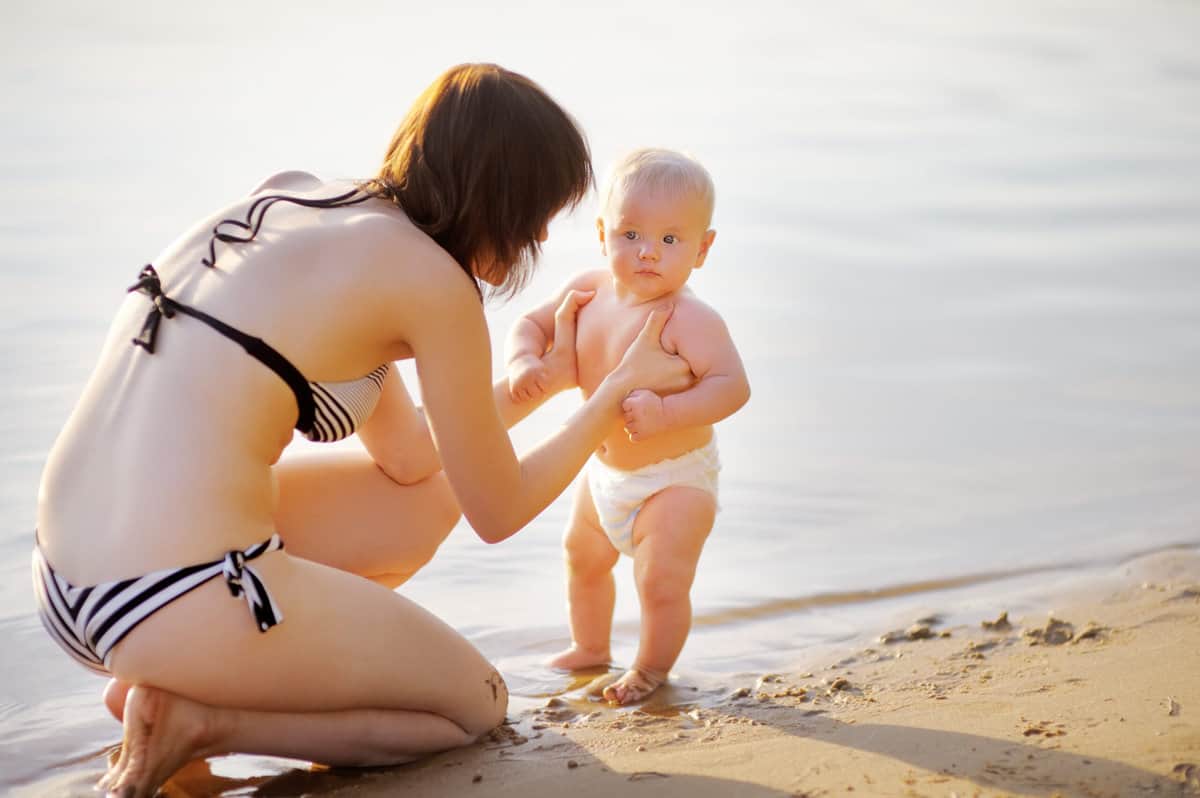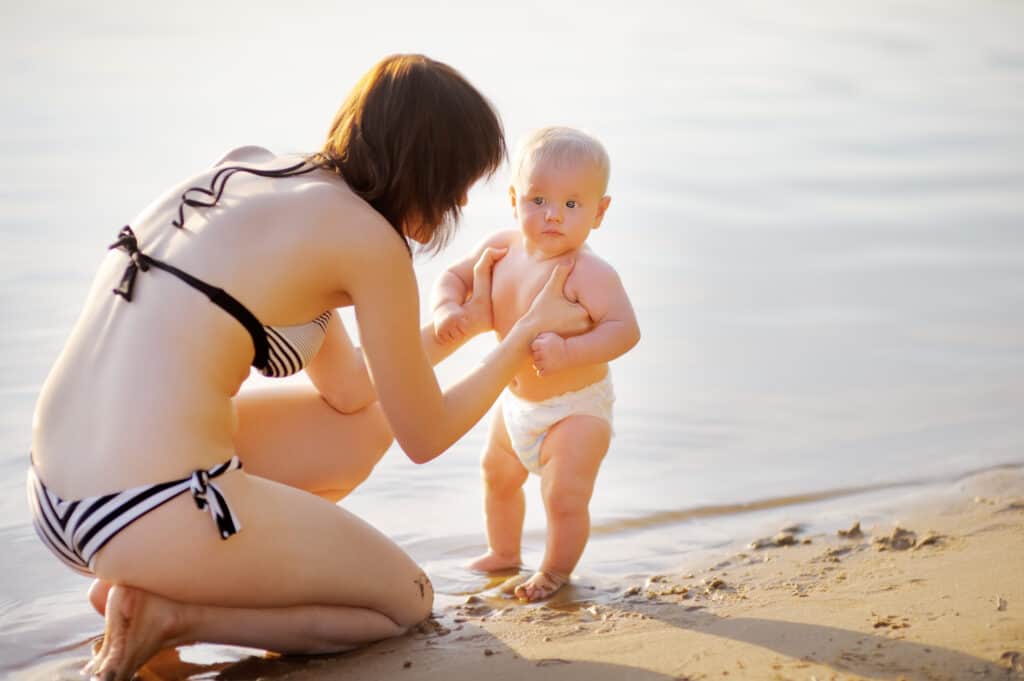 Should I Choose Disposable or Reusable Swim Diapers?
Both types of swim diapers have their benefits and drawbacks. However, if you take your baby to the pool or the beach frequently, we suggest getting the reusable ones. Otherwise, you pay a lot more with each purchase, which isn't environmentally friendly and sustainable.
Which Swim Diaper Is More Comfortable?
The comfort of the diaper is not related to its type. Instead, it is about the material, design, and closure mechanism.
Usually, Polyester material works well for all types of baby skins. Moreover, a good fit will also impact how your baby feels.
Test before you purchase so that you can check the suitability of the swim diapers. Check the fabric when wet and see how it feels on the skin.
Which Swim Diapers Are Appropriate For Baby With a Sensitive Skin?
If your baby has sensitive skin, it is better to go for an organic diaper. However, it is not always easy to find those made of organic fabrics.
This limits your options significantly. Organic diapers are usually reusable, and because they are made of cloth, they prevent skin irritations and allergies.
Our Top Pick
If we had to pick one from our best swim diapers review, we would go with the I play Snap Reusable Swim Diaper. The I play are super comfortable for children, and they are reusable, lightweight, and easy to put on and wear.
Conclusion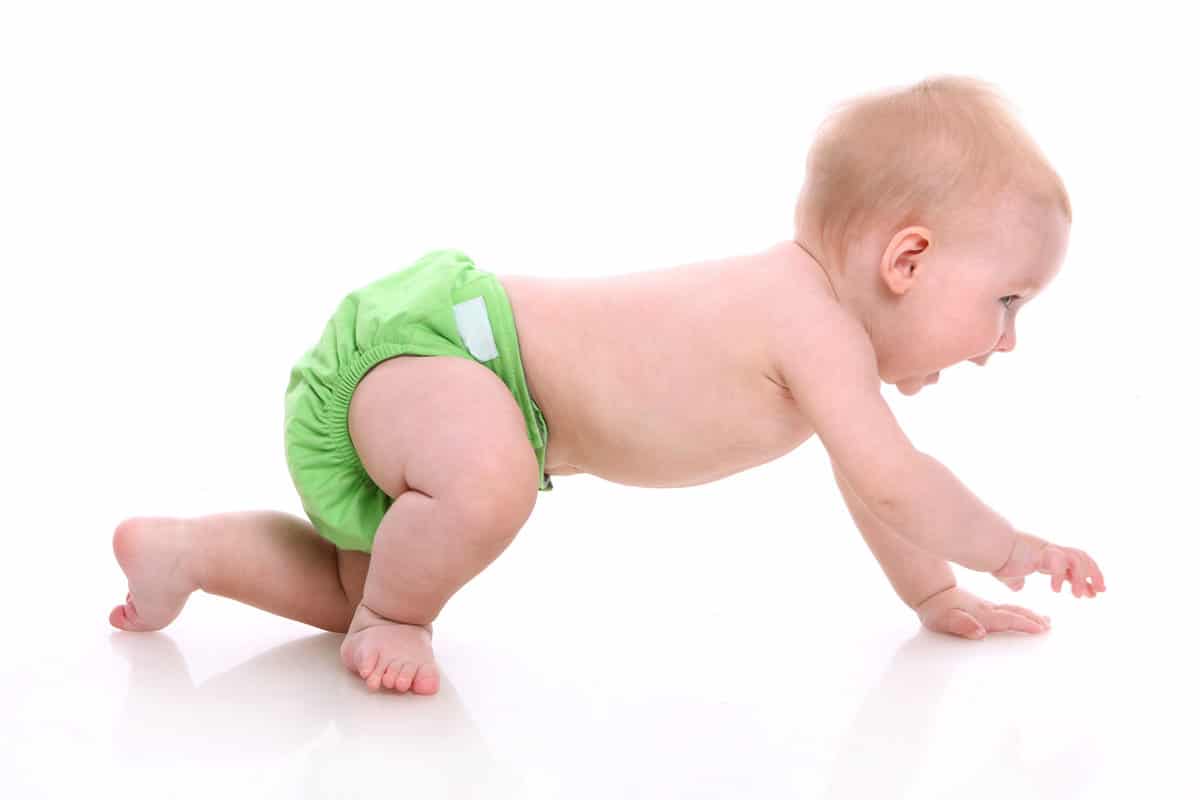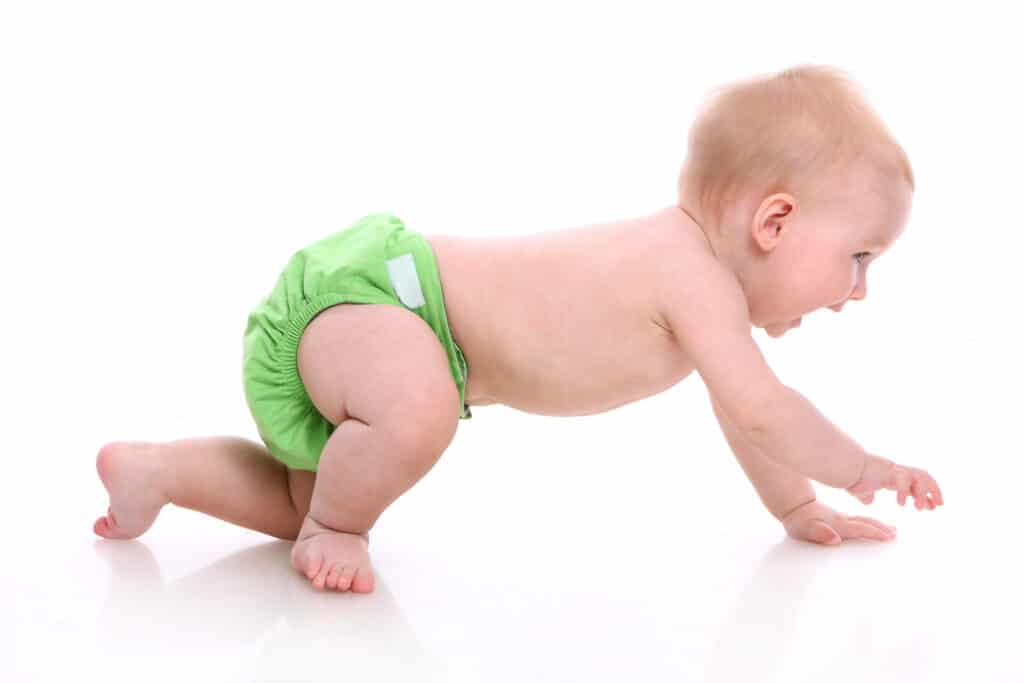 Purchasing any product for your babies is tricky since you can't compromise on the product's quality and comfort.
All the different features of the swimming suits can confuse you because, at the same time, you want quality, performance, convenience, and affordability. It can be challenging, but that's why we are here to offer you a little help.
We have reviewed a few of the best swim diapers, along with providing a brief buying guide. So, after reading this text, we hope you were more comfortable choosing the best baby swim diapers for your kid.