The diaper pail is a convenient invention for avoiding mess in your home. They are usually made of a plastic container with a lid on the top. You can throw the dirty diaper in it without having to worry about the odor. Unlike regular trash bags, pails are designed to lock the odor and make enough room for all your little one's messy diapers. Usually, a diaper pail will come with handles, an arm hammer, and other convenient features, making emptying easy.
The main difference between a diaper pail and your everyday kitchen trash bag is that the diaper pails' main compartment of storage remains closed. So, you won't have to see the dirty diapers when emptying them.
In this article, we will list and discuss some of the best diaper pails for you. We will discuss the difference between a regular garbage can and a pail and the difference between pail refill bags and traditional trash bags. Additionally, we have added a buying guide with the essential features to look out for and an FAQ section with answers from experienced users.
Let's dive into it.
The Best Diaper Pails for Dirty Diapers
Dekor plus presents its white diaper pail, which is entirely hands-free. So, you won't need to touch anything from this diaper genie when disposing of its contents.
This no-touch system is made possible by its step pedal, which makes the lid uncover it. With its powder-scented refill bags, it protects against odors and holds more diapers per refill.
The effective odor control system keeps the unpleasant smells in the pail. Thanks to the spring trap door, the diaper pail stays closed, and the smell issue is fixed.
Not only this, the Dekor is made of ABS plastic which resists scratches. It features a child-proof refill center that lets you empty it quickly for refilling. Coming with a limited lifetime warranty, the company ensures only the best is delivered to the customers. This pail is not designed for diapers only, and you can use it for pet waste as well.
PROS:
This pail is made of sturdy quality plastic that lasts long.
It has a sleek and stylish-looking appearance.
The refill bags are easy to remove.
The price of this pail matches its remarkable features and provides real value.
Its foot pedal helps you open it with ease.
CONS:
It does not hold smell perfectly.
The trap door is small.
The Ubbi diaper pail is another amazing diaper genie. It is available in grey color and is made of a top-quality material that promises extended usage. It requires no special bags or diaper pail refills which is great because it saves you both time and money.
Unlike many other diaper pails in the market, the Ubbi is an actual diaper genie and has won nine awards. Each one speaks of its approval by parents and experts.
The Ubbi is made of sturdy steel material, which has the maximum capacity of holding the odor inside. The rubber seal on the rim makes its lid compactly closed. So, this also helps in keeping the smell inside. Minimizing air disruption, Ubbi has a sliding lid. This is a very sleek-looking pail with a great size that will fit any corner of your home.
With the child safety lock and slow-close lid, the Ubbi diaper pail keeps your baby away from their dirty diapers. This pail is one of the best diaper pails as it can hold up to 50 diapers. This Ubbi model is available in many colors, including blue, grey, pink, purple, and other shades.
PROS
This diaper genie provides real value for your money.
The lid helps to cover the smell inside.
You only need one hand and a slide push down to open it.
The variety of colors on this Ubbi is large, and you can choose according to your nursery needs.
It has just the perfect size and fits in easily.
CONS
It is easy to flip up the lid.
One of the most convenient containers for dirty diapers comes from Dekor Classic. This diaper pail has a sleek design making it easy to keep anywhere, and looks good. It is a hands-free diaper pail because of its top lid function. You step on its foot pedal, and the lid uncovers the inside area where you can throw the dirty diaper.
Not only this, it has lavender scent refill liners that protect your nursery from odor spreading.
The Dekor Classic diaper pail can hold up to 45 diapers, and emptying it is an easy task as well. You need to open up the easy-access door and pull out the liner to remove the contents. Coming with a limited lifetime warranty, this product is made of a sturdy plastic material.
It features a child-proof locking system that lets parents empty it quickly without worrying about their little one getting in contact with the trash bin itself. The spring trap door makes sure that it is closed and the diaper odors do not spread.
PROS
You can use its garbage bag for throwing pet litter too.
It has a sleek appearance which makes it stylish looking on the outside.
The price of this container is excellent for its features.
It is super easy to open because of its foot pedal.
CONS
Some parts like the refill rings of this diaper pail may seem flimsy.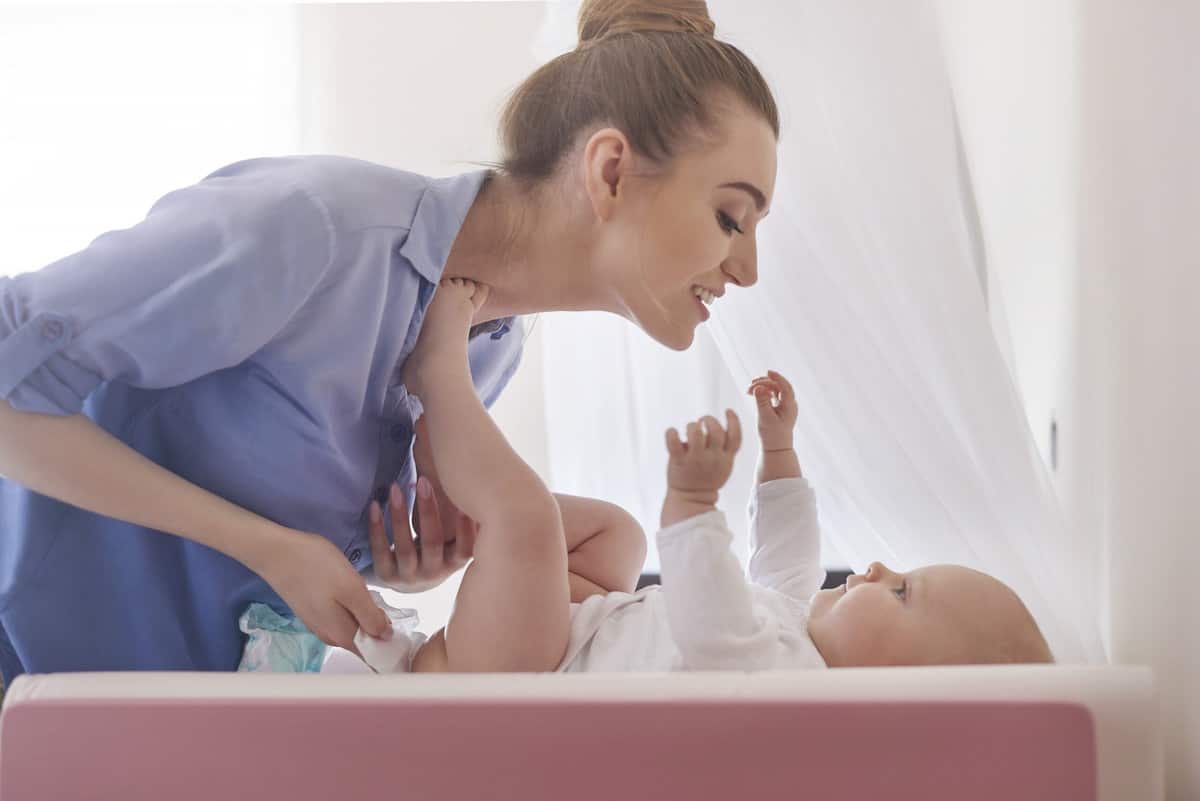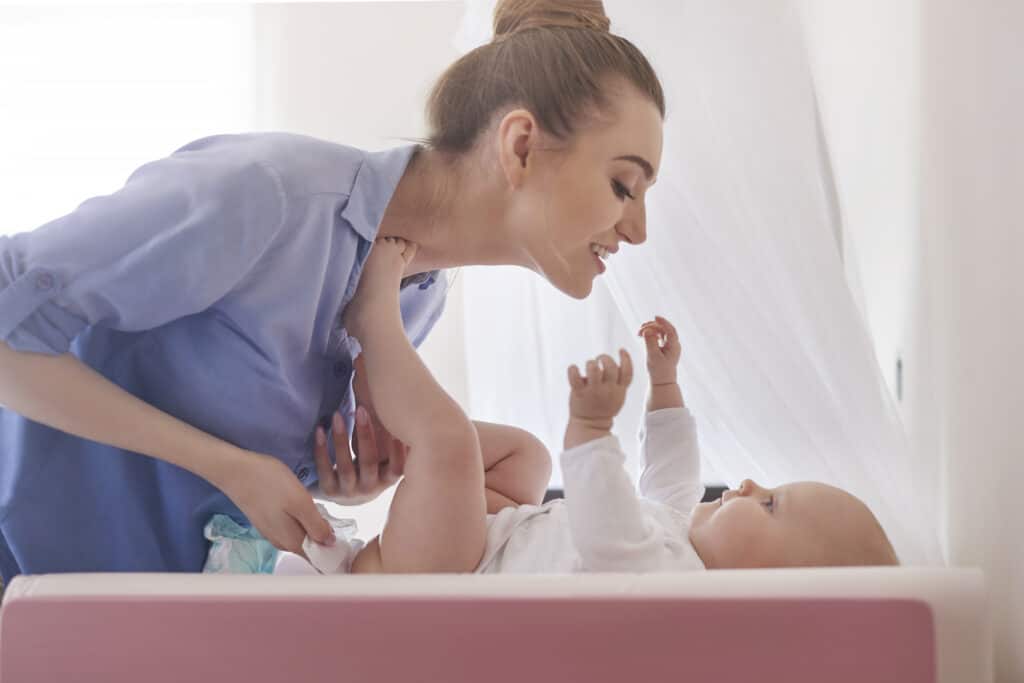 Featuring multiple qualities, the Munchkin Step is another great diaper pail for your nursery. Proven to be number 1 in odor control, this diaper pail comes with a foot pedal that uncovers the lid so you can quickly dispose of dirty diapers and bags. The closing ring stays firmly closed so that the odor remains inside and your nursery remains fresh.
This diaper pail has a self-sealing system, which means it seals the bag shut as its lid on the top closes. It has lavender-scented refills that neutralizing the smell of diapers. Further odor protection is provided by its arm hammer and lavender-scented baking soda. The Munchkin Step is one of the safest diaper pails to use with its child lock system.
The out-of-reach buttons make it impossible for your baby to play with it or get hurt. The Munchkin Step diaper genie can fit in all small places with a moderate size of 27 inches in height and 12 inches in diameter. Also, its sleek design makes it look good and stylish. With the dual-refill compatible system, you can seal and toss the bag effortlessly.
PROS
The Munchkin Step diaper pail perfectly blocks the diaper smell from coming out.
The foot pedal makes it stress-free to open it, especially when you have your hands full.
The arm and hammer disks make this diaper pail highly functional.
Made of sturdy material that guarantees to last long.
CONS
The size is relatively small.
Another super-duper diaper pail for you by Safety 1st ensures convenience and cleanliness at the same time. The diaper pail by safety 1st offers a one-hand use. Dispose of your diapers more conveniently with this spacy diaper pail with much more capacity to store diapers. The safety 1st diaper pails are guaranteed to keep the odor inside.
It is one of the most accessible diaper pail systems to use as you need to drop it and you are done. It requires no twisting or turning, which is a gross step. It has deodorizer disks included, but the replacement disks are sold separately. Its construction speaks of its quality itself as it is made of a sturdy plastic material that lasts longer.
It has enough space on the top to easily throw the diaper, unlike many others with narrow mouths.
PROS
The best diaper pail for the money.
Easy to open and close and keeps the smell inside.
A top cover wider than many others.
It is a decent-looking pail to keep in your room.
CONS
The deodorizer covers a significant part of the opening.
Are you tired of having that dirty diaper smell in your home constantly? The Baby Trend's diaper pail is just the solution you need. It is a stylish-looking pail that is made of sturdy material. Superiorly controlling the diapers' odor inside, it has a solid odor-seal system.
Not only that it has stylish looks, but it can hold 13 gallons of bag trash as well. This feature makes it one of the best diaper pails in the market.
Holding up to 30 diapers at once, this is an easy-to-use diaper pail with a convenient foot pedal. So, you drop the waste, and you are done. With simple construction, it requires no assembly. This is indeed a great diaper pail with a moderate size that fits all rooms and small spaces. So, if you want to have a diaper pail with enough space, stylish design, and odor-keeping quality, pick this one for the best value for your money.
PROS
The quality of the pail is excellent.
The pail holds the smell inside effectively.
A cost-effective product that you can use with regular trash bags.
The mechanism inside keeps the bag secured.
This is a good-looking pail with an excellent design.
You don't have to buy specific diaper pail bags for it.
CONS
The diaper hole is small, which may be a deal-breaker for some parents.
Specifically designed for cloth diapers, the Busch systems diaper pail offers you the convenience that you want. This diaper genie is made of sturdy plastic material. Eco-friendly material is what makes it a pail worth buying.
Parents love this diaper pail because it has a carbon filter that lets the air in but keeps the odor from escaping outside. So, it ensures that your place is kept odor-free and fresh.
The diaper genie has a robust clamp closure system that keeps the lid intact. It is made of recycled plastic, and unlike regular trash cans, it is recyclable. Thanks to its moderate size, it can hold many dirty bags, but it can easily fit into your room.
It has a wide opening and a durable lid with two clamps that make it compact and durable. This is the only diaper pail in the market which is specially designed to hold cloth diapering.
PROS
The two side clamps make this diaper pail more compactly closed.
It keeps the smell inside and is much better than other kitchen trash bins.
This is a great diaper pail for holding cloth diapers.
The quality of the plastic is excellent.
CONS
It needs to get clipped each time to lock bad smell.
No stylish designs are available.
Playtex offers a floral printed and lovely designed diaper pail for all your diaper disposal needs. Playtex diaper genie is the ultimate diaper disposal system with a foot pedal for easy usage. It has a hands-free diaper-disposing feature, so your hands always remain clean.
Coming from one of the bestselling brands for pregnancy tools in America, it is made of solid material and good quality plastic which is durable and lasts for a long time. It has a taller design, so you don't have to bend to dispose of dirty diapers.
The Playtex diaper genie comes with a double clamp system which makes it keep the odor inside. Thus, its air-lock system prevents the air from going out, and your room remains fresh.
Not only this, it contains a built-in antimicrobial lining that prevents bacteria from developing. It has enough space to hold up to 38 diapers at once and has a refill cartridge that can hold up to 270 diapers. No other trash can has such a capacity for garbage content.
An efficient foot pedal system makes it easy to use every time.
PROS
This is a great-looking diaper pail with individual stickers you can arrange.
The foot pedal is so smooth and works with ease each time.
The Playtex diaper genie is a convenient one that uses regular trash bags with a good design and low price.
CONS
Some parents find the stickers impractical to design their baby pail with.
Grocery Land diaper pail is available in a unique design and good quality. This diaper pail is made of sturdy plastic, which guarantees to last a long time.
It limits odors with its tight seal system and makes your room smell-free and refreshing. Coming with a limited lifetime warranty, this product guarantees functionality and effectiveness even after years of use.
It is an open-top trash can where you can dispose of the diapers. With a good capacity, it can hold many diapers. With a firm base, it offers maximum stability as you place the diaper on it. So, if you want to have a diaper pail with enough space, stylish design, and odor-keeping quality, bring this one for a fantastic price.
PROS
There are two sizes available.
It effectively keeps the odors inside.
This is a unique-looking pail with efficient functionality.
Fantastic diaper trash can for its price.
It offers and hands-free disposal with its clever design.
CONS
The trash bag hangs out of the unit.
The Creative Baby Tidy Diaper Pail is available in various colors and patterns and promises to be the answer you're looking for, for all your diaper disposing needs. It certainly keeps the odor out of your room. You can place it near the changing table and have it close by whenever you need it.
Making your usage much convenient, it has a rotating lid design. Thus, you can work with one hand only while handling things with the other. Furthermore, it is made of a high-quality plastic material that is dishwasher safe.
Being compatible with any disposable bag, you won't need to buy special bags for it. This diaper pail comes with a large storage capacity, so you don't have to empty it after a day's use. Available in a variety of colors, you can choose between marble, grey, or blue color.
Coming with a limited lifetime warranty, this pail guarantees long-lasting functionality. With its odor and germ-controlling feature, you can use this container both for diapers and pet waste as well.
PROS
This is a great-looking diaper pail that uses regular kitchen trash bags.
It does not occupy much of the space.
The turning handle is effortless to use.
The diaper pail keeps the smell inside.
CONS
Its price is a little higher as compared to other diaper pails.
How to Choose the Best Diaper Pail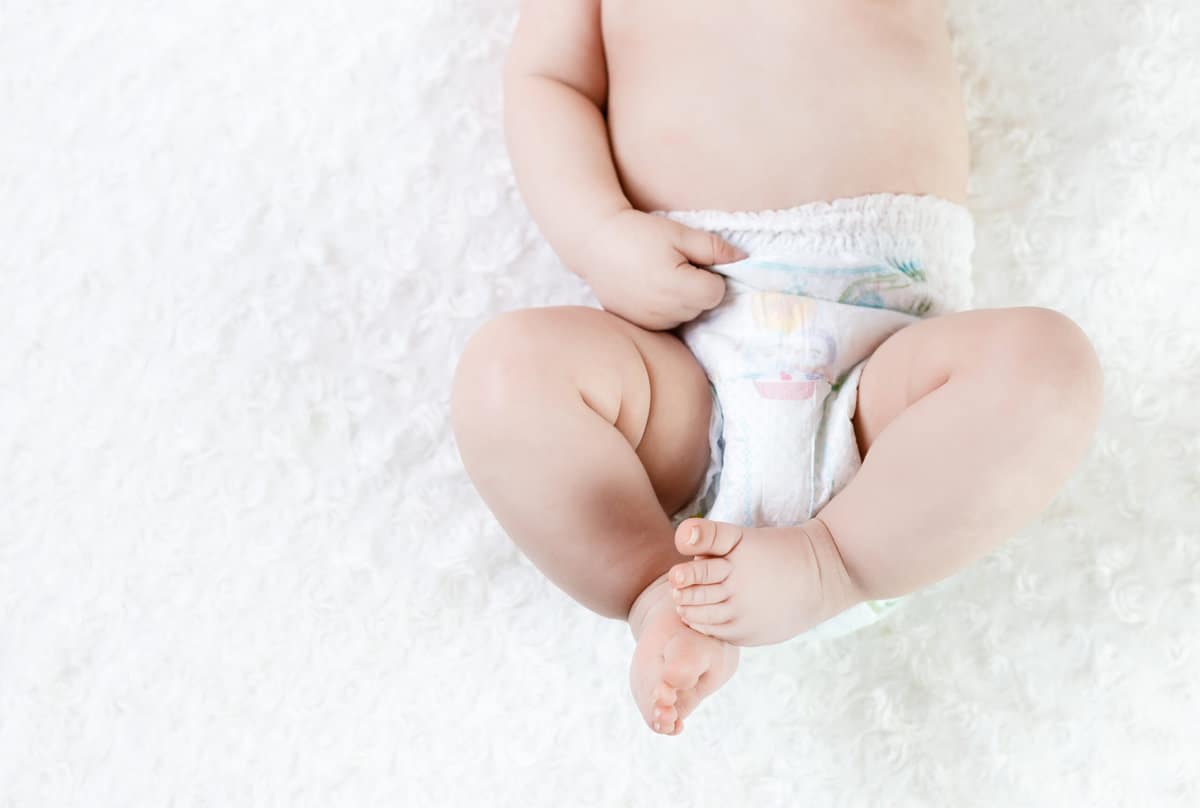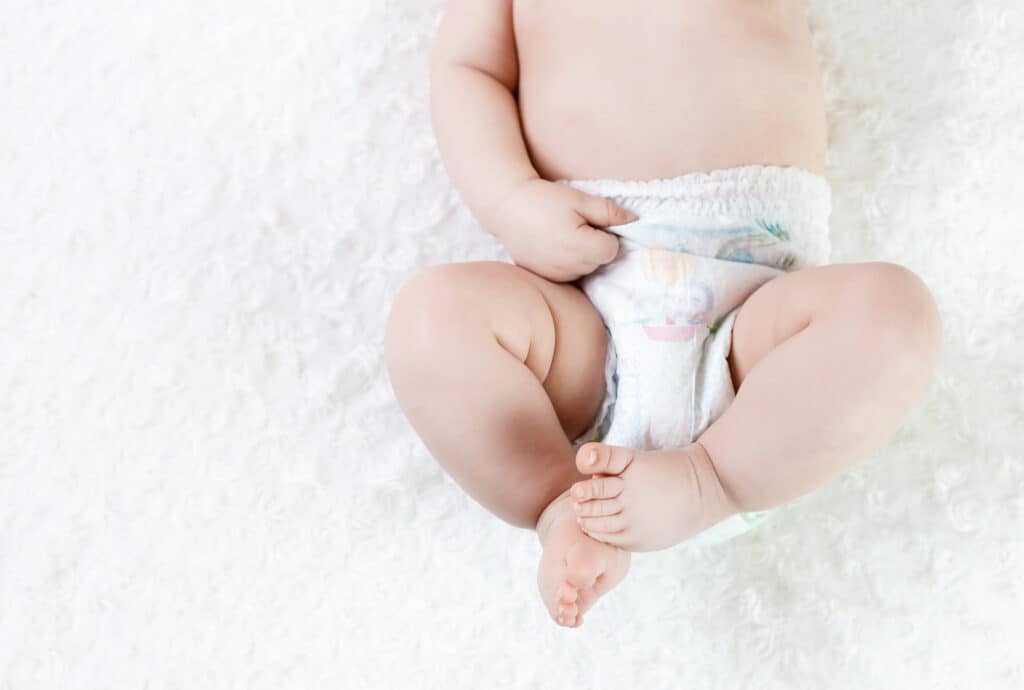 Having the perfect diaper pail can save you a lot of inconveniences. That is why we have collected all the crucial features a pail must feature. We hope the following information will help you make an easier decision.
Firstly, you should consider the diaper pail odor-controlling method. Each diaper pail comes with its odor control system, either in refillable bags or in the diaper pail itself. So, try to buy the perfect one to seal the diaper odor inside and keep your area clean and smell-free. Some of them use a carbon filter that parents love because it keeps the odors inside more effectively.
There are many varieties of materials used in their construction. Most of them are made of sturdy plastic that ensures long-lasting usage. But, some of them are also made of stainless steel, which is even better in terms of efficiency.
Ease of use depends on its easy foot pedal, and it should have enough capacity to store many diapers. This is useful when you need to dispose of more diapers without leaving your baby alone while emptying the pail frequently.
Be mindful of the dimensions of the pail. Many parents look at the capacity without considering its size regarding the baby room where you will place the pail. A moderate or a smaller diaper pail can be easily put near the changing table, ensuring that you will always have it close by.
Also, for the safety of your child, it should have a child lock feature. Otherwise, you will always be worried about your baby opening it. The safety lock ensures that your infants are safe and they can't open it.
There are diaper pails that need special refills and those that use regular bags. Also, there are containers for cloth or dry diapers. So, you should pick according to your needs.
FAQs
What Gives Diaper Pails Their Odor-Free Feature?
There are different mechanisms in each of these products to control the odors. Usually, they have deodorizers and airtight seals to keep the odor inside. The sliding lids also minimize air disruption and help in controlling the smell.
What to Look For When Buying the Best Diaper Pail?
Evaluating products before buying is essential. The features to look for are odor-controlling capacity, suitable size compared to its diaper-holding capacity, deodorized lining, the use of refills or a regular bag, and whether it has a carbon filter for an additional smell-limiting function.
Diaper Pails and Compatibility
When buying, you should know whether your pail is made to store disposable diapers or cloth diapers. There are different diaper pails for both, so ideally, you will find the one that matches your needs.
How to Further Reduce the Odor in the Diaper Pail?
Baking soda is known to be an effective remedy for controlling the smell. You can use a deodorant disc or sprinkle baking soda onto the bottom part of the pail. This practice dramatically reduces the smell of the diapers.
Can I Use Regular Trash Bags Instead?
Some pails need specific refills or even a cloth liner, while others can use a regular trash bag. You should look into this before buying this product because, for some parents, buying specific refills is more expensive and a deal-breaker overall.
Diaper Pails Conclusion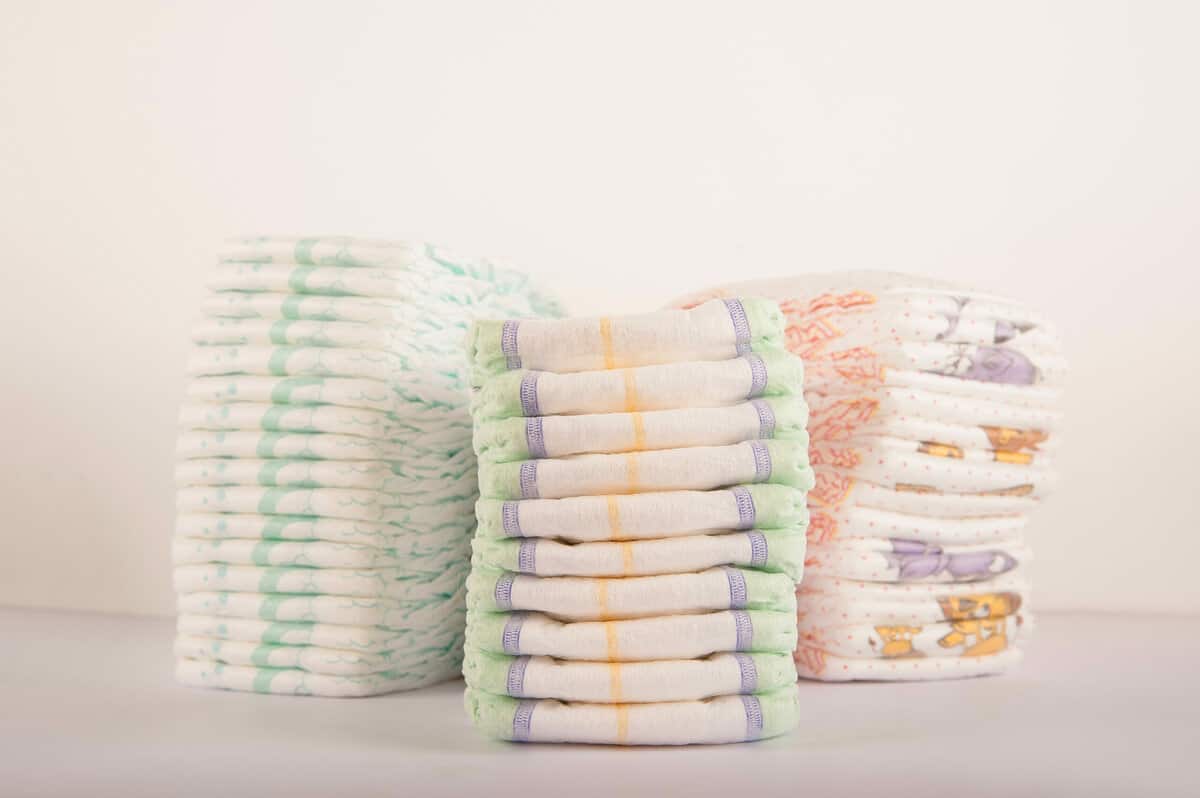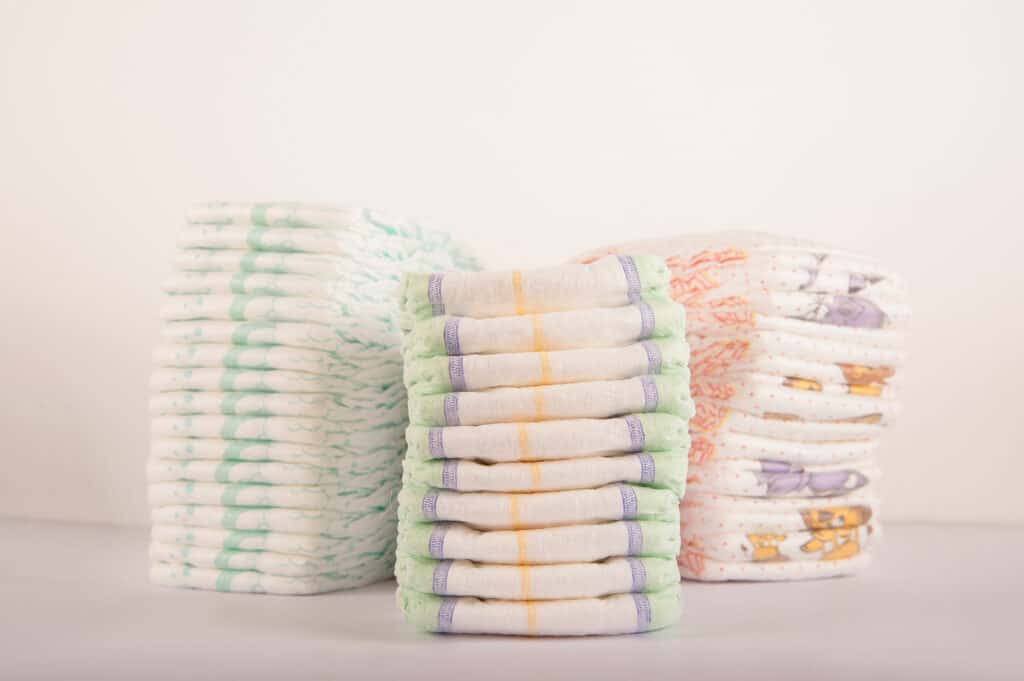 Among many other baby-related products in the market, one of the most sought-after is a diaper pail.
Regarding controlling odors and storing disposable or cloth diapers, pails have proved themselves helpful products. There is a lot of variety in material, safety features, size, odor-control quality, and design.
Another important and cost-effective feature of the diaper pails is their compatibility with the bags that they use. If they can use any disposable bag, you may be at an advantage to save your money. We hope that our best diaper pails article has helped you decide on which one to pick. With the right diaper pail, your nursery will be smelling fresh and staying odor-free at any time.