Everyone knows that good oral hygiene is vital to good health for both kids and adults. While most adults wash their teeth as part of their night and morning routine, they may not realize the importance of the same practice for babies. Just because adult teeth will eventually replace their baby teeth doesn't mean that they shouldn't learn good habits early on.
Additionally, there is plenty of bacteria build-up throughout the day. Babies and toddlers are known to put different objects and toys in their mouths when playing, so it is vital to eliminate everything at the end of the day.
To keep your baby's teeth healthy, you need quality toothpaste that's designed specifically for babies. Baby and toddler toothpaste contains supplements for their teeth and mild ingredients that are safe to swallow.
It is crucial for a baby brushing its teeth to know that this is a daily hygiene routine that's pleasant and comfortable. Only in such a way will you ensure that your little one will create a lifelong healthy habit out of it.
It is essential to keep in mind that all baby toothpastes will be used daily. So, it is vital to get a natural baby toothpaste free of fluoride, essential oils, citric acid, SLS, and artificial flavor. Otherwise, ingredients like fluoride can build up in the system and cause health issues.
Adults can handle fluoride toothpaste with traces of the ingredient as they have built up a tolerance to it over time. However, babies and toddlers don't have that yet, so they should be using fluoride-free toothpaste.
There are many other ingredients in toothpaste that make them a safe or an unsafe choice for your little one. To help parents pick the best toothpastes for babies, we have comprised a list with links that will take you straight to the product and its reviews. This way, you have all the health information available so that you can make an informed decision.
Best Child Toothpaste – Budget-Friendly
Apart from keeping the teeth of babies and toddlers clean, this fluoride-free toothpaste comes with a finger brush with nubs that not only cleanse a baby's emerging teeth but also help you massage their sore gums. This way, teething will be a much easier process for your little one.
The toothpaste's ingredients list is completely safe, free from fluoride, dairy, and gluten, and contains no artificial colors. It's also flavored with natural apple and banana extracts with no added sugars. This way, your baby will like the taste of the toothpaste and enjoy brushing every time.
For those that haven't quite learned to spit completely, this toothpaste is safe to swallow, and with its gentle ingredients, it is suitable for babies of 3 months and above. This can also be used as a training toothpaste for parents who want to create a brushing habit in their little ones.
Pros:
3-sided finger brush
Soft and flexible
Fluoride-free
Gluten-free
Dairy-free
Natural apple and banana flavor
Safe to swallow
BPA-free
Dentist-recommended
Cons:
The finger brush is small
Best Natural Toothpaste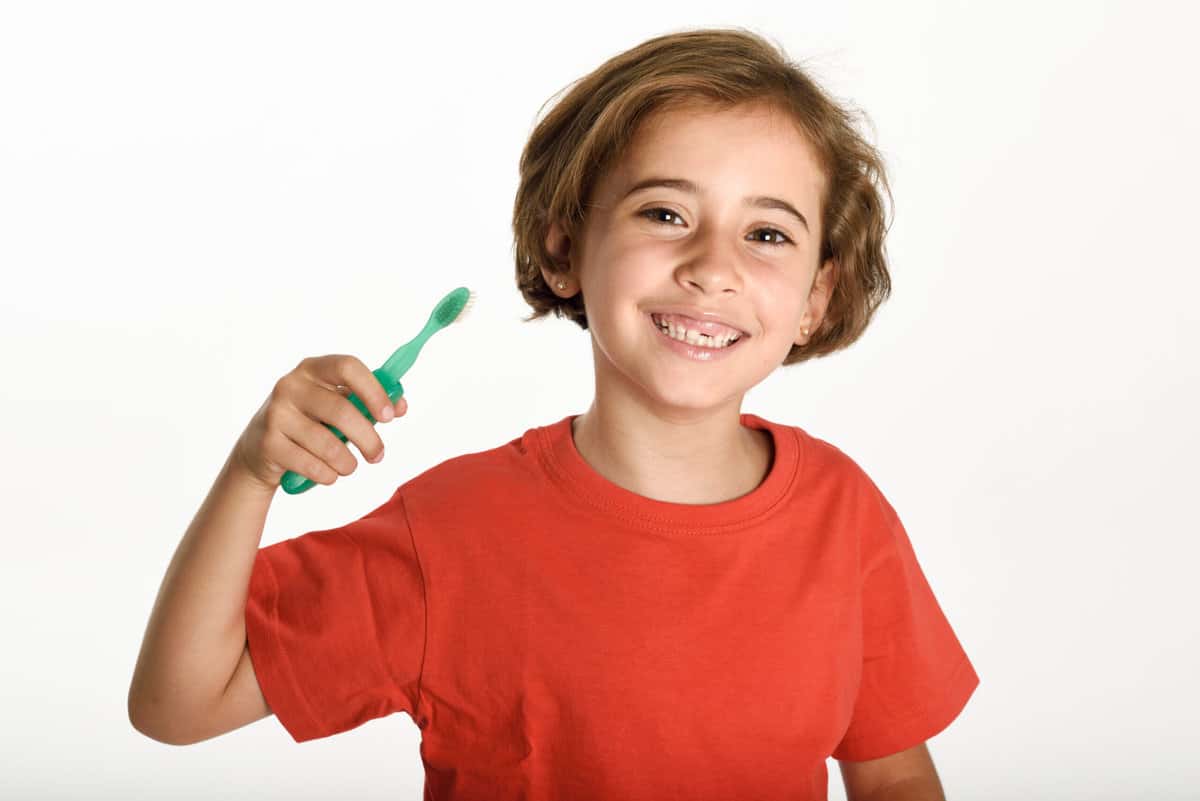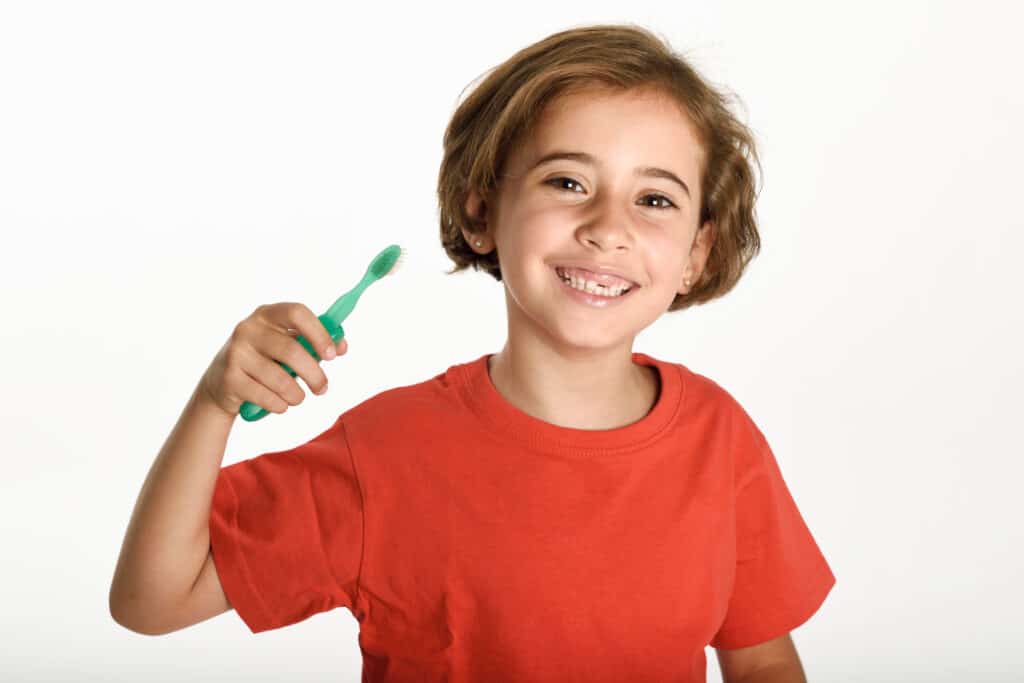 This toothpaste is made from food-grade ingredients that will encourage your baby to brush teeth regularly. It also contains calcium and lactate, which prevent tooth decay.
For taste, the toddler toothpaste is made of natural extracts and delivered in two different variants. One has a strawberry flavor with added banana and the second one is an apple-pear flavor. The ingredients are entirely natural and contain no preservatives or sugars.
This natural baby toothpaste is also fluoride-free. It contains oat bran, beta-glucan, and vitamin B5 for additional nutrients and comes with a baby toothbrush used for babies of 6 months to 3-year toddlers.
It also comes with an infant brush so parents can begin brushing their child's teeth before they emerge to create good oral habits and routines. The fruit flavor of this product makes it suitable as a training toothpaste for toddlers.
Pros:
Preservative-free
Fluoride-free
Natural formula with no SLS
Food-grade
Safe to swallow
Oat bran, beta-glucan, vitamin B5
Natural strawberry and banana flavor or apple and pear flavor
Range of 6 months to 3 years
It contains minerals to prevent decay
Cons:
Because of the fruit extracts, it takes longer for the toothpaste to freshen breath.
Best Toddler Toothpaste with Fluoride
Toddler toothpastes can contain some amount of fluoride as the child has already built up the habit of brushing and not swallowing the toothpaste. This fluoride toothpaste for kids is on the best baby list because of its unique content.
Namely, this toddler-safe toothpaste was approved by the American Academy of pediatrics for cavity prevention thanks to its fluoristat formula. Experts say that this ingredient is clinically proven to fight cavities and be gentle on tooth enamel. It also contains sodium fluoride, sorbitol, hydrated silica, and flavorings designed to clean teeth more efficiently.
This kids toothpaste with an ADA seal of acceptance provides optimal care as it is free of essential oils and sugars. As such, it is among the toothpastes that can freshen the breath while not harming the teeth.
A unique feature of this toothpaste is its self-emptying bag that reduces the messiness associated with kids brushing their teeth. It makes this product a pleasant, easy, and convenient way for them to brush their teeth. We have to mention that the tube can become hard to squeeze once it's half-full.
Pros:
Clinically-proven fluoristat
100% sugar-free
Approved by the American Dental Association
It contains cavity-fighting ingredients like sodium fluoride
Self-emptying design
Gentle on tooth enamel
Cons:
The tube can be hard to squeeze for kids
Best Baby Toothpastes Under One Year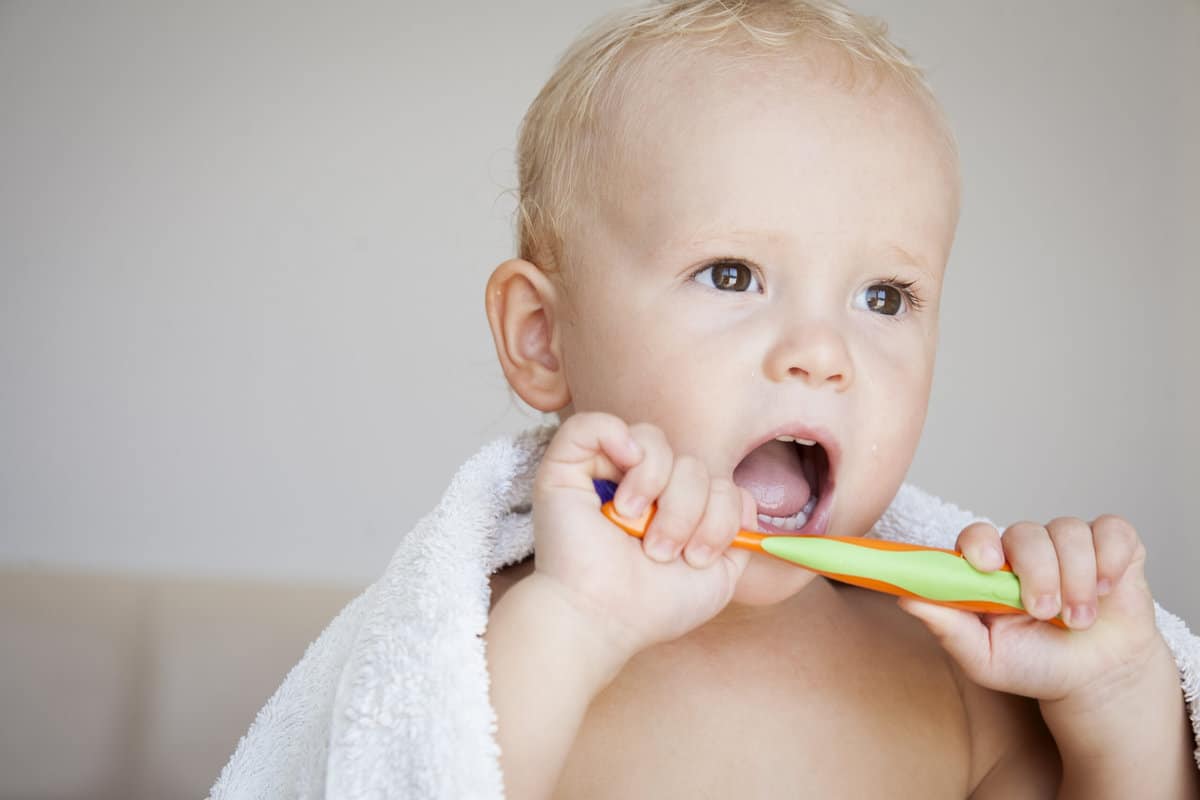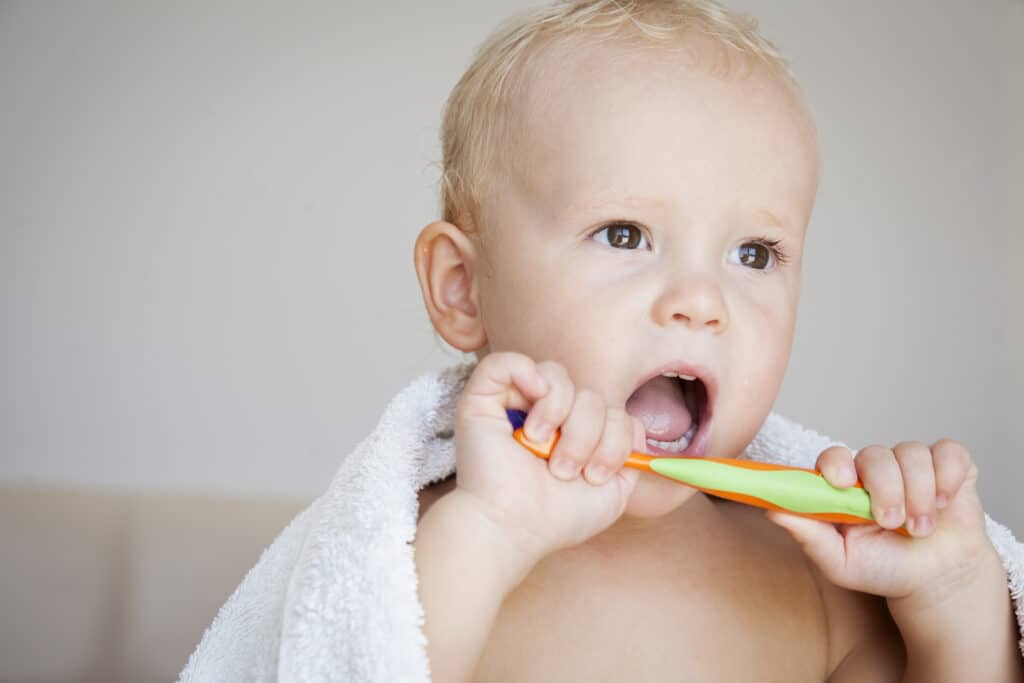 The Jack N' Jill Natural Toothpaste is among the best baby and toddler toothpaste brands. It comes in various flavors like strawberry, banana, black currant, blueberry, and blue raspberry. Such a toothpaste for kids will never go out of style as there's always something new to try out.
Their baby toothpastes always use organic extracts, like calendula, that are soothing to sensitive gums. The content is free from preservatives, fluoride, sugar, and dyes, so it's completely safe.
Because it's all-natural and designed for teething babies, this is an excellent choice for young babies but is also suitable for older kids. There's no risk of chemicals or preservatives causing harm if swallowed, and the organic extracts are perfect for tender, sensitive gums. In addition, the texture isn't too thick or too runny for babies.
Pros:
Organic calendula
Strawberry, raspberry, blueberry, banana, and black currant flavors
Sugar-free
Fluoride-free
Preservative and SLS free
No dyes
Cons:
There's no toothbrush included
Expensive
Best Baby Toothpaste for Training
Colgate is a well-known and popular toothpaste brand. They have an excellent selection of fluoride toothpaste products, and their baby toothpastes are no different.
This kids toothpaste is gentle and safe for a baby's sensitive mouth and contains no fluoride, artificial colors, or preservatives. Because it has no harmful chemicals, it is entirely safe if swallowed, which isn't the case for all toddler toothpastes on the market.
The flavor is simple and sweet, and this toothpaste removes plaque from the surface of teeth better than any other toddler toothpaste on the market.
Pros:
Gentle
No artificial colors, SLS, or preservatives
Fluoride-free
Swallow-safe
Bubble mint flavor
Cons:
● Watery
How Much Toothpaste Should be Used for a Baby?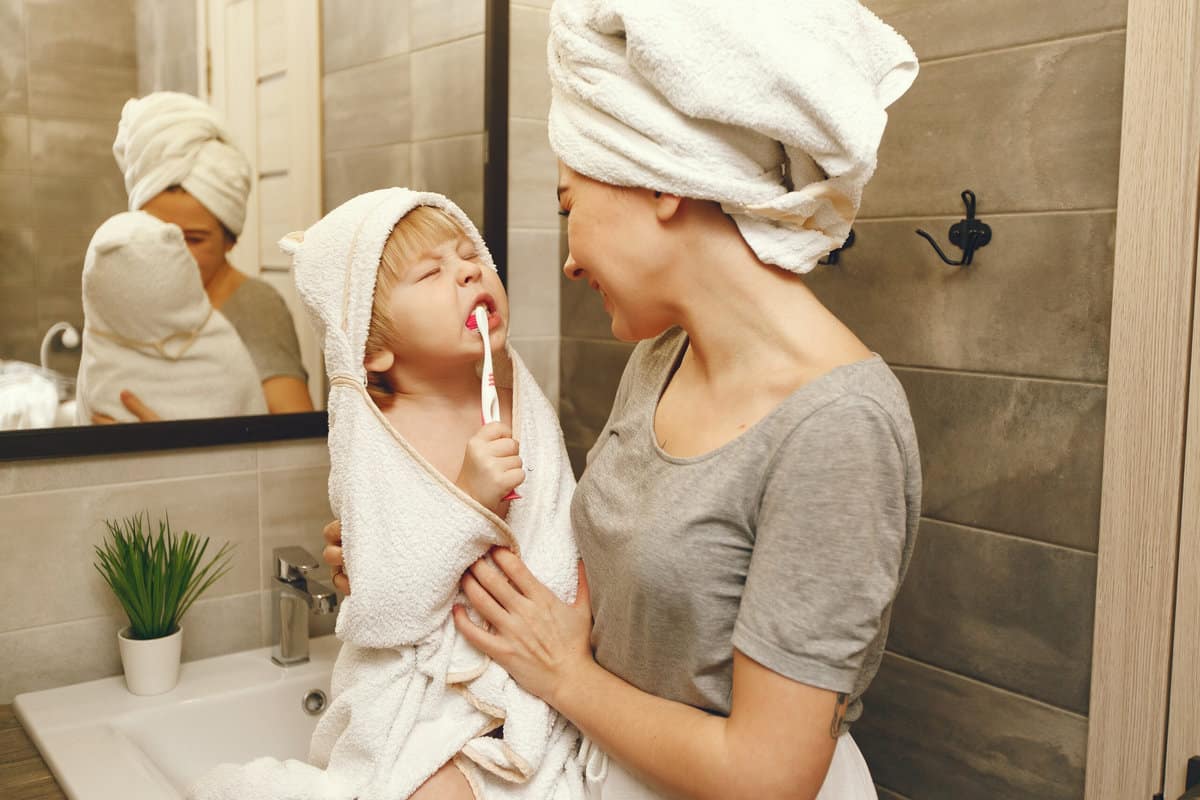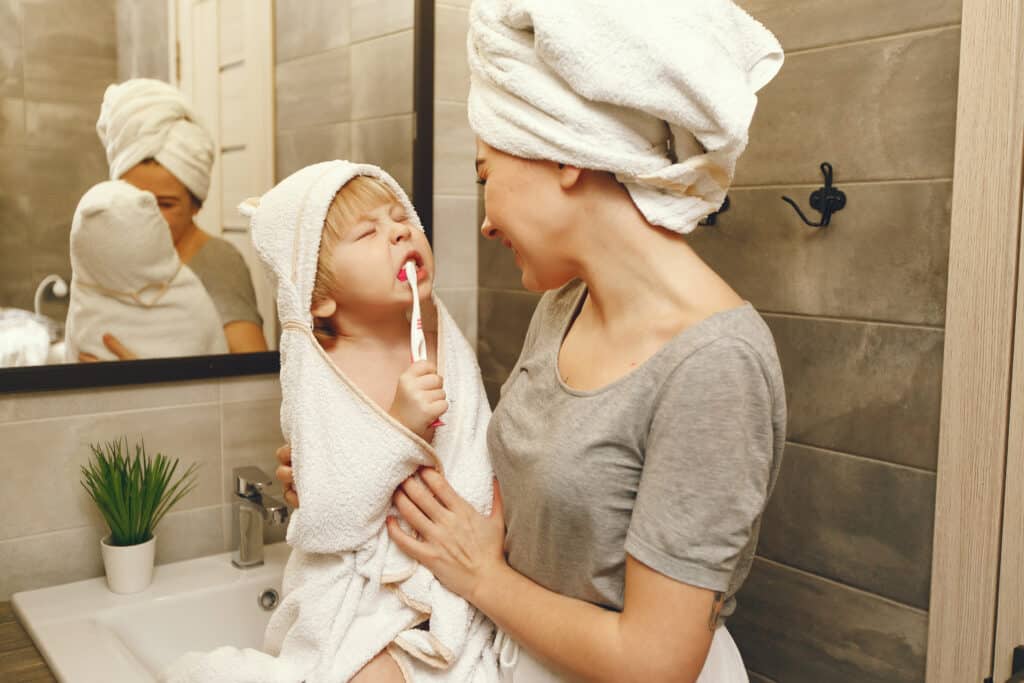 Babies don't need as much toothpaste as adults. A thin smear covering no more than three-quarters of the brush is sufficient and limits the amount of toothpaste swallowed while learning to spit. This also discourages wastefulness.
Tooth-brushing Tips for Babies
Brushing correctly-Teaching your son or daughter to brush correctly can be daunting, but you're creating good habits for the future. Show them how to move the brush in a circular motion, how to be gentle and avoid hurting their gums, and how to cover every surface in their mouth with the kids toothpaste they are using.
Use a flavor that they like. If your son or daughter does not like the flavor they are using, they won't enjoy the process. A bubblegum flavor or some of the fruity ones are always a hit with kids.
Typically, kids should brush 2-3 times a day, which is usually after meals. Each session should be roughly 2 minutes long, so using an egg timer may be helpful to get them used to the length of time they should brush.
Flossing is usually easier for children to learn than brushing, but they should never floss unsupervised. It can be very easy to damage gums from rigorous or incorrect flossing techniques, so you need to show them how to be thorough and gentle. For some kids, the small flossing sticks are easier to hold and maneuver than string floss.
If a child consumes sugary snacks, they should get in the habit of using their toothbrush afterward. Sugar can damage the teeth and cause cavities.
Children learn what's around them, so they need to see you practicing proper oral hygiene every day to learn to develop those same habits.
Regular dentist's appointments are an essential part of oral hygiene, but they aren't a replacement for home care. It's best to practice proper oral care daily and reserve dentist's appointments for thorough cleanings.
Things to Consider When Selecting a Toothbrush and Toothpaste
An excessive amount of fluoride can be toxic to young children, so it's important to ensure that the toothpaste contains no more than 0.15%. Sodium lauryl sulfates, artificial colors, and preservatives are also best avoided. Sodium lauryl sulfate is a synthetic detergent that can lead to oral irritation and lesions. Artificial dyes and preservatives may cause behavioral problems or even produce formaldehyde, which is a carcinogen.
Children will enjoy teeth cleaning more if they like the flavor of the toothpaste. Baby toothpaste products should be natural and contain organic flavors, such as apple, strawberry, and banana, rather than the mint that adults are used to. It's essential to test each toothpaste to see if your baby likes it before you buy a significant amount. In addition, watch that these flavors don't come with high amounts of sugar since that can contribute to tooth decay.
Swallow-safe. It will take a while for your baby to learn to spit out their toothpaste, so it's important to find a baby toothpaste safe for ingestion, especially if they like the flavor.
Some baby toothpaste products include additional supplements for dental health, such as lactates, calcium, or vitamins and minerals. Whenever possible, choose toothpaste that offers supplements for healthier teeth and gums.
Watch the toothpaste tube. This may seem insignificant, but many toothpaste tubes can burst or become messy from use, so it's best to find a tube with an easy-to-squeeze design that makes it easy for children to use. Twist-off caps are also helpful since they're more difficult for children to take off to eat toothpaste.
Foods That Cause Tooth Decay in Your Little One 's Teeth
Many sugary foods contribute to tooth decay in babies, so it's best to limit these snacks to mealtimes when they can be rinsed away and brushed.
Some foods to limit include dried fruits, juice, peanut butter, jelly and jam, bread, crackers, pasta, pretzels, cookies, cake, pies, chips, soda, ice cream, pudding, and candy. You can replace these foods with vegetables or cheese. Include water in meals, too, to help wash residue.
Overall, sugar is very unhealthy and should be given sparingly to maintain good oral health, a healthy weight, and establish healthy eating habits early on.
Preventing your Child from Eating Toothpaste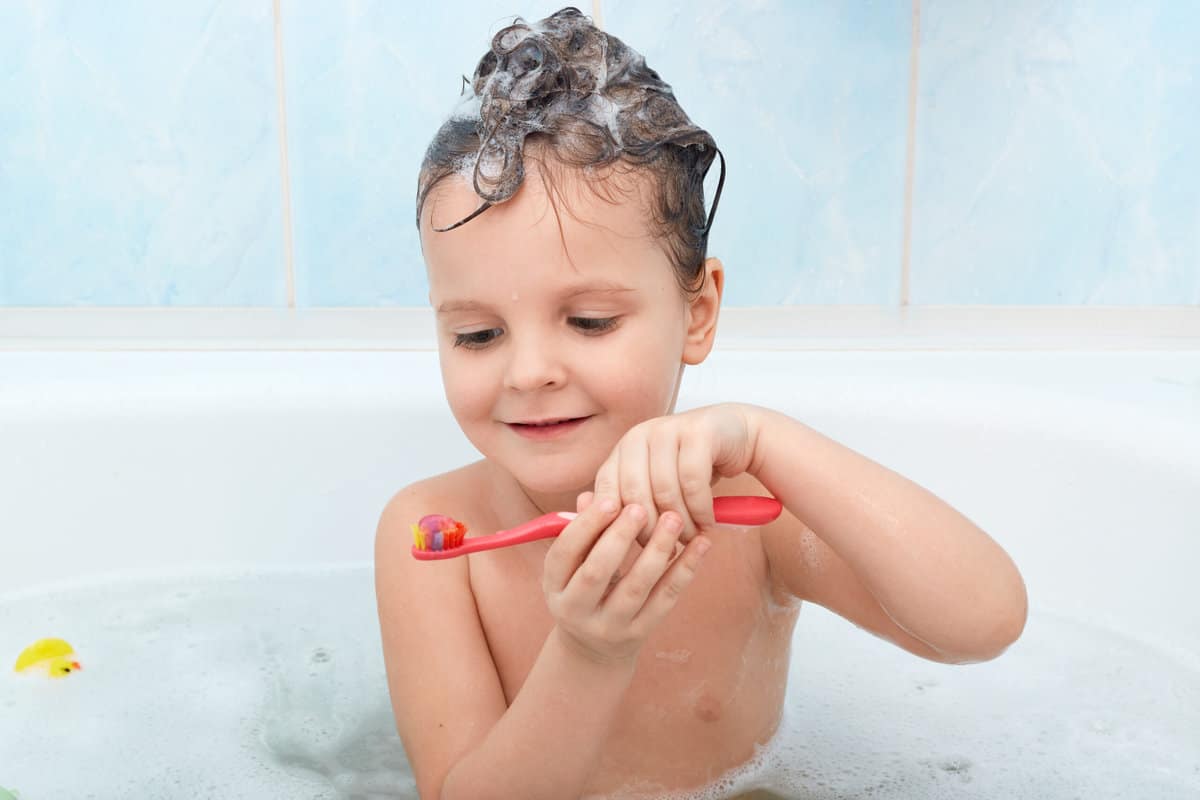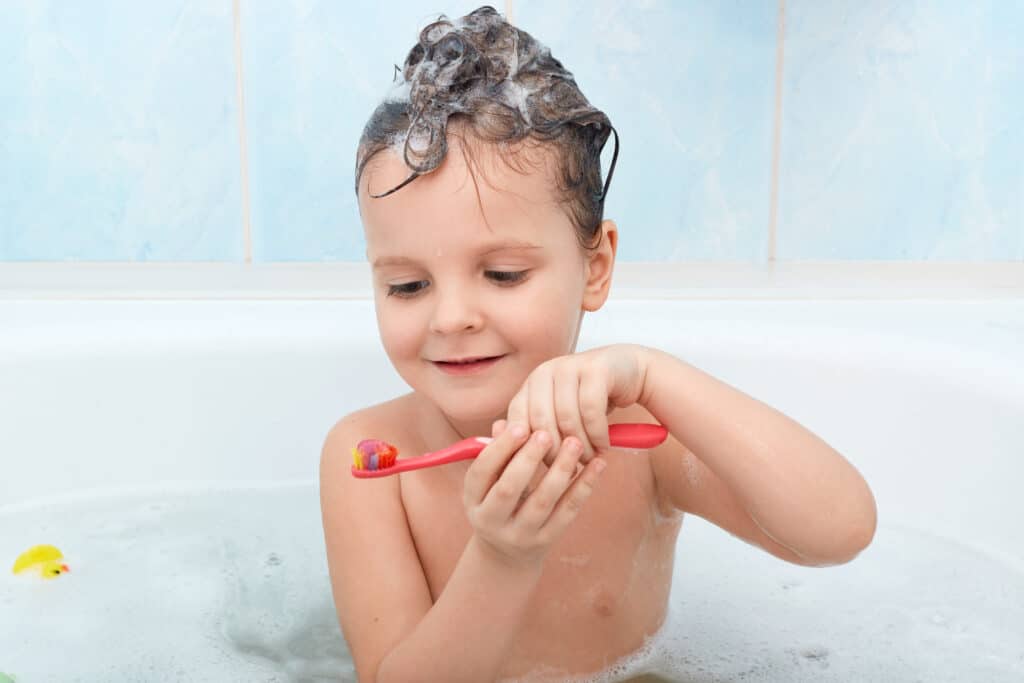 Baby toothpaste typically comes in flavors like candy, bubble gum, and fruit, so keeping your baby from eating the toothpaste can be challenging. While swallowing a small amount with brushing isn't harmful, large amounts can cause stomach discomfort or intestinal blockages. Even though those products have natural flavors, your baby's stomach doesn't have a tolerance for them.
Here are a few ways to prevent your child from eating toothpaste:
Keep toothpaste out of reach. This should become a habit with both baby and adult toothpaste. Once you've used the appropriate amount for brushing, store the tube high and out of reach.
Teach your baby to spit. Though it takes a while, teach your baby to spit each time they brush, so it becomes second nature. You may need to demonstrate spitting to them or use a cup with water to rinse their mouth out.
Be patient-Eating toothpaste is usually a short-term phase that they will outgrow, so be patient and diligent in teaching them not to swallow or eat toothpaste during this time.
Use mint. If they don't seem to be outgrowing this problem, strongly-flavored mint toothpaste will be less appetizing for them. That said, these products should only be used with older children since the mint flavor can be a turn-off to younger babies and may cause them to resist brushing altogether.
Brush your teeth together-Children learn from demonstration, so it may be helpful if you brush your teeth with your child and make it a fun bonding experience. During this time, they're likely to be too distracted to try eating toothpaste, and they're also less likely to do it if you don't use your toothbrush as well. Just don't let them have any of your fluoride toothpaste if they are under two years of age.
Final Thoughts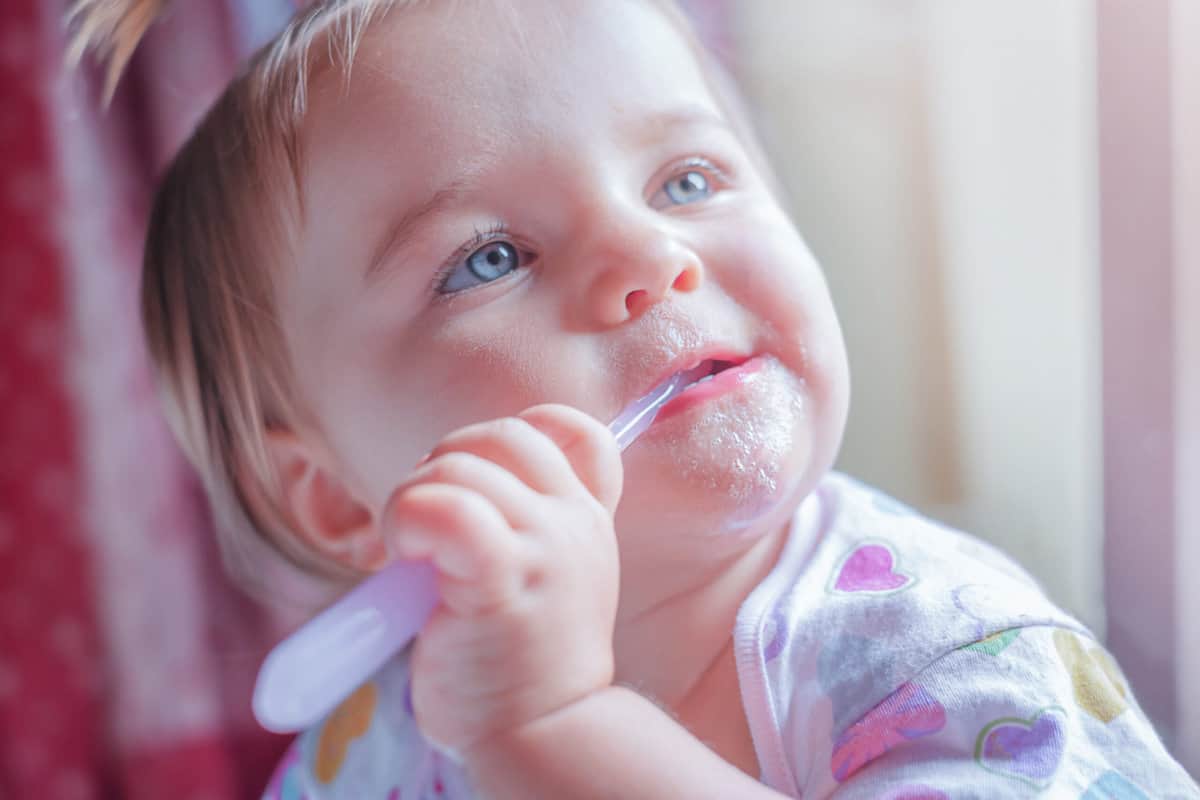 There are many choices of products for cleaning your baby's teeth on the market. So, with all the information available, it can be a bit overwhelming to decide which is best for your baby. Hopefully, you've gained some helpful insight from this information and know what to look for when shopping for a baby toothpaste.
Oral care is critical and starts with learning to brush teeth properly and frequently at an early age. Parents are instrumental in teaching these habits to their babies to ensure lifelong oral hygiene and health.