Despite their size, babies can double your laundry load. With spit-ups, accidents, and cloth diapering, they often require multiple outfit changes over the day, contributing to more laundry overall. This leads us to the question, are all laundry detergents baby-safe? The answer is, unfortunately, no. With fragrances, dyes, and other harsh ingredients in their content, not all detergents are safe to be used.
All parents will be happy to hear that many baby detergents are designed with a baby's sensitive skin and unique needs in mind. These are a safer choice for your child. But how to pick among the best baby laundry detergents? When buying a baby detergent, it's important to have two things in mind:
It needs to be dye-free
Make sure it's fragrance-free
If you still want some scent to your baby detergent, make sure the fragrances come from a natural source. Don't believe what they write on the front and always check the ingredient list on the back. This way, you can see everything that goes in the baby detergent and protect your little one from irritations without losing the cleaning power.
With that said, here are our picks for the best baby laundry detergents on the market.
Best Baby Laundry Products for Sensitive Skin
Babies' sensitive skin can react to the slightest exposure to irritants, so switching to a natural, low-ingredient laundry detergent is much better for their skin.
Doctors developed a Puracy detergent to clean baby clothes without any harsh additives. Indeed, as a parent, it is essential to you that this liquid option contains no sulfates, chlorine, animal byproducts, allergens, or brighteners. It is biodegradable as well, so it's a safe option for sewer and septic systems. It's also designed for use in any type of washer.
Because this product is ultra-concentrated, parents can get 96 loads from one bottle, so this product is an affordable solution in terms of both all-natural and conventional goods.
Pros:
Plant-based
Fragrance-free
No allergens
Affordable
Safe for sensitive skin
Developed by doctors
Safe for septic systems
You can use it in any washer
Cons:
Best Baby Laundry Detergent for Hard Water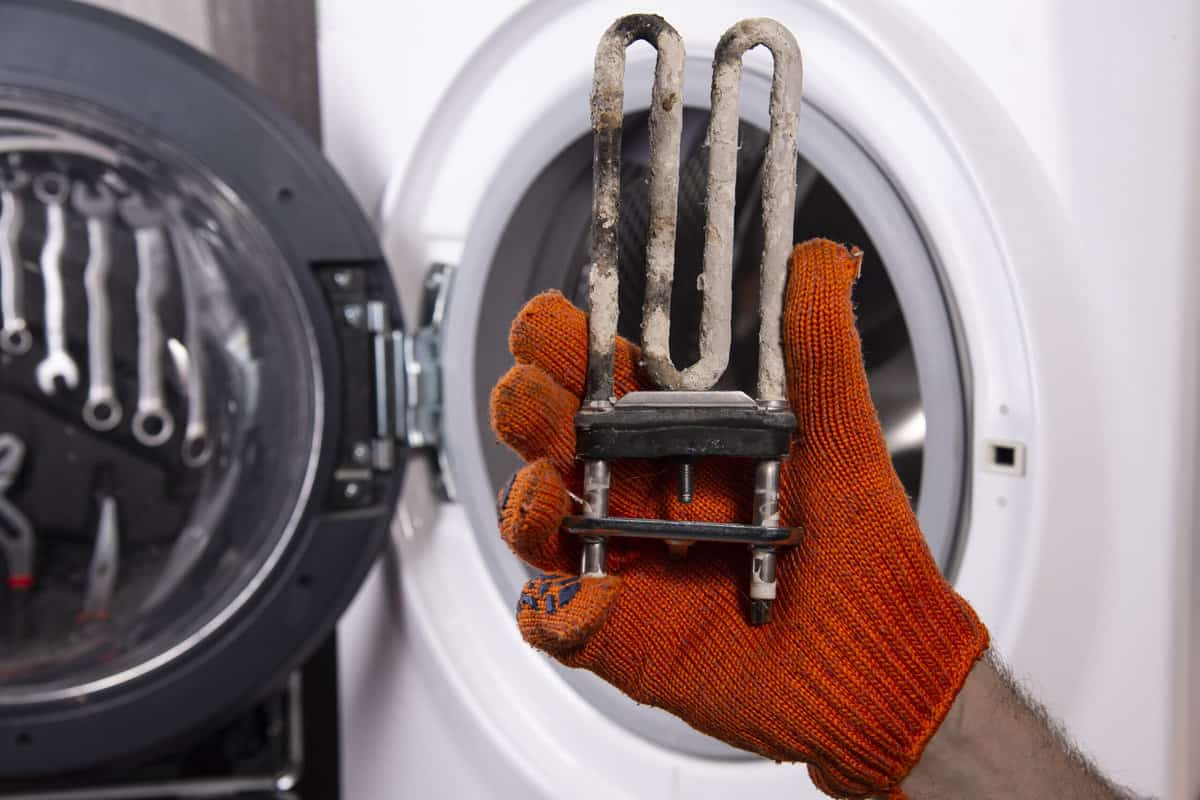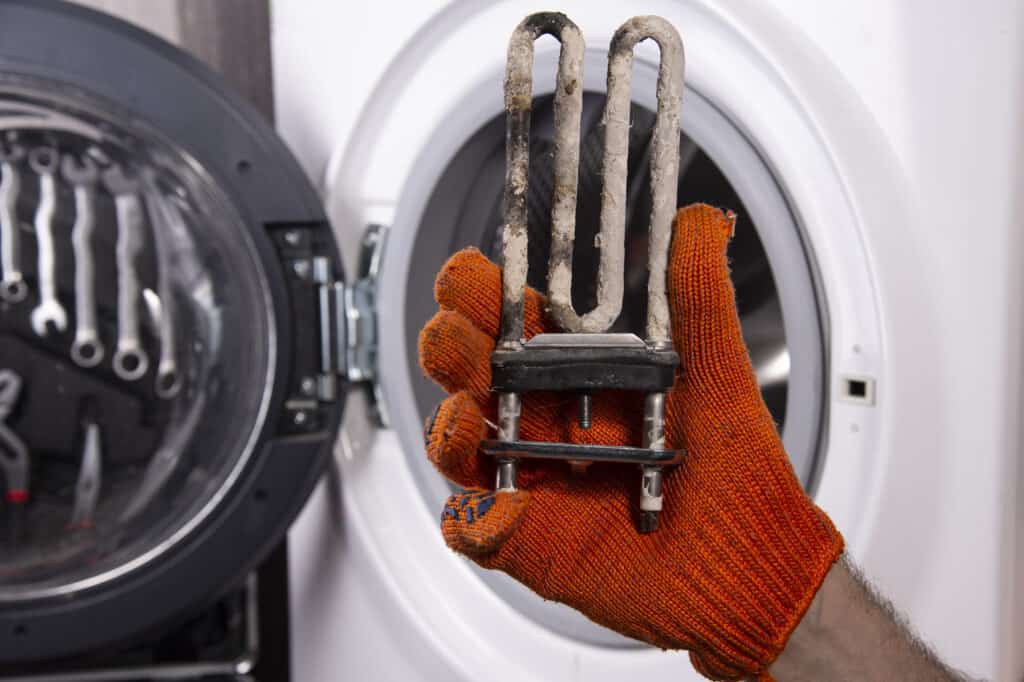 Hard water makes it difficult for a baby detergent to lather and rinse thoroughly, which significantly impacts clothing, detergent usage, and energy usage. Powdered ones perform better than liquids with hard water.
Molly's Suds detergent is powerful but only contains 5 ingredients and no harmful additives. It's also vegan-friendly and contains organic peppermint essential oil. Though this has a pleasant scent, it rinses out to leave the load scent-free. Although you'll only see 5 items on its ingredients list, this product has a formula that cleans baby clothes like a charm and washes away everything from them, from baby food stains to dirt. Parents can use it for washing the clothes of the entire family as well.
This detergent is suitable for conventional or high-efficiency machines and is effective in both hot or cold water. It gets clothes clean and rinses completely, but it only takes one tablespoon of detergent per load. As such, the entire family can use it to remove stains from clothes.
Pros:
Suitable for hard water
Ideal for hot or cold water
No harsh ingredients
Vegan-friendly
Efficient washing
Affordable
Cons:
Peppermint oil can be an irritant
Packaging is prone to spilling
Best All-Natural Baby Detergent
Synthetic laundry detergents are more likely to cause problems for the sensitive skin of your little one. As a parent, you would want to avoid such goods. On the other hand, plant-based, biodegradable detergents minimize exposure to potential pollutants and irritants and are better for the environment.
ECOS baby detergent is manufactured with 100% green energy and comes in a recyclable bottle. The detergent itself is plant-based, removes stains efficiently, and works in conventional and high-efficiency washing machines. All the items in the formula are biodegradable and cruelty-free.
It also has a built-in fabric softener that leaves the clothes super soft and saves you money on additional products.
Pros:
Plant-based formula
Cruelty-free
Baby skin-friendly
Biodegradable
Manufactured with green energy
All-natural ingredients
Cons:
Built-in softeners aren't suitable for reusable diapers
Contains a fragrance
Plastic bottle
Best Baby Detergent for Cloth Diapers
Cloth diapering requires additional laundry and a highly efficient detergent. Cloth diapers that aren't appropriately washed can develop a sour smell and lose absorbency, making them useless. The idea behind cloth diapering is reusing them, so this quickly defeats the purpose.
The detergent must effectively break down the natural enzymes in waste and rinse everything entirely out of the diaper for cloth diapers. In addition, it can't have any softeners built-in since that will clog the fibers and decrease their absorbency.
The content of Rockin' Green detergent is fragrance-free, plant-based, and cruelty-free. The baby detergent is biodegradable and has no fillers, dyes, or brighteners in its content that can irritate sensitive skin. Rockin Green efficiently washes clothes, rinses stains completely clean, and does not clog the fibers of cloth diapers. This product can be used in hot or cold water.
Pros:
Biodegradable content
Safe for cloth diapers
Rinses stains clean
Fragrance-free
Dye-free
No brighteners
No additives or irritants
Cons:
It does not work well in hard water
Easy to spill the content from the bottle
Best Baby Liquid Formula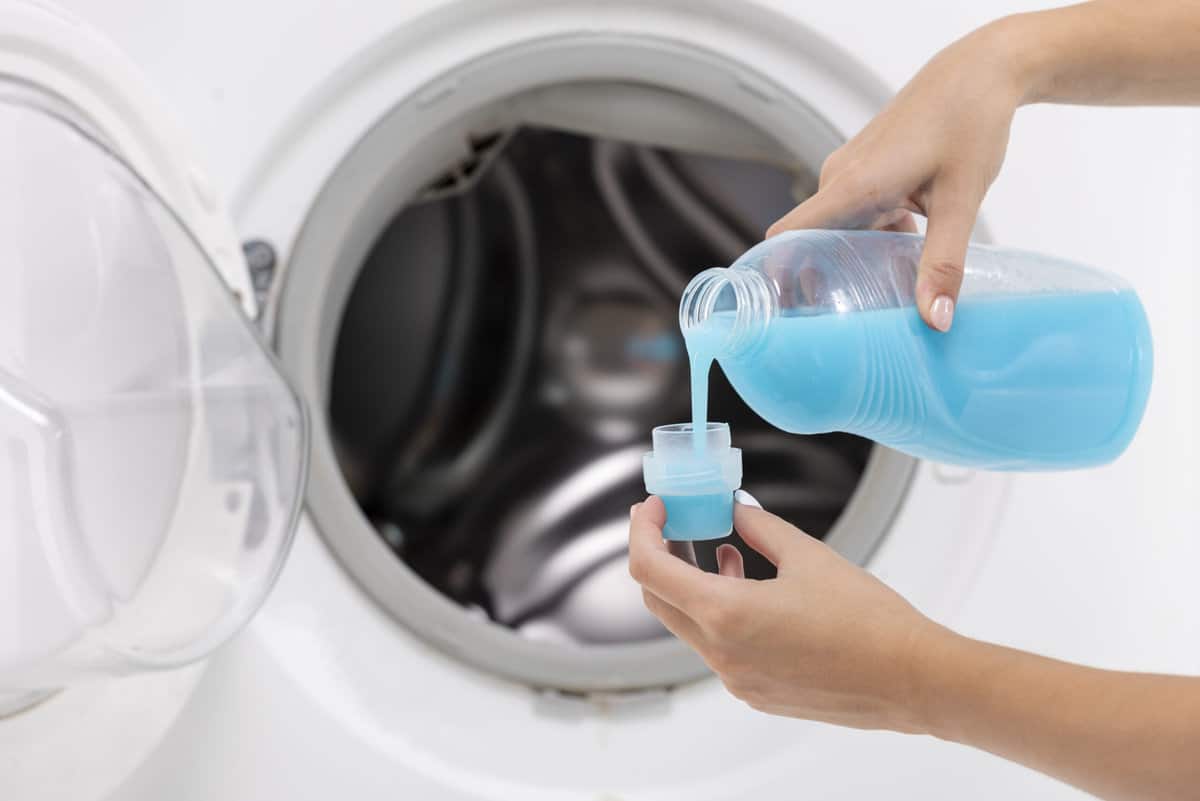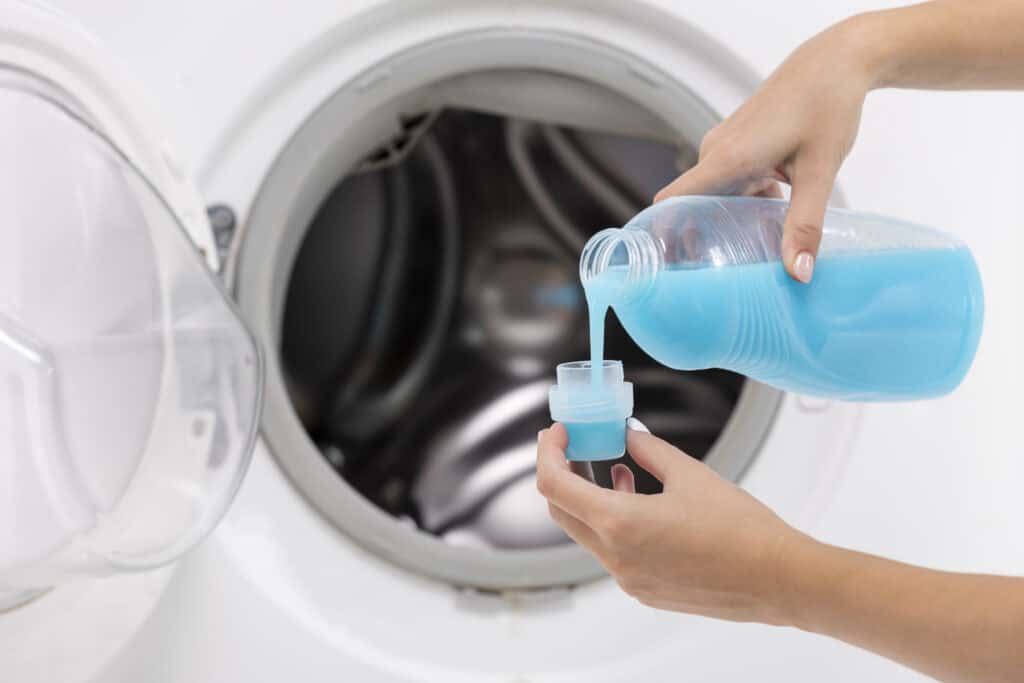 Liquid baby detergent is preferred by many because its content is highly concentrated, works on grease, and with its smaller size, takes up less space. Mrs. Meyer's detergent is plant-based, 97% natural, and comes from 25% recycled materials. The mild scent comes from essential oils rather than chemicals and is safer for sensitive skin. This product can be used by entire families and not just for babies.
Parents will be happy to hear that dermatologists tested this baby detergent. Based on the health information, its formula is proven to be gentle on the skin. It only takes one ounce to clean laundry, so one bottle can do approximately 64 loads.
Pros:
97% natural
Dermatologist-tested
Concentrated
No chemicals or additives
Cons:
Best Organic Baby Detergent
Organic laundry detergents are all-natural with plant-based ingredients and grown without harmful pesticides that irritate a baby's skin.
Eco Nuts laundry detergent is entirely natural. It's made from "soap nuts," which are dried berries that are activated in hot water to release a compound that becomes detergent. They're not nuts, so they won't trigger a nut allergy, but rather a fruit that's grown in the Himalayas. Because these ingredients are completely natural, there's nothing that will irritate sensitive skin.
These soap nuts are organically grown and can be used up to ten times. They are much more affordable than conventional detergent and are suitable for both high-efficiency and traditional washing machines.
Pros:
Organic
No harsh additives
Fragrance-free
Safe for high-efficiency or traditional machines
Completely natural
Affordable
Cons:
Only for use in hot water
No disinfectant or bleach
Best Powder Baby Laundry Detergent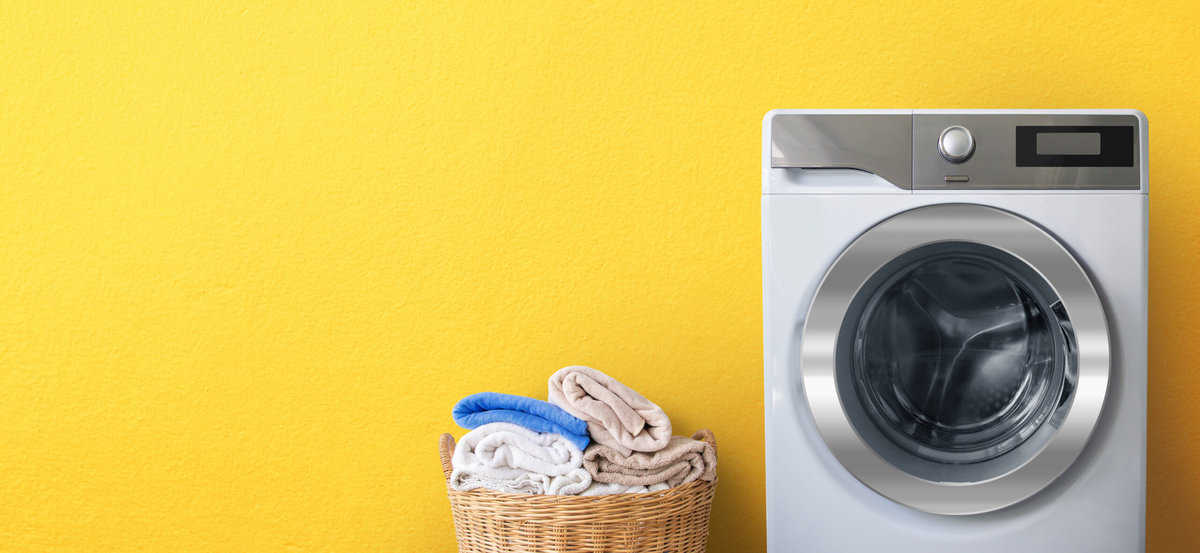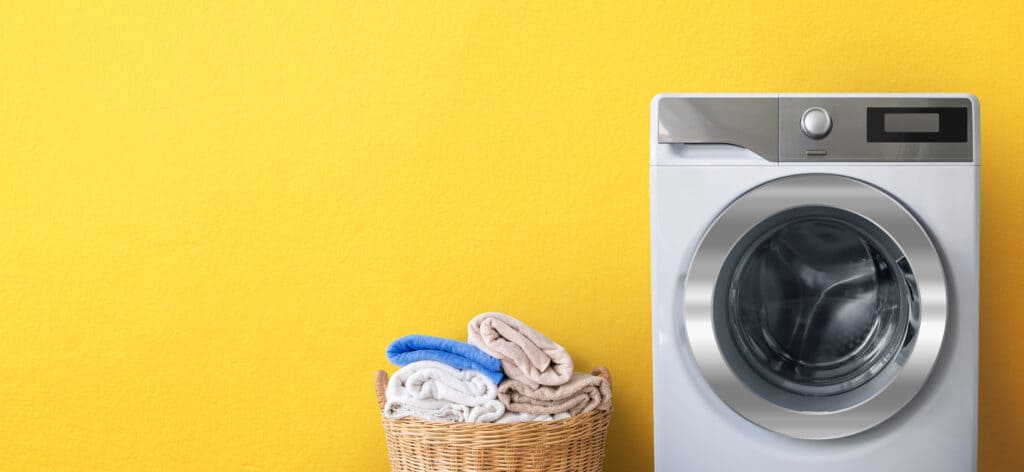 Powdered detergent usually performs better than a liquid one. On a test done by the manufacturer where they compared multiple options, this product proved to work well on ground-in dirt stains or fluids, and out of all, it proved to be the cheapest option.
Grab Green detergent is a hypoallergenic powder detergent safe for septic systems and all washing machines in the world. It can be used in hot or cold water and is highly effective at cleaning baby clothes and clothes for the entire family.
It's also non-toxic and contains no phosphates, chlorine, brighteners, or dyes that irritate. In addition, this detergent is biodegradable, ecologically friendly, and all its ingredients are entirely plant-based and mineral-based.
It is cruelty-free and is not tested on animals at any stage of manufacturing. Its size is large enough for 100 loads making this the best value for money out of all options on the list.
Pros:
Cruelty-free
Eco-friendly
Hypoallergenic
Safe for septic systems
Biodegradable
Efficient
Suitable for all washing machines
Ideal for hot or cold water
Cons:
Strong fragrance
Difficult to store
Best Baby Laundry Detergent for Eczema
The last thing you want for babies with eczema is additional irritation from chemicals or additives in the detergent. Hypoallergenic detergents like the Dreft tend to be best for babies with eczema or other skin conditions.
Dreft is a plant-based detergent for babies with particularly sensitive skin. It is hypoallergenic and contains no scent or dyes that could potentially irritate. It also claims to remove 99% of food stains, works in a high-efficiency or a traditional washing machine, and is highly concentrated. Based on some reviews, the Dreft can be used for the entire family and not only for baby clothing.
Pros:
Removes 99% of stains
No dyes
Fragrance-free
Hypoallergenic
Recommended by pediatricians
Highly-concentrated
Cons:
Best Scented Baby Detergent
Babies have sensitive skin that typically doesn't respond well to scented detergents, but if you are using it for the whole family, we know nothing can compare to that "fresh laundry" smell that comes from scented laundry products.
To find a happy medium, brands offer a pleasing scent with fewer additives that won't irritate a baby's sensitive skin. This way, everyone can enjoy a pleasant yet hypoallergenic product that removes stains like magic.
Purex laundry detergent has had its content tested by dermatologists to ensure its safety for a baby's sensitive skin. This item does not contain any dyes or fragrances that are likely to cause skin irritation.
Purex laundry detergent is suitable for high-efficiency and traditional washing machines, and the price-per-load is highly affordable for a hypoallergenic detergent on a budget.
Pros:
Affordable
Pleasant scent
Hypoallergenic
Suitable for high-efficiency or traditional washing machines
No dyes or additives
Cons:
It contains surfactants, which may be irritating
Measuring cups can be messy
Not a "natural" product
Best Hypoallergenic Laundry Detergent
For babies with allergies or sensitivities, buy from trustworthy brands like Dreft that manufacture washing goods with limited ingredients and the lowest number of potential irritants. Even without skin sensitivities, a hypoallergenic detergent still minimizes exposure to harmful chemicals.
Dreft Stage 1 has been around for decades, so pediatricians highly recommend it. It was developed with newborn babies in mind, knowing that they have unique skin needs. This laundry detergent is hypoallergenic and free of dyes and additives. It is also lightly-scented and has been clinically tested for effectiveness.
In addition, Dreft Stage 1 is safe for use on cloth diapers, provided they are cotton or a poly/cotton blend.
Pros:
The Dreft Stage 1 is recommended by pediatricians in the United States
Hypoallergenic
Developed for babies' specific needs
The item contains no dyes
Cons:
High price-per-load
Dreft uses surfactants
Scented
Why Do I Need a Specific Laundry Detergent?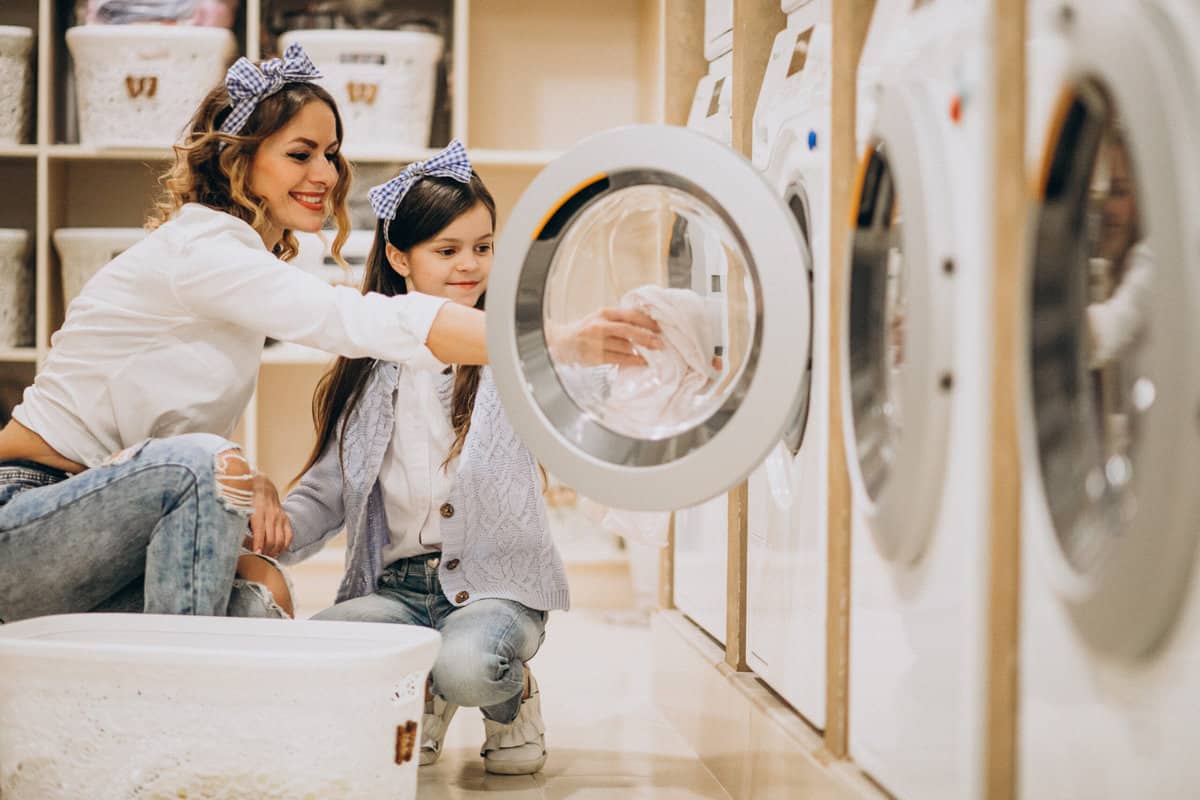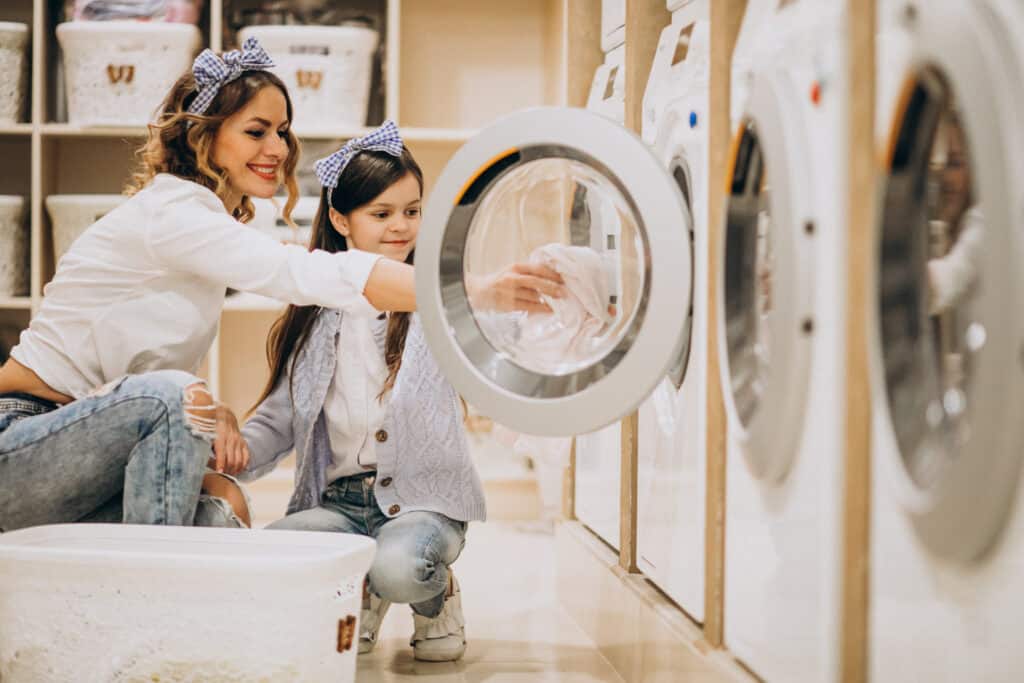 A baby laundry detergent is needed because they tend to be more sensitive through their skin. Their immunity is still not developed enough to cope with a significant content of harsh additives. Based on reviews, babies in the United States and other parts of the world are developing allergies and rashes that interfere with their daily activities. This is why pediatricians recommend using the gentlest cleaning and washing products.
This is because a baby is unaccustomed to the environmental irritants that adults have built a tolerance to. In addition, conventional laundry detergents get clothes clean but often leave a residue that can cause skin irritation or allergic reactions.
The baby's skin is constantly coming into contact with fabric, such as clothes, sheets, blankets, sleep sacks, burp cloths, and cloth diapers. Because of this, any potential irritants or chemical residues are easily absorbed by the skin of the baby. So a laundry detergent with the fewest chemicals reduces this exposure.
What Types of Irritants are Present in a Baby Laundry Detergent?
Laundry detergents are generally safe, but that doesn't mean they are appropriate for a baby's sensitive skin. When shopping for laundry detergent, it can also be challenging to determine what used ingredients may be potential irritants. Some components are considered "trade secrets," while some ingredients cause problems when they build up over time. Some chemicals are the product of artificial reactions from the content itself. What's more, some harmful ingredients are known by different names, so you cannot recognize them.
This can be overwhelming, but there are a few ways to minimize exposure to harmful content.
Purchase products that have no dyes or fragrances
Avoid products that include brighteners
Choose plant-based products
Choose biodegradable products
Read reviews before buying
Bottom Line – What Should I Look For in a Baby Detergent?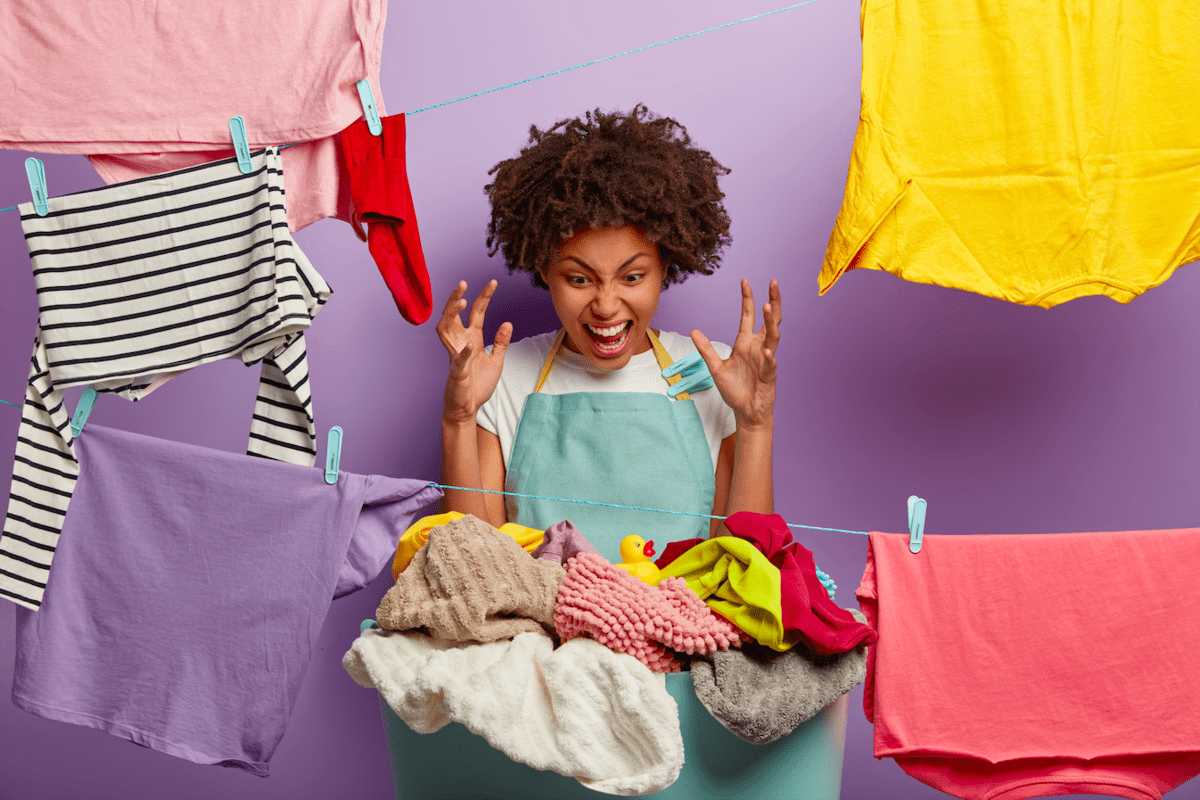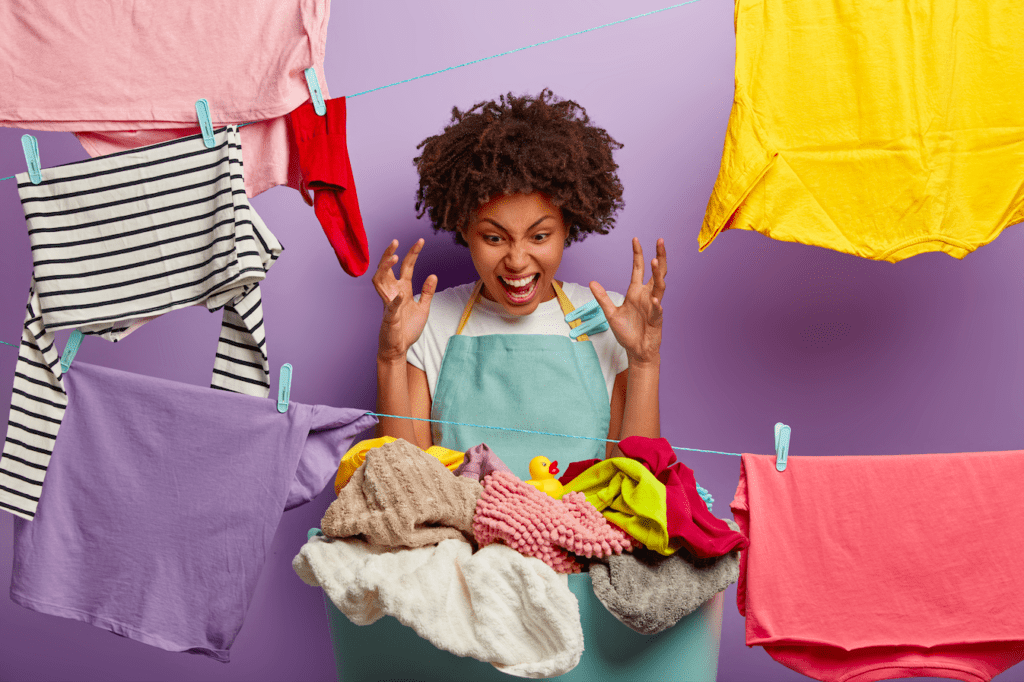 Conventional or high-efficiency washing machines require special detergents. If the detergent has a "HE" on the packaging, that means it's safe for use in high-efficiency washing machines. The HE detergents won't lather as much and rinse clean, which prevents damage to your machine.
Fragrance and dye-free content. These ingredients are potential irritants, and their only purpose is to add a scent or the detergent to change color. They have no impact on the effectiveness of the detergent itself.
No Brighteners. Brighteners are chemicals that stay in the fabric and absorb UV from the sun to make colors appear brighter. It does not affect the cleanliness of the clothing itself.
Liquid or Powder? Laundry packs or pods pose a severe risk to young children. Liquids and powders are a matter of preference, though powders perform better, but liquids are ultra-concentrated and take up less storage space.